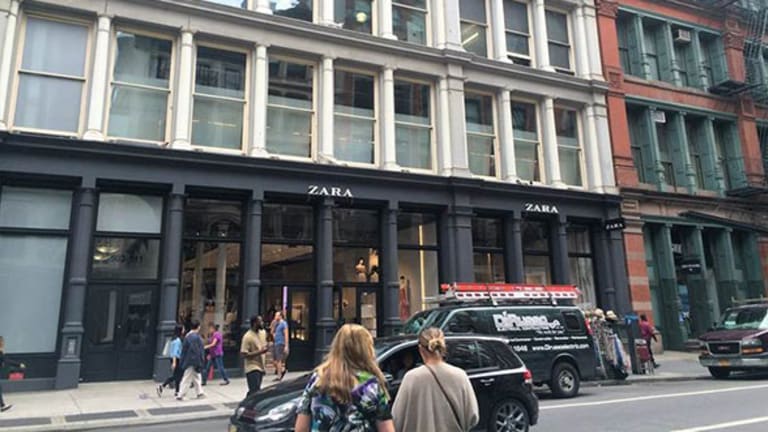 Inditex Stocks Slips After Zara Owner Reports Double-Digit Sales Growth
The fast-fashion retailer saw sales growth of 11% in the first nine months of the year.
Inditex (IDEXY)  shares fell modestly Wednesday after the Zara owner recorded impressive sales growth in the first nine months of its fiscal year despite a challenging environment for retailers.
Inditex, the world's largest fashion retailer by market value, saw net sales rise by 11% in the nine months between Feb. 1 and Oct. 31 to €16.4 billion ($17.4 billion). In constant-currency terms, top line growth was 15%, "underpinned by solid same-store sales growth," the company said in its earnings released on Wednesday. 
The company does not disclose same-store sales, or those for its individual brands, which include Zara, Massimo Dutti and Bershka.
Inditex shares fell by around 0.3% in early trading in Madrid to €32.9 each. Its three-month gain of around 3.6% has trailed the 5% advance of the Stoxx Europe 600 Retail Index.
Liberum analysts said implied third-quarter growth was 14.9%, ahead of their estimates of 13.1% and represented a pick up from second-quarter growth of 14.6%.
Net profit in the nine months came in at €2.2 billion, representing growth on 9% compared with the same time period last year.
"This momentum is the result of sustained investment -logistic facilities and stores- as well as the ongoing development of integrated offline-online store model," Inditex CEO Pablo Isla said in a statement.
The Spanish group also noted that in-store and online sales increased 16% in constant currency terms between Nov. 1 and Dec. 12.
The company is at the vanguard of fast-fashion retailing, with its business model allowing new designs and the latest fashion trends to be in stores at much quicker than competitors.
"Few other major clothing retailers can match the mid teens [percentage] sales growth that ITX has achieved in difficult global markets this year while the company's clear focus on achieving full price sales underpins high, and stable margins," Liberum analysts wrote in a note to clients on Wednesday.
The group has 7,240 bricks-and-mortar stores in 93 markets globally and an online presence in 41 countries.