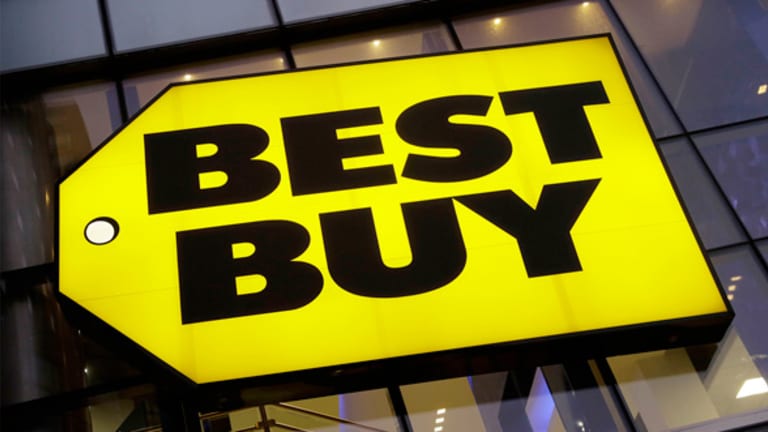 Best Buy Could Lose You More Money
But prices are back up near the highs.
Best Buy (BBY) - Get Report was reviewed last month, and we thought that, "The daily chart of BBY does not show significant selling before yesterday's gap, so BBY could bounce in the very near term, but with everyone changing their view of retailing I would not rule out further declines and a test of support."
With some hindsight, we can see BBY held above support around $52, bounced and retested the July low before rallying to a slight new high. With prices back up near the highs, we find that our favorite indicators are not (yet?) confirming the gains. Further caution may be warranted, but let's check the indicators and charts to be sure.
In this updated daily bar chart, above, we can see that in July BBY spent a lot of time below the rising 50-day moving average line. The line is starting to flatten and prices are not all that far above this indicator. The daily On-Balance-Volume (OBV) line has not made any fresh upside progress since early June and now shows a divergence to prices making a new high.
In the lower panel is the 12-day momentum study, which shows a bearish divergence -- prices made a slightly higher high this month compared to late May while momentum made a lower high over the same time period.
In this weekly chart of BBY, above, we can see prices are above the rising 40-week moving average line, but volume has declined during the year and the weekly OBV line has not made a new high in the past three months. Also, looking at the 12-week momentum chart we can see momentum readings peaked in June.
Bottom line: With some of our short-term and longer-term indicators not confirming the gains in BBY, I would be more cautious of the long side of BBY. Raise sell stop protection to a close below $55.
(This column originally appeared at 1:16 p.m. ET today on Real Money, our premium site for active traders. Click here to get great columns like this from Jim Cramer and other writers even earlier in the trading day.)
More of What's Trending on TheStreet:
Like Rats Off a Sinking Ship, Steve Bannon Out at White House
10 of the Most Worthless And Expensive Olympic Venues of All Time
Employees of TheStreet are restricted from trading individual securities.