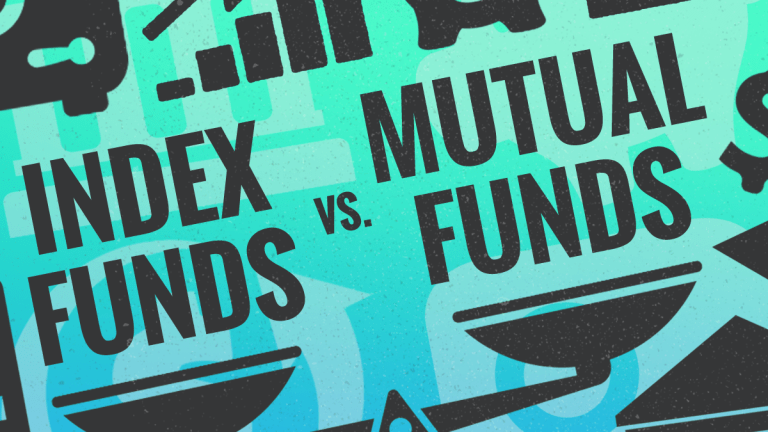 Index Funds vs. Mutual Funds: Which Should You Choose in 2019?
Index funds and mutual funds are primarily different in their investment goals, investor fees and level of management.
If you aren't keen on investing in the stock market or feverishly trading options, there are plenty of other investment vehicles that can generate decent profits - including funds. 
Still, when it comes to investing in funds, there are several different options that function differently depending on a variety of factors including their goal, cost and management style. So while some may prefer staking their claim in individual stocks like Apple (AAPL) - Get Apple Inc. Report or Netflix (NFLX) - Get Netflix Inc. Report , there are plenty of good options for the more passive investor. 
So, what are index funds and mutual funds, and which is the better investment? 
What Is an Index Fund?
An index fund is an investment fund within the mutual fund family designed to track and mirror key benchmark indexes like the S&P 500 or the Russell 2000. Comprised of stocks, bonds and other investments, index funds are designed as passive funds that automatically track an underlying index. 
Because index funds invest in the same stocks as a given underlying stock market index, an index fund following the S&P 500 would likely invest in stocks like CVS Corp. (CVS) - Get CVS Health Corporation Report , Facebook (FB) - Get Meta Platforms Inc. Report , Goldman Sachs (GS) - Get Goldman Sachs Group Inc. (The) Report or Ford Motor Company  (F) - Get Ford Motor Company Report . Moreover, since index funds track a benchmark index, they often fall or rise the same percentage (but not always) as the index. For example, if the S&P 500 dropped 15%, the index fund would likely drop in the same amount.
And while mutual funds are often more actively managed, index funds are generally passive, given that they are automatically investing in stocks on the index they are tracking. Still, you'll be paying a fee - the expense ratio - which, for index funds, is typically to the tune of around 0.05% to around 0.09% (although it can be higher, with some reports claiming an average of 0.11%). 
One of the major presumed benefits of an index fund is that it allows the investor to put their money in big, global stocks without having to invest in them individually, and are often a good way to diversify one's portfolio. Additionally, index funds have an inherent "set it and forget it" methodology that many investors find appealing - meaning that once you choose your fund, there aren't many active investment decisions that fund managers have to make since they are tracking a particular index and its securities.  
What Is a Mutual Fund?
A mutual fund is an investment fund that pools money from a collection of investors and invests it in a variety of securities like stocks and bonds. Unlike an index fund, a mutual fund is generally actively managed, with fund managers picking investments and profiting off of shareholder fees. 
Generally, mutual funds are fairly diversified between stocks, bonds and other securities - making them generally less risky than investing in individual stocks and bonds. Shares in mutual funds are also called mutual fund units and are generally bought at the fund's net asset value (NAV or NAVPS) per share - which is simply dividing the total value of all the securities in the fund by the number of outstanding shares. 
Within the blanket of mutual funds, some fund managers may have different goals for their fund like fixed-income managers or long-term growth managers, who focus on low-risk/high-payoff investments and beating indexes like the Nasdaq or S&P 500 for the fiscal year, respectively. 
However, because you are investing in a fund that is actively managed by fund managers, you'll be paying a fee - which is typically higher than those for index funds. For a standard mutual fund, you might be paying fees between 1% to 3% (with some reports claiming an average of 0.84%). The expense ratio is taken out of the fund's assets annually and thus chips away a portion of the investor's returns to cover various costs.
Still, according to the Investment Company Institute (ICI), mutual funds pulled in close to $19 trillion in U.S. assets as of mid-2018, making them one of the most popular investment vehicles on the market. 
Index Funds vs. Mutual Funds
So, what are the main differences between index funds and mutual funds? 
Investments
Both index funds and mutual funds are typically comprised of stocks, bonds and other securities. 
As is a given in the name, index funds focus on tracking the stocks that compose various indexes like the Nasdaq or S&P 500. 
Management Style
One of the major differences between an index fund and a mutual fund (especially an actively-managed one) is their management style - namely, whether they are active or passive.
Index funds are passive in management - meaning they are not actively trading or adding investments. Index funds are automated to track with a benchmark index like the S&P 500, so their investment mix is dependent on the underlying index. 
On the other hand, mutual funds are active in their management style - meaning that fund managers or analysts are actively picking fund holdings (like individual stocks, bonds or other securities). 
Objectives
Moreover, both mutual and index funds typically have different objectives or end goals. 
For index funds, the general objective is to match the returns of the benchmark (or underlying) index before fees. So, essentially, the objective of the index fund is to generate the same amount of returns as the benchmark index minus the fees. However, mutual funds generally aim to beat the returns of a comparable or related benchmark index after fees. Still, as a caveat, if the market is volatile (which is certainly the case currently), index funds may be harder to pull your funds out of on a moment's notice given the "advance notice" requirement index funds have. 
Still, the objective of an index fund (to match returns) allows funds to keep fees and other costs low, leading to the next difference.  
Cost
What are index funds or mutual funds going to cost you? 
As mentioned earlier, mutual funds will tend to cost you more in fees (expense ratio), with fees ranging from around 1% to upward of 3%. On the other hand, index funds are generally lower cost, with annual fees ranging as low as 0.05% to 0.07% (although some may be slightly higher). 
For this reason, many investors cite the low fees as a major pull of index funds over mutual funds. 
Best Index Funds
So, what are the best index funds?
Among many others, some popular index funds include the Vanguard 500 Index Fund Investor Shares  (VFINX) - Get Vanguard Index Trust 500 Index Fund Report - which has generated an impressive total return of 13.71% over a three-year period ending Jan. 15, 2019. The fund tracks the S&P 500 and has a relatively low fee (annual expense ratio) of around 0.14%. 
Additionally, the Schwab S&P 500 Index Fund  (SWPPX) - Get Schwab S&P 500 Index Fund- Select Shares Report is another strong option for investors looking to get into index funds, with a low annual fee of around 0.02%. The Schwab (SCHW) - Get Charles Schwab Corporation (The) Report fund is also a mutual fund that tracks the S&P 500, with around 80% of its total assets being from that index. 
Best Mutual Funds
If you're in the market for a good mutual fund, there are plenty of options that have received the "winner" mark of approval. Among the various good mutual funds are Fidelity Select Semiconductors  (FSELX) - Get Fidelity Select Semiconductors Portfolio Report , Fidelity Select Health Care Services Portfolio  (FSHCX) - Get Health Care Services Portfolio Report , AQR Style Premia Alternative R6  (QSPRX) - Get AQR Style Premia Alternative Fund -6 Report , Trans-America Large Cap Value I2  (TWQZX) - Get Transamerica Large Cap Value2 Report and many others. 
Some popular mutual fund brokers include Fidelity Investments, Oppenheimer Funds (OPY) - Get Oppenheimer Holdings Inc. Class A (DE) Report  and the Vanguard Group. Other good mutual fund brokers include E-Trade (ETFC) - Get E*TRADE Financial Corporation Report and TD Ameritrade (AMTD) - Get AMTD IDEA Group American Depositary Shares each representing one Class A Report . 
Which Should You Choose? 
What's best for your portfolio? 
This largely depends on your investment goals, attitude on a sector or index and funds available. 
Mutual fund 
Better flexibility in moving assets around, given that index funds generally have low flexibility due to their passive nature. Choose a mutual fund if you want your fund manager to have the ability to hedge positions or move assets around with general ease. 
Generally higher potential returns, given how mutual funds are more actively managed than index funds and are aiming to beat benchmark indexes. 
Shorter-term trading due to how fund managers are able to trade more actively and capitalize on short-term gains than those tracking indexes. 
Index fund
Lower fees and/or lower taxes on capital gains due to less turnover in stocks. 
Access to big, global stocks without having to actively invest in individual companies. 
A "set it and forget it" format - allowing you to invest in the fund and not have to track individual stocks or indexes every day.
Still, both mutual funds and index funds provide convenient and often high-revenue generating opportunities for investors, so be sure to do your homework and figure out what best fits your investment goals and experience.