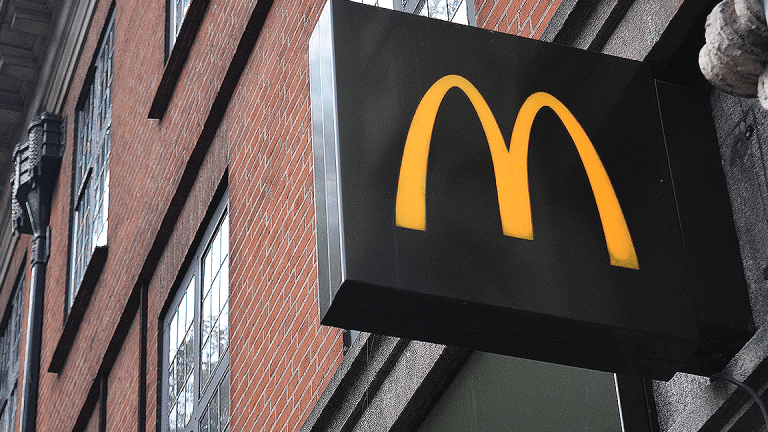 Incumbent Revenge; Four Big Buys -- Jim Cramer's Top Thoughts
Cramer reflects on what this quarter holds for incumbents and also goes over four big buys.
Here are Jim Cramer's top thoughts on some of the biggest stories of the week.
Jim Cramer: This Quarter Brings the Revenge of the Incumbent

When we look back at this quarter, will we realize that this was the one when the incumbents took it all? Is that one of the themes, or the theme so far?
On Tuesday, we got reports from Chipotle (CMG) - Get Chipotle Mexican Grill, Inc. Report and its one-time parent, McDonald's  (MCD) - Get McDonald's Corporation (MCD) Report . The former seemed lackluster, confused with a scent of hope about the idea that maybe one day things could return to normal. But right now, you are thinking that 2% sales increases with potentially cheaper food costs could bring in the bodies and make the stores worth more.
The latter was all about blowing the numbers out, new technology, and, yes, to use the term that the affable but heavy-weight CEO Steve Easterbrook likes, good mojo.
It was almost as if Chipotle was the hidebound, troubled, figure-it-out-as-we-go-along kind of company levered to one new dish, the queso, while McDonald's was all about execution and value, the twin themes of higher stock prices.
Put simply, McDonald's put on a clinic about how energized the team is domestically and worldwide where the best of the best in all of the labs around the globe are being put to use to grow the business, especially any new technology, like mobile and order pay. It's playing offence. Chipotle is almost 100% defense, with nary an interception in sight.
I felt the same way about Advanced Micro Devices (AMD) - Get Advanced Micro Devices, Inc. Report . For a couple of years now, AMD's been making strides in all of the hot areas: data center, gaming, high-end computing and cryptocurrency. But strides are not the same as making a ton of money. In fact, one analyst after another was unimpressed with the results of AMD and expected the company to be much further along, given how many think its technological prowess is mighty improved.
We don't hear from Intel (INTC) - Get Intel Corporation (INTC) Report until Thursday, but when we do we will get a sense that the incumbent has its act together a lot more than AMD, and that you will see much less pricing pressure and much more business taken. Action Alerts PLUS charity portfolio holding Nvidia (NVDA) - Get NVIDIA Corporation Report gets whacked on the news of the moderating cryptocurrency demand that Dr. Lisa Su talked about on the quarter. Nvidia's got a small part of its business devoted to cryptocurrency. Nvidia's got the most sophisticated gaming chips -- AMD is in XBOX and Sony, but Nvidia is in the red-hot Switch from Nintendo.
I think that like Chipotle, the upstart simply isn't as good as Intel or Nvidia, which is a company that is always on the verge of turning around and the speculators pay up for it. Intel and Nvidia have seen their stocks up huge. We don't know how much of that is data center and stronger PC for Intel -- AMD confirmed as much -- and crypto currency for Nvidia, but I think that any takeaway from AMD that hurts those two companies may be sorely misplaced, because I believe AMD is being beaten by them.
Finally, there's AMD versus IBM (IBM) - Get International Business Machines (IBM) Report . We have cogent comments on the AMD call about the moderating of one of the great secular trends, secure blockchain technology. IBM? It's one of that company's principal drivers?
Who is right?
If it's this quarter so far, then the answer is the incumbent all the way, even if the incumbent at one point was considered, old, ossified and put out to pasture one time too many.
Action Alerts PLUS, which Cramer co-manages as a charitable trust, is long NVDA.
Originally published Oct. 25 at 7:53 a.m. EDT.
Jim Cramer: Amazon, Alphabet, Intel, Microsoft Are All Buys
Who did the best job Thursday night? Who stole the show, Amazon  (AMZN) - Get Amazon.com, Inc. Report , Alphabet  (GOOGL) - Get Alphabet Inc. Class A Report , Intel  (INTC) - Get Intel Corporation (INTC) Report , or Microsoft  (MSFT) - Get Microsoft Corporation (MSFT) Report ?
The answer? All of them. For different reasons.
Amazon stole the show because revenues accelerated, sign-ups were amazing, Amazon Prime Day meant Christmas come early, Alexa is Queen and Prime itself is taking over the world.
Alphabet stole the show because YouTube had 70% growth, with 100 million hours watched per day. YouTube. Around forever. And Google Web Services turns out to be accelerating at a pace that makes the bold claims a potential reality. The company has $100 billion in cash, 60% overseas. Come on, tax reform!
Microsoft stole the show because Office 365 and the commercial cloud segment Azure got better and better, and the gross margins for its cloud business were incredible.
Intel stole the show, because the top line was better, the gross margins were strong, and the data center didn't disappoint as it had. There's PC recovery that makes the 14 multiple seem low, especially with the Mobileye acquisition's potential artificial intelligence positives on the horizon.
How is it possible that all of these companies are doing so well?
Data. Most specifically, the explosion of data via the cloud. The cloud unites the strength of Amazon, Alphabet and Microsoft, the big three of web services. Intel's cloud hardware business is being pulled along for the ride. Personal computers, still what Intel does best, are relevant and seemingly more relevant than thought, mostly as an onboard to the web -- something that reminds me of the old Wintel days, as there are 120 million users of the product.
But the crucial component of all of these is that users are changing the pattern of their lives. The cellphone is how people work, live and operate, and the data center is the central nervous system of the new world. The money these firms can make because of this set-up, and because how integral they all are and how important this internet-of-things chain is, was never dreamed of, even a few years ago.
Credit to Amazon for seeing it all coming ahead of everyone else. Credit the other guys for playing catch-up rather than give up, although you have to thank Brian Krzanich at Intel for the late-in-the day pivot from personal computers.
Personally, I am amazed at these incredible companies, none of which is what I would call a start-up. The people who run these companies are so brilliant, their employees the best and the brightest, and their visions are extraordinary.
The only thing I wish is that Facebook (FB) - Get Facebook, Inc. Class A Report -- which we hold in the Action Alerts PLUS charity portfolio along with Alphabet -- report this same night, so you can see the full panoply of how our lives have changed. And these are the engines behind that change, guiding us, being ahead of us, seeing the playing field so much better, taking a 100 mile an hour fast ball and slowing it to 40 miles an hour before belting it into the upper deck.
My biggest problem in analyzing them? They are such visionaries about where things are going, I just can't keep up.
And that, ladies and gentlemen, is why their stocks are all going higher. That's why their growth seems almost unconstrained. That's why they continue to take in dollars at a pace they can't simply spend fast enough and yet are prudent stewards of the piles they accumulate.
That's why, even after today's moves, they are all buys.
Action Alerts PLUS, which Cramer co-manages as a charitable trust, is long FB, GOOGL.
Originally published Oct. 27 at 8:23 a.m. EDT.
Click here for information on RealMoney, where you can see all the blogs, including Jim Cramer's--and reader comments--in real time.
Jim Cramer fills his blog on RealMoney every day with his up-to-the-minute reactions to what's happening in the market and his legendary ahead-of-the-crowd ideas. This week he blogged on:
How he's wondering where all the buyers have gone
How the market's safety dance applies right now
More of What's Trending on TheStreet:
Action Alerts PLUS, which Jim Cramer co-manages, is long NVDA, FB, and NVDA.