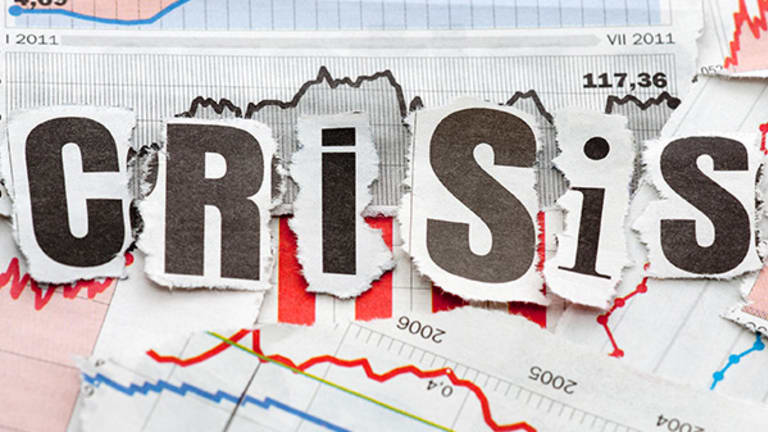 In the Week Ahead, Don't Sweat the Crises de Jour
Here's why investors should spend less time fretting about the endless succession of daily crises and more time planning long-term strategy.
Donald Trump has been president for about three weeks. Congratulations on surviving 1.5% of his allotted four-year term.
Trump's time in office seems longer, against the backdrop of executive orders, stock-crushing presidential tweets, contentious press conferences, high-stakes court rulings, street protests, and congressional acrimony.
Trying to process the daily news is downright exhausting. As comedian Jon Stewart recently quipped on The Late Show With Stephen Colbert: "The presidency is supposed to age the president, not the public."
And yet, investors remain encouraged by the prospect of deregulation, tax cuts and targeted fiscal stimulus under a business-friendly Republican administration. Broader markets continue to break records, despite the looming prospects of a correction and economic downturn. The Trump rally sputtered in mid-January but it never really died.
The upshot: Don't get knocked off course by the latest crisis du jour; stick to your long-term goals. In the meantime, here's guidance on how to trade in what's certain to be another tumultuous week ahead.
Investors have sporadically expressed anxiety about the stability of a Trump regime and whether he can make good on his grandiose promises. But overall, Wall Street likes what it sees. The term "populist" is often used to describe Trump's policies, but the more accurate term would be "laissez-faire."
The major indices on Friday hit new highs for the second day in a row, with rising oil prices giving energy companies a large boost. Over the past week, oil prices and energy stocks have see-sawed, but news on Friday that OPEC is mostly sticking to its production cut agreement lifted investor spirits.
Amid this volatility, whipsawed investors seek clues for how to trade under a Trump presidency. The president's priorities suggest that certain sectors will emerge as winners, notably aerospace/defense, construction and banking.
Accordingly, investors have bid up the bellwether stocks in these sectors. Since November 9, the iShares US Aerospace & DefenseETF (ITA) - Get iShares U.S. Aerospace & Defense ETF Report has risen 8.6%; the PowerShares Dynamic Building & Construction Portfolio ETF (PKB) - Get Invesco Dynamic Building & Construction ETF Report has risen 35.9%; and the Financial Select Sector SPDR ETF (XLF) - Get Financial Select Sector SPDR Fund Report has risen 14.1%, compared to 6.9% for the S&P 500 (SPY) - Get SPDR S&P 500 ETF Trust Report .
The biggest individual stock gainers in those sectors include Lockheed Martin (LMT) - Get Lockheed Martin Corporation Report , Boeing (BA) - Get Boeing Company Report , Fluor (FLR) - Get Fluor Corporation Report , Martin Marietta Materials (MLM) - Get Martin Marietta Materials, Inc. Report , JPMorgan Chase (JPM) - Get JPMorgan Chase & Co. Report , and Wells Fargo (WFC) - Get Wells Fargo & Company Report .
It's logical to assume that these industries will benefit from Trump's vows to hike defense and infrastructure spending and to eliminate oversight such as Dodd-Frank. But don't make your portfolio hostage to the intraday frenzy of breathless headlines. Cable television news purposely stokes conflict to boost ratings and Trump is savvy at giving the media plenty of fodder.
In choppy waters, you can navigate a steady course by focusing on the facts that count: earnings reports and economic data. On those fronts, the news is heartening.
As of Feb. 10, with 71% of S&P 500 components reporting fourth-quarter results, blended earnings growth stands at 4.9%, according to research firm FactSet. So far, 67% of S&P 500 companies have exceeded the mean earnings per share estimate and 52% have exceeded the mean sales estimate. Analysts currently expect earnings growth to continue through 2017.
The economic recovery shows signs of slowing but remains in place, with investors looking for reassurance that the overdue recession is far off. The past week was relatively quiet in regards to economic data, but several key reports are on the docket in the week ahead. Each is a potential market mover and bears watching:
Tuesday: Producer Price Index. Wednesday: Consumer Price Index, Retail Sales, Housing Market Index, Industrial Production. Thursday: Housing Starts, Jobless Claims, Bloomberg Consumer Comfort Index. Friday: E-Commerce Retail Sales, Leading Indicators, Baker Hughes (BHI) Rig Count.
Boring, Predictable, No-Surprises Strategy Safely Generates $67,548
If big, triple-digit winners get your adrenaline pumping, then stop reading this right now. Because this probably isn't for you... Only traders who would calmly enjoy raking in an extra $67,548 with no surprises or hiccups will appreciate this strategy. In fact, over the course of 1,586 days, I've been leisurely collecting giant payouts with this boring approach. I win 8 out of every 10 trades - GUARANTEED. Click here to join me.
John Persinos is an analyst with Investing Daily. At the time of publication, he owned stock in Boeing and Wells Fargo.