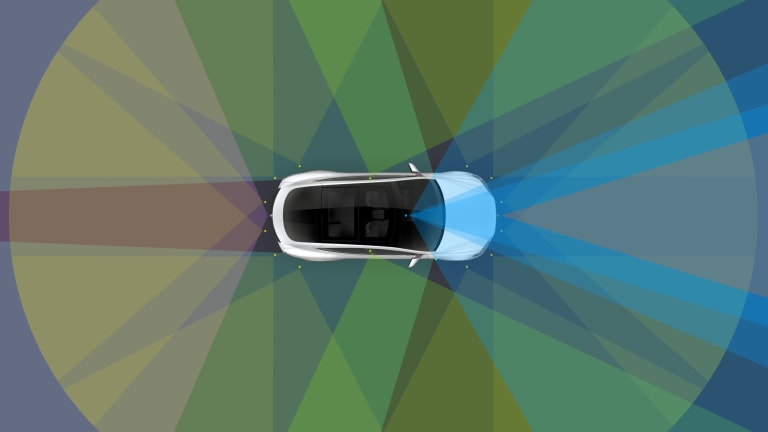 In Tesla We Trust, New Study Reveals
A survey says consumers trust Tesla to pull off its autonomous driving plans more than any other self-driving car stock. But does that really matter?
Who do consumers trust most to bring the first self-driving car to market? Tesla Inc. (TSLA) - Get Tesla Inc. Report , it turns out.
In a survey just published by car shopping website Autolist, Tesla scored highest, with 32% of respondents saying that they trust Tesla the most. That's more than double the results of the next-best automaker, Toyota (TM) - Get Toyota Motor Corporation Report (15%). And it's even more than the number of consumers who said they don't trust any companies (27%).
Tesla's Autopilot system is the longest tenured advanced driver assistance system on the road today, with the first version released to Mosel S customers in October 2014.
What's notable, though, is that Autolist's survey was conducted in March and April - in the wake of fatal crashes from both Uber and Tesla where both vehicles were under some level of autonomous control.
Only 6% of survey respondents chose Uber. And less than 1% chose Alphabet Inc. (GOOG) - Get Alphabet Inc. Report (GOOGL) - Get Alphabet Inc. Report , a holding in Jim Cramer's Action Alerts PLUS, subsidiary Waymo.
The numbers are even more notable because Tesla's Autopilot program is fairly unique among its peers. Tesla is one of the only major autonomous vehicle programs that's relying on cameras and deep learning over LIDAR, the laser sensors that you see spinning on the roofs of most experimental self-driving vehicles today.
(While Tesla's Autopilot Hardware 2 does include radar and ultrasonic sensors, computer vision is the primary piece of the puzzle for the firm.)
While it's a fair guess that consumers aren't as concerned with that sort of technical minutiae, it's also fair to guess that the debate isn't a detractor for shoppers considering buying a Model 3 for its Autopilot tech.
Of course, there's a big disconnect between who mainstream consumers trust to deliver self-driving and which companies will actually manage to pull it off best and first. Those trust numbers might look very different if the people polled were Wall Street analysts or artificial intelligence researchers. But Tesla has already won the name recognition game.
The fact that consumers trust Tesla more than the competition means that the firm has a key advantage compared to the competitors trying to compete with Tesla's high-tech reputation.
As self-driving car programs continue to become more commonplace, and Tesla continues to work to scale up production of its mass-market Model 3 sedan, the firm looks well positioned to continue to drive sales.
In the interim, the trends still matter for Tesla's stock. For a technical take on the price action, be sure to check out this chart.
This article is commentary by an independent contributor. At the time of publication, the author held no positions in the stocks mentioned.