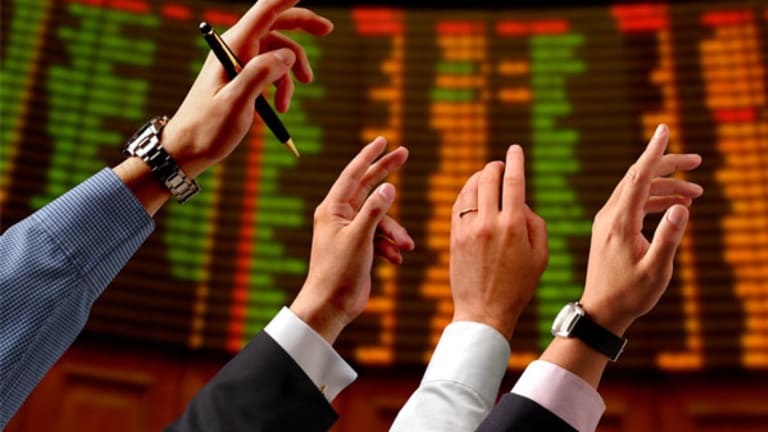 Importance of Fundamentals; China's Slowing Economy: Best of Kass
In these highlights from his trading diary this week, Doug Kass writes about the perils of relying on price momentum and the Chinese credit bubble.
NEW YORK (TheStreet) -- Doug Kass of Seabreeze Partners is known for his accurate stock market calls and keen insights into the economy, which he shares with RealMoney Pro readers in his daily trading diary.
Among the posts this past week were entries about the perils of relying on price momentum and the Chinese credit bubble.
Please click here for information about subscribing to RealMoney Pro.
Price Is What You Pay, Value Is What You Get

Originally published on Friday, Jan. 24 at 12:25 p.m. EDT.

This week is an example of what happens when everybody is in the pool and Mr. Market climbs a wall of complacency.
Stated simply.
Hopefully, the same talking heads who have been (confidently) uber bullish now turn (confidently) uber bearish.
With some exceptions, remember some of those talking heads are a mile wide in their knowledge but only an inch or so deep. It is the nature of those who are spending most of their time pontificating in the media, as there is little time in the day to do the real analytical work.
As we often learn, relying on price momentum as a predictor of future stock prices (the charts) can be a recipe for success or disaster. To me, fundamentals are the truth -- less so price (over the intermediate term).
Past prices/charts tell us where stocks have been, not where they are going.
[Read: Taking the Scalpel to Intuitive Surgical]
Another lesson is to be skeptical of those of a self-confident nature who actually believe (and lead you to believe) that there are well-defined risk ranges, moving averages, fractals and special sauce that give them an upper hand in future stock price direction.
I fully recognize that the only certainty is the lack of certainty (whether it is in the fundamentals or in technicals) -- a good lesson of this was learned this week.

I am materially in cash now, a position with which I feel comfortable and that allows me to trade opportunistically in the weeks ahead.
I am embracing today's panic and look at it as opportunity.
I remain of the intermediate-term view that stocks will decline by between 5% and 15% in 2014 and that bonds will outperform stocks by a reasonably wide amount.
It is important to emphasize that regardless of view (mine is negative), one can be long short term with an intermediate-term negative view and/or short short term with an intermediate-term positive view.
Capiche?

Originally published on Thursday, Jan. 23 at 7:43 a.m. EDT.


One From Column A and One From Column B

I returned home from dinner last night at about 8:45 p.m. EST along with the announcement that China's flash PMI for January printed at 49.6 compared to the consensus of 50.3 and to the final December reading of 50.5.
The S&P futures were up 4 handles and Nasdaq futures up 14 before the release, and over the next 20 minutes, those index futures dropped by 12 handles and 20 handles, respectively. The steam came out of the Asian stock markets, too. (As of this writing, both futures have rallied a bit but remain below the pre-PMI announcement (S&P futures down 8 and Nasdaq futures down 7).
Most brokerages reported, subsequent to the China economic release, that the release would not impact the U.S. stock market. I found that general reaction (of the China data point as not being market impactful) as not surprising, for the markets have been forgiving toward any negative news over the past 12 months. Nevertheless, the view that both good news in China (is positive for global growth and stock markets) and that bad news in China is also positive for the markets and economy, as it signals a shift from neutral to a more dovish monetary policy, seems disingenuous to me, considering the size of the potential impact of an economic slowdown in the region (and its credit market implications).

Here is a critical view (hat tip Zero Hedge) of the potential risks associated with the Chinese credit bubble.
[Read: Why Electric Cars Are Selling in California -- They're Free]
The China report gives one of the first glimpses into 2014 and follows Sunday's industrial production number that was 9.7% vs. consensus of 9.8% (a tiny difference but since the numbers are manipulated in China, some people thought this slight IP miss last Sunday had some relevance).
Bottom line: China's economic growth is slowing. For now we do not yet know for sure whether that slowdown will be importantly impactful to global growth and, in turn, global equities. The more important point is that the rampant growth in municipal and corporate debt in China has delivered a potentially lethal and quantum increase of nonperforming loans in the Chinese banking system and shadow banking system. This has constrained lending and will likely translate into slowing economic growth in the region.
What will China do to avoid this slowdown? The public infrastructure build out option is a nonstarter, as there is already too much of it. The same applies to the private sector infrastructure complex.
[Read: Be Resolute to Make Money This Year]
What China needs is to shift from export/infrastructure and debt-driven growth to consumption-based growth and reform. However, with the banks and other financial intermediaries constrained, a tough transition lies ahead.
On one hand (Column A), the Chinese growth challenge and credit risks are issues/problem that are well known to investors, and the bulls argue that this has been discounted, as China's stock market has been among the worst in the world over the past 12-15 months. "The China Problem," to many in the consensus, was one of the concerns widely held as we entered into 2014. (That consensus was highlighted in my "15 Surprises for 2014," and that universality of concern kept me from listing it as a surprise.)
On the other hand (Column B and my view), the ramifications of a Chinese economic slowdown and a potential credit meltdown may have not been discounted by the U.S. stock market and other global equity markets.
I am out of the office at a breakfast meeting, so there will be no "Morning Market Look" this morning.
At the time of original publication, Kass was short SPY.
Doug Kass is the president of Seabreeze Partners Management Inc. Under no circumstances does this information represent a recommendation to buy, sell or hold any security.