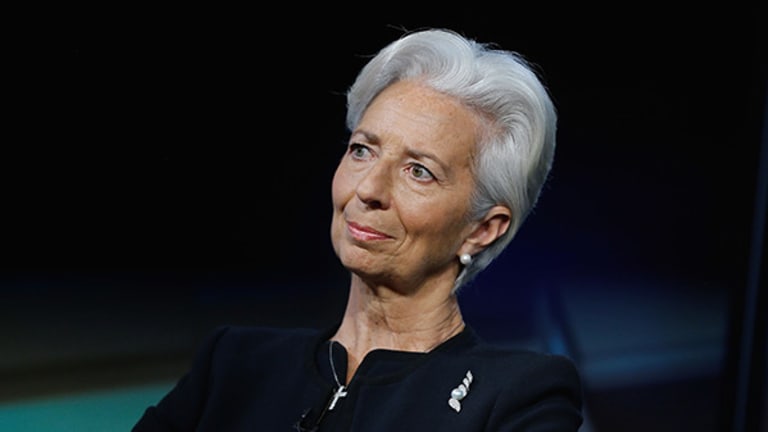 IMF Head Lagarde Found Guilty of Negligence by French Court
The guilty verdict, stemming from her time as finance minister, carries no jail time and is more of a hit to her reputation than anything else.
International Monetary Fund Managing Director Christine Lagarde was found guilty of one count of negligence by a French court on Monday. The charge stems back to her time as French finance minister about 10 years ago. Cour de Justice de la Republique judges announced Lagarde should have done more to reverse a payout of $297 million to a businessman in an arbitration case.
Bloomberg reporter Caroline Connan was outside the courthouse, where Lagarde did not attend the hearing. She explained exactly what happened on Monday morning's Bloomberg Daybreak: Americas.
"She was found guilty of negligence, not for ordering the initial arbitration, but for failing to overturn it a year later in 2008 when she had the possibility," Connan reported. "The president of the court highlighted the fact that Christine Lagarde was a lawyer for 20 years. As you know she was a partner at Baker & Mackenzie in Chicago, so as a lawyer she should have known that she had the option to overturn this initial payout of more than 400 million euros."
Although she was found guilty, Lagarde will face no jail time and will not be required to pay a fine.
BloombergTV anchor Jonathan Ferro questioned Bloomberg reporter Greg Viscusi on how this verdict will impact Lagarde and if it is more of a reputation problem since there will be no sentence.
"Well, for her it's really just a reputational issue at this point because she's kind of out of the picture in terms of French politics," Viscusi said. "We go back five years or so it would have been a much different story. There was even talk of Christine Lagarde being a French presidential candidate at one moment, when the center-right parities couldn't agree on a candidate."
Viscusi noted the interest in this case has now more to do with the amount of money involved, rather than Lagarde alone.