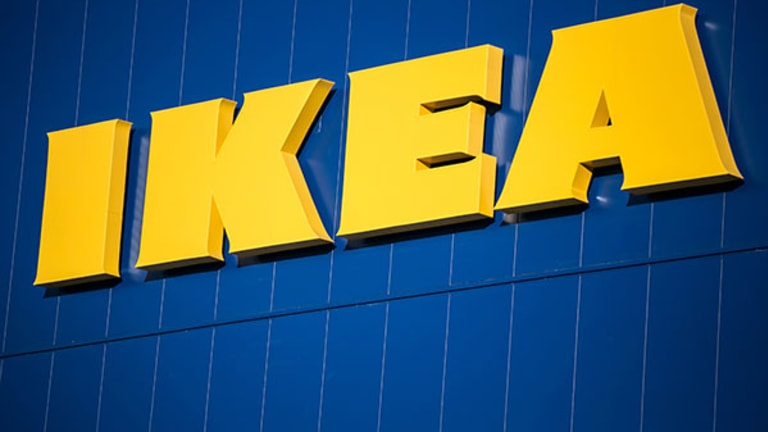 Ikea to Raise Minimum Wage for U.S. Workers in January
The minimum wage for U.S. workers rises to $11.87 per hour.
The minimum wage for U.S. workers rises to $11.87 per hour.
NEW YORK (TheStreet) -- Ikea will raise the minimum wage for U.S. workers to $11.87 per hour. The 10% increase comes as the world's second-largest furniture retailer acts to keep its workforce from moving to other competitors.
The increase will take place Jan. 1. The federal minimum wage is $7.25 an hour.
Wal-Mart (WMT) - Get Report and Target (TGT) - Get Report are among retailers that recently increased their minimum wages in response to mounting social pressure. The Swedish company said 32% of its hourly staff will benefit from the raise while reducing worker turnover and attract more competitive job applicants.
It's the second year in a row Ikea has upped its base rate. Back in June 2014 the company took a new approach to its pay structure, raising its minimum way by 17% and pegging the increase to the cost of living in each location. The retailer will now use MIT's Living wage calculator to determine basic expenses such as food, housing and childcare in given area where stores are located.
CFO Rob Olson said that Ikea has already experienced a reduced rate of turnover, beating expectations within the first six months of the pay raise. He added that the company will re evaluate wage structure on a yearly basis to ensure that workers are getting a fair deal. Though the minimum wage increase has been welcomed and applauded, for many the change is not sufficient. Unions and labor groups are campaigning for entry level wages to start at $15 per hour.
The pay hike is not the only way Ikea has been sweetening its offering recently. The company is set to roll out a line of Swedish candy stores in the next few months that will be situated in many of its U.S. locations. The candies featured will be a selection of 'pick n mix' retailing for $7.99 per pound and will be free from GMO ingredients, high-fructose corn syrup and trans fats.