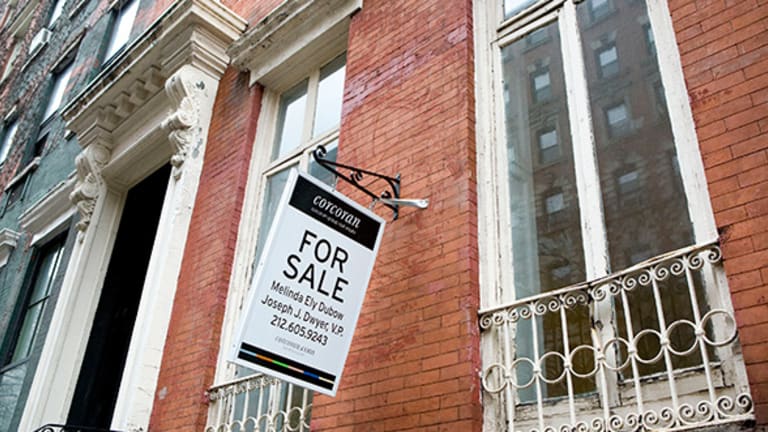 If You're Not Doing This With Your Real Estate Investments, You're Losing Money
Too many real estate investors fail to take advantage of 1031 exchanges to defer capital gains taxes.
NEW YORK (TheStreet) -- Real estate remains a very popular and lucrative investment, yet many Americans fail to take advantage of a trick that could dramatically lower their tax bills on real estate profits.
According to a recent Gallup poll, more Americans chose real estate over assets such as stocks as the best long-term investment.
And real estate is proving profitable for some of the wealthiest people. According toForbes, 23 new entrants made it the magazine's 2015 billionaires list thanks to their real estate holdings. That boosts the total number of real estate billionaires to 157, Forbes said.
Capital gains taxes can take a bit out of investors' real estate profits, however. Specifically, the federal long-term capital gain tax rate increased from 15% to 20% for Americans with modified adjusted gross income of more than $400,000 ($450,000 for married filing jointly). Many real estate gains are also hit with an additional 3.8% Net Investment Income Tax, putting the current tax rate at 23.8%, but it could rise as high as 28%.
One of the secrets to real estate investment is a little-known trick known called the "1031 exchange," something that can save more than 30% in taxes on capital gains.
"Surprisingly, many investors are not aware of this," said Michael Brady, a certified exchange specialist and vice president of New York title company Riverside Abstract and sister company Riverside 1031. "Even real estate lawyers are asking us about it."
By taking advantage of the 1031 exchange rule, investors can reap big breaks on appreciated real estate assets.
"Astute investors use 1031 exchanges to diversify their portfolios, exchanging one high priced property for several smaller properties, or investing their money in regions where bargains are easier to find," Brady said.
Use of these exchanges has been increasing among professional real estate buyers. According to an early 2014 report by the National Association of Real Estate Investment Trusts, the leading authority on U.S. real estate investment trusts, the overall 1031 exchange activity level among publicly traded REITs was up. One company processed $85 billion in 1031 transactions. These exchanges are named after section §1031 of the Internal Revenue Code.
Here's how these exchanges work in practice:
You sell a property at a profit. Within 45 days, you find one or more replacement properties -- worth the same or more -- that you want to defer the money to.
From there, the taxes from the profits made from the first property can be deferred and used to invest in the next real estate investment, saving the investor a significant expense and giving him or her more capital to work with.
"The objective of a 1031 exchange is to defer the capital gain taxes that would otherwise be due when a taxpayer sells a property at a profit," Brady said.
And though this trick is little known among smaller players, savvy investors have been taking advantage lately, especially as the U.S. luxury market has seen high demand from foreign investors -- a trend that's expected to continue in the coming years.
"The 1031 exchange is significant," said Douglas Elliman's Gilad Azaria, a New York City luxury real estate broker. "Especially to investors coming from overseas investing in high-end properties. It's a powerful tool for them."
One such example is the extremely expensive Time Warner Center in New York, which boasts a number of international, wealthy buyers. The New York Times called it an "enclave of powerful Russians" and an "archetype of the condo boom." 
Azaria currently has a $25 million condo on the market at the Time Warner Center, which was featured on Bravo's reality show Million Dollar Listing. He said the buyers of these type of assets reap big benefits from the 1031, a development that's spilled over to the general market.
"It's one of the reasons prices are going up in New York, because it allows big investors to pay more with the savings from the tax break," Azaria said.
In recent months, there's been fear among real estate heavyweights that the 1031 exchange could be essentially abolished. Earlier this year, developer Daren Hornig of Hornig Capital Partners said that if 1031s were taken out of the market "that would have an atomic-bomb kind of effect."
While the big-time investors continue to benefit, so can fledgling investors who are just starting to build a portfolio.
"We've also seen smaller investors use the 1031 exchange to transition from management intensive structures, like apartment buildings, to more passive investments like net-lease properties and Delaware Statutory Trusts, where someone else handles the headaches," Brady said.
Brady listed some of the most important tips for investors who want to cash in on the 1031 exchange:
No primary residences -- investment properties only.
Consult with your accountant and a qualified intermediary before deciding to do an exchange.
Set up the exchange before closing.
Shop for a replacement property early -- it must be identified within 45 days.
Close on the replacement properties within 180 days -- after that, the window is closed.
Buy equal or more expensive property in order to defer all taxes.
As long as the properties aren't primary residences, these rules apply to all investors, whether they're REITs or rookies, Brady added.
"The 1031 exchange can be an important arrow in the quiver of any real estate investor," he said.
This article is commentary by an independent contributor. At the time of publication, the author held no positions in the stocks mentioned.