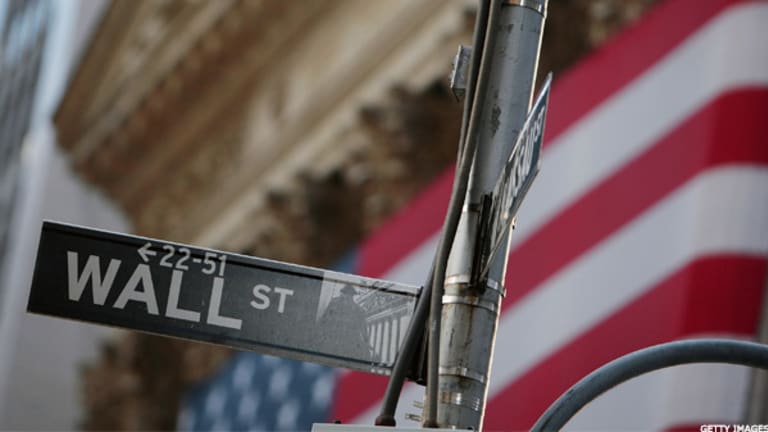 If the Stock Market Crashes, Buy the Alphabet?
The alphabet stocks (stocks with a single-letter ticker) have crushed the broader stock market since March 2009.
NEW YORK (TheStreet) -- Ever hear of the Dogs of the Dow? How about the January Effect?
Investors will always be on the quest for a stock market formula that guarantees outperformance. Sadly, all observed phenomena in the stock market have a common flaw: reversion to the mean.
As more investors learn "the formula," the formula becomes less effective until it delivers average returns. Not to mention that investing on the premise of a secret formula is, for lack of a better word, stupid. Do your homework.
Nevertheless, it is human nature to seek above-average results from below-average effort. To that end, you might be interested in the following observation:
(stocks with a single-letter ticker symbol) have crushed the broader stock market since the March 2009 lows.
If you tally the investment returns of the 19 single-letter stocks in existence from March 9, 2009, to Nov. 30, 2011 (
Pandora
(P)
and
Zillow
(Z) - Get Zillow Group, Inc. Class C Report
both came to market in 2011, while
Quest Communications
-- formerly "Q" -- was absorbed into
CenturyLink
(CTL) - Get CenturyLink, Inc. Report
in April 2011), you're looking at a 149% gain with dividends reinvested.
Comparatively, the
SPDR S&P 500 ETF
(SPY) - Get SPDR S&P 500 ETF Trust Report
delivered a 94% return (dividends reinvested).
So, what are these alphabet stocks -- and will they outperform again?
Agilent Technologies
Barnes Group
Citigroup
Dominion Resources
Eni SpA
Ford
Genpact
Hyatt Hotels
Kellogg
Loews
Macy's
NetSuite
Realty Income Corporation
Pandora
Ryder System
Sprint Nextel
AT&T
Visa
U.S. Steel
Allegheny
Zillow
As you can see from the list above, some single-letter stocks are quite familiar. Others, not so much. In aggregate, the list of 21 represents a concentrated swath of the U.S. economy: technology, services and financial services.
In other words, if you buy the alphabet, you are concentrating your bets in volatile sectors that can swing violently when liquidity runs dry.
Picking up these names during the next crisis might seem like a viable strategy -- and perhaps it is -- but just because these stocks survived the last crisis does not mean they are guaranteed to outlast the next. Similarly, it's impossible to tell when the next stock market "bottom" will occur -- the observation above relies on hindsight's 20/20 vision.
However, the performance of these stocks suggests that portfolio diversification is a moving target: Allocate capital to defensive sectors when the market looks like it can do no wrong; favor volatile sectors when it seems as if the world is going to end.
Of course, ETFs make it fairly easy to invest in a particular sector. But for those who are still tempted by the siren song of the alphabet stocks above, the following pages contain
TheStreet Ratings'
analysis of each respective stock.
Services
Company Profile
:
Genpact
(G) - Get Genpact Limited Report
is engaged in business process and technology management services. Services include: finance and accounting, collections and customer service, insurance services, supply chain and procurement, analytics and enterprise application services.
: A (Buy)
----------------
Company Profile
:
Hyatt Hotels
(H) - Get Hyatt Hotels Corporation Class A Report
provides hospitality services on a worldwide basis through the management, franchising and ownership of hospitality related businesses.
: C- (Hold)
----------------
Company Profile
:
Macy's
is a retail organization that sells a range of merchandise, including men's, women's and children's apparel and accessories, cosmetics, home furnishings and other consumer goods.
: B (Buy)
----------------
Company Profile
:
Ryder System
(R) - Get Ryder System, Inc. Report
provides transportation and supply chain management solutions.
: B (Buy)
----------------
Company Profile
:
Visa
(V) - Get Visa Inc. Class A Report
is a global payments technology company that connects consumers, businesses, banks and governments around the world, enabling them to use digital currency instead of check and cash.
: A (Buy)
----------------
Company Profile
:
Zillow
(Z) - Get Zillow Group, Inc. Class C Report
provides vital information about homes, real estate listings and mortgages through its website and mobile applications, enabling homeowners, buyers, sellers etc. to connect with real estate and mortgage professionals best suited to meet their needs.
TheStreet Ratings' Grade
: Not Rated
Technology
Company Profile
:
Agilent Technologies
(A) - Get Agilent Technologies, Inc. Report
provides core bio-analytical and electronic measurement solutions to the communications, electronics, life sciences and chemical analysis industries.
: B (Buy)
----------------
Company Profile
:
NetSuite
(N)
provides an on-demand, integrated business management application suite which offers accounting/enterprise resource planning, customer relationship management and ecommerce functionality to medium-sized businesses and other businesses.
: D+ (Sell)
----------------
Company Profile
:
Pandora
(P)
is a personalized internet radio service.
TheStreet Ratings' Grade
: Not Rated
----------------
Company Profile
:
Sprint Nextel
(S) - Get SentinelOne, Inc. Class A Report
offers a range of wireless and wireline communications products and services that are designed to meet the needs of individual consumers, businesses, government subscribers and resellers.
: D (Sell)
----------------
Company Profile
:
AT&T
is a holding company whose subsidiaries and affiliates provides wireless and wireline telecommunications services and equipment as well as directory advertising and publishing services in the United States and internationally.
: A- (Buy)
Financials
Company Profile
:
Citigroup
(C) - Get Citigroup Inc. Report
is engaged as a financial services holding company, whose businesses provide consumers, corporations, governments and institutions with a broad range of financial products and services, including consumer banking and credit cards.
: C- (Hold)
----------------
Company Profile
:
Loews Corporation
(L) - Get Loews Corporation Report
, through its subsidiaries, is engaged in commercial property and casualty insurance, operation of offshore oil and gas drilling rigs, production of natural gas and liquids, operation of interstate natural gas pipelines and operation of hotels.
: B- (Buy)
----------------
Company Profile
:
Realty Income Corporation
(O) - Get Realty Income Corporation Report
is organized to operate as an equity real estate investment trust, or REIT. The Company has in-house acquisition, leasing, legal, credit research, real estate research, portfolio management and capital markets expertise.
: A- (Buy)
----------------
Company Profile
:
Allegheny Corporation
(Y) - Get Alleghany Corporation Report
is engaged, through Alleghany Insurance Holdings LLC and its subsidiaries, RSUI, CATA, Darwin and EDC, in the property and casualty and surety insurance business.
: C+ (Hold)
----------------
Consumer Goods
Company Profile
:
Ford
(F) - Get Ford Motor Company Report
is a producer of cars and trucks. Its business is divided into two sectors: Automotive and Financial Services.
: B- (Buy)
----------------
Company Profile
:
Kellogg Company
(K) - Get Kellogg Company Report
and its subsidiaries are engaged in the manufacture and marketing of ready-to-eat cereal and convenience foods.
: B (Buy)
Basic Materials
Company Profile
:
Eni SpA
(E) - Get Eni SpA Report
is engaged in the oil and gas, power generation, petrochemicals, oilfield services and engineering industries.
: B- (Buy)
----------------
Company Profile
:
U.S. Steel
(X) - Get United States Steel Corporation Report
is an integrated steel producer of flat-rolled and tubular products with major production operations in North America and Europe.
: D+ (Sell)
----------------
Industrial Goods
Company Profile
:
Barnes Group
(B) - Get Barnes Group Inc. Report
is an international logistical services company and aerospace and industrial components manufacturer serving a range of end markets and customers.
: B+ (Buy)
----------------
Utilities
Company Profile
:
Dominion Resources
(D) - Get Dominion Energy Inc Report
is a producer and transporter of energy. It manages its daily operations through three operating segments: Dominion Virginia Power of DVP, Dominion Energy and Dominion Generation.
: A- (Buy)
----------------
>>To see these stocks in action, visit the
on Stockpickr.
-- Written by John DeFeo in New York City
STOCK IDEAS FOR 2012:
10 Best Dow Dividend Stocks for 2012 >>
10 New 'Dividend Aristocrats' Arrive for 2012 >>
Disclosure: TheStreet's editorial policy prohibits staff editors, reporters and analysts from holding positions in any individual stocks.