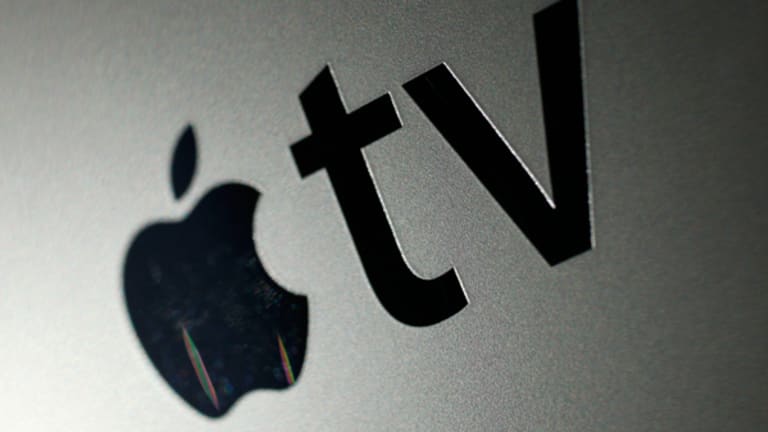 If Apple Focused on iTV, It Could Be as Big as iPhone and iPad
The living room presents the most Apple-like opportunity in tech. It's curious we haven't heard much about it.
NEW YORK (TheStreet) -- I'm hoping Apple (AAPL) - Get Apple Inc. Report is about to pull the head fake of all head fakes and, iPhone 6 aside, make the living room the focal point of its efforts to produce the next big thing.
If this is the case, there's no question an actual television integrated with the existing Apple TV set-top box must anchor any and all living room efforts. Apple's mobile devices -- from iPhone and iPad to the rumored iWatch -- can function as remote controls and dynamic second screens, but they can never serve as centerpieces. Tim Cook lamented the static, boring experience that is the living room and attendant television set a couple years ago. That could not have been merely a comment in passing, particularly when you recall that Steve Jobs apparently had the living room question figured out just before he died.
The media's default excuse for why Apple hasn't made a TV-centric move in the living room is that the company could not come to agreements with programmers for content. While that's probably true, it's misguided to think Apple needs content to sell millions of television sets as the driver for a richer living room experience. Owning and/or controlling content would only take Apple's eye off of the ball.
For Apple to make the most profound impact in the living room it needs to do what it did with its three previous smash hits. iPod, iPhone and iPad each accomplished one or both of the following: They took something you were already doing with another device and made the experience better and/or found a hole in an existing category, which triggered the emergence of, for all intents and purposes, a new space. There's no reason why Apple cannot or should not replicate the process with a television set. It has yet to do this with the existing Apple TV because, while a nice additive to the Apple ecosystem, it has transformed nothing experientially.
Apple obliterated BlackBerryundefined because the CEO of the artist formerly known as RIM, Jim Balsillie, didn't think apps were necessary to surf the Web. He was fine maintaining BlackBerries as tools for email and messaging. You can make an analogy to the standstill the television industry (meaning the hardware producers) is mired in. The biggest innovation in recent years -- or at least the one a considerable number of mainstream consumers care about -- was to provide TVs with Internet connectivity. Nobody has worked to disrupt what has become routine -- plop on the couch, grab the remote and scroll through a grid that looks pretty much the same regardless of the service you subscribe to or the company that produced your hardware.
That's where Apple -- hopefully -- comes in.
I'd be nuts (and lying) if I claimed I had any idea exactly how Apple might come in here. However, it's perfectly sane and logical to suggest that a game changing piece of living room hardware -- an integrated television/set-top box -- would prompt Apple diehards to drop a grand or two to round out an ecosystem that could very well include SmartHome technology. At such a robust price point, Apple doesn't need iPhone or even iPad numbers in terms of unit sales to have a hit close to, if not as big as iPhone or iPad.
--Written by Rocco Pendola in Santa Monica, Calif.
Rocco Pendola is a full-time columnist for
TheStreet
. He lives in Santa Monica. Disclosure: TheStreet's editorial policy prohibits staff editors, reporters and analysts from holding positions in any individual stocks.