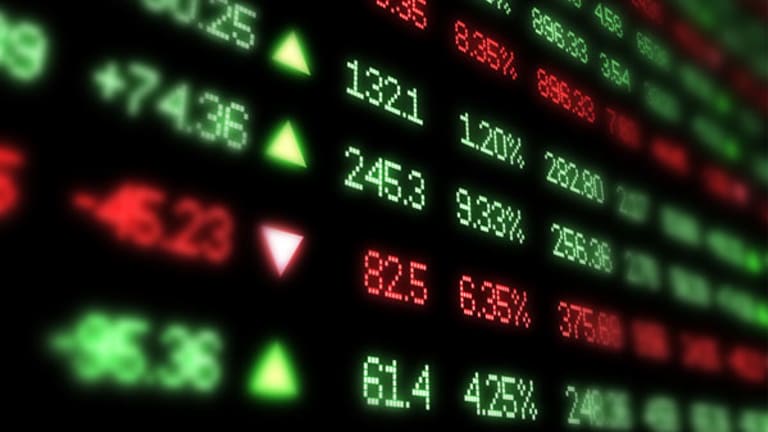 Ideal Level for Oil?; Heed the Rotation: Jim Cramer's Best Blogs
Catch up on Jim Cramer's thinking over the last week about where we want oil to be if we want the market higher and the gross domestic product number.
NEW YORK (TheStreet) -- Jim Cramer fills his blog on RealMoney every day with his up-to-the-minute reactions to what's happening in the market and his legendary ahead-of-the-crowd ideas. This week he blogged on:
Where we want oil to be if we want the market higher, and
Being blown away by the gross domestic product number.
Click here for information on RealMoney, where you can see all the blogs, including Jim Cramer's -- and reader comments -- in real time.
What's the Ideal Level for Oil?
Posted at 8:52 a.m. EDT on Friday, Dec. 26, 2014
Where do we want oil to be if we want the market higher? Where should it stop going down?
Right now we are still in the mode that, when oil goes up, the S&P 500 goes higher on a given day, even as we know from the long run the averages have had that the daily basis is quite contrary to how the averages have done overall. In other words, it's actually been terrific for the averages that oil falls, but it doesn't seem so on a minute-to-minute basis. The big down days have hurt the averages. The meandering days then help them and we have had far more meandering days than big down days. That's because, as I like to say, it's always the velocity -- not the direction -- that freaks people out and if there is no velocity then everyone's pretty sanguine.
So, with that, I think that the ideal level for the bulls might be about 10% lower. That's because it's still worth drilling on the good properties at $50 while others are on hold and the marginal producers slowly get taken down. Again, remember, it's the speed not the price, and at $50 we get gasoline at about $2, which seems to have an almost miraculous effect on the consumer without causing massive bankruptcies and a destruction of the high-yield market.
Anything in the $40s and there is going to be so much fretting about bank failures and high-yield defaults that it might derail a bullish tape. Anything in the $60s would have a deleterious impact on consumer spending.
It stands to reason that people are justifiably skeptical of this new level. They should be. I think investors are wondering what the heck happened to the $80s, $70s and $60s that we sliced through them so quickly after hovering in the $90s for so long. I think that it's obvious: the financial buyers were long and selling futures, the European and Asian buyers had been curtailed on economic weakness and the United States and Russia had a surge in production, the first from the Permian and Eagle Ford and natural gas liquid areas of Texas, the second just a need for raw currency. With that imbalance, the Saudis would have been expected to take a million barrels a day out of production and it didn't happen.
Which means the whole time we were artificially at an inflated level and it didn't take nearly as much as we thought to get to a realistic level. I know many think we can't stay down here, but the figures out of Texas, the new oil soon to be pumped out of the Gulf of Mexico as the wells that had been held back by Macondo start paying off, and the ferocity with which Russia is selling oil would certainly indicate otherwise. Cutbacks now will not be felt until 2016, simply because of how much is still being drilled right now.
At this level the savings are so great that we will keep having good comparisons in consumer spending without a resurgence in inflation in this country and we should have some sort of pick-up in consumer spending in Europe. If Russia were to make a deal with the west over Ukraine, I think we could have a substantial rally based on second half international earnings.
Why am I not that worried about bankruptcies now in the oil patch? I think it's because so many of the hedges run out -- including big ones like Pemex -- at about the same time that production should begin to be curtailed and demand picked up. I am not that worried about production in Brazil, it will stay stable. But drilling will be curtailed and I think it makes it to when oil starts climbing from economic growth. That's why I think that Boone Pickens is so optimistic about the end of next year. The combination of the hedges keeping more producers in business and coupled with a return to stronger business conditions should take the market back up, I just don't think it will return to the $90s because there's too much that goes right as long as we stay at a level where there's low-to-no profits. In other words, it still pays to drill and for most of the good places in the U.S. the oil will keep pumping from the high-priced wells, just enough to make it so earnings are nil for many, but cash flow covers debt for all but those who bought last.
Everyone's watching Halcon (HK) , Goodrich (GDP) - Get Goodrich Petroleum Corporation Report , Laredo  (LPI) - Get Laredo Petroleum, Inc. Report  and SandRidge (SD) - Get SandRidge Energy, Inc. Report  to measure the stress. I think the focus should be on Encana (ECA) - Get Encana Corporation Report  because that one's so much larger than the worrisome four smaller producers that were, frankly, worrisome before the downturn.
So, we meander, looking like we don't take out $50, but $60 brings out futures sellers -- the companies trying to stay alive -- and the market stays strong on year-over-year comparisons revolving around consumer spending.
I think 10% down is the real sweet spot for that $2-a-gallon figure that's got us revved, and that's the likely price given the pace of the economy vs. the huge production still coming on from Texas and the Gulf of Mexico.
At the time of publication, Action Alerts PLUS, which Cramer co-manages as a charitable trust, had no positions in the stocks mentioned.
Heed the Rotation
Posted at 1:11 p.m. EDT on Tuesday, Dec. 23, 2014
Typically, these big numbers from the government don't mean much to me. But occasionally you get one that blows you away and this morning's gross domestic product number, showing a 5% gain for the quarter, is one of these numbers. It's helping to define today's trading, in which the industrials are doing well but so are all of the stocks of companies that are benefitting from the decline in raw costs.
Let me define what appears to be the perfect stock for this moment, Kimberly-Clark  (KMB) - Get Kimberly-Clark Corporation Report . I know this company's hardly an industrial. But it is a big branded company and when I see the gross domestic product flying like this, I wonder if the consumer isn't trading up to Kleenex and Huggies. It used to happen when things got better. Maybe it is happening again.
In the meantime, the company's become much more focused, having shed its Halyard Health (HYH)  division, making it a pure consumer products play in a moment when the pure consumer products companies are supposed to do well, according to all of the histories of when oil goes down in price.
It's got a 2.85% yield, which is much higher than the 10-year Treasury. That makes it a bond equivalent when rates are going down. It doesn't want to be in any price wars that kill its gross margins, which is why it pulled Huggies from Central and Western Europe, ceding the diaper market to Procter & Gamble (PG) - Get Procter & Gamble Company Report .
Most important? When you buy disposable diapers, you are buying a ton of plastic. That means you are buying a ton of oil-based products. Kimberly Clark is not cutting the price of those diapers to you. That means its gross margins can go higher. Plus it takes a tremendous amount of energy to make paper towels and Kleenex: more lower cost energy wins for KMB.
Now, you can say you want something more cyclical more levered to the growth of the economy. I get that.
So how about retail?
When in doubt, always circle back to winners. That means you want to own Costco  (COST) - Get Costco Wholesale Corporation Report . I know, tiresome, tiresome, to keep buying the same winners all over again. But the last thing you want is earnings risk. We know that Costco just reported good earnings, so we don't have some holiday downer of a story.
Restoration Hardware (RH) - Get RH Report  is the same way. You just got that fabulous quarter. We know that the consumer, particularly the rich consumer, is spending. Restoration Hardware had amazing numbers. It's a buy.
So is Walgreen's (WAG) . Sure, it's up. But this was the first good quarter, for heaven's sake. And it's going international. That allows you to craft a terrific story. Same with Starbucks (SBUX) - Get Starbucks Corporation Report , another that just reported an amazing number and can be bought.
Or you want a delayed play for the "wow it was a gift card Christmas;" remember we like Blackhawk (HAWKB)  because it owns that market and has many more products in store for you. 
How about some restaurants? Again, when you are playing a trend based on lower gasoline prices, don't over-think it. We like Jack in the Box (JACK) - Get Jack in the Box Inc. Report , because of its Qdobe kicker, we like Popeye's Louisiana Kitchen (PLKI)  because of that amazing quarter and Cracker Barrel because it's on the interstate. And we just did the work on Denny's, said it was cheap. It's a natural.
Now, let's get down and dirty. When you have a 5% gross domestic product increase, that means you are going to have a return to non-residential construction: heating, ventilation, air conditioning; so that means Honeywell (HON) - Get Honeywell International Inc. Report  and the lagging United Technologies  (UTX) - Get n.a. Report . It means that there's going to be more travel so you can buy Disney (DIS) - Get Walt Disney Company Report , Marriott  (MAR) - Get Marriott International, Inc. Class A Report  and Wyndham  (WYN) . And of course you can buy Boeing (BA) - Get Boeing Company Report  and American Airlines (AAL) - Get American Airlines Group, Inc. Report  and Spirit (SPR) - Get Spirit AeroSystems Holdings, Inc. Class A Report , my faves in the group as the airlines will be flush and they will buy new planes with the additional money. These all work when you have a gross domestic product number this strong and you have the Fed giving you a window of opportunity, because it just spoke a week ago.
Ah hah, but what doesn't work. We have had a remarkable run in health care, a relentless run that encompassed everything from cost containment to biotech to hospitals and regular drug companies.
We don't have a lot of money coming in, so these stocks act as sources of funds, meaning there is selling, money raising, giving fuel for the buying of the heavier industrials and the big energy users.
Plus you have a catalyst. The owners of the biotechs and the drug companies are petrified with the meaning of what Express Scripts (ESRX)  did to Gilead  (GILD) - Get Gilead Sciences, Inc. Report  the other day, when it chose to favor AbbVie (ABBV) - Get AbbVie, Inc. Report  for its new Hepatitis C drug, even as it has a more difficult, two-a-day regimen and some would say  inferior characteristics when it comes to success rate -- although that's hotly disputed by both Abbvie and Express Scripts. No matter, there's competition where there wasn't and there's a rotation into companies that do better when the economy does better, and that's certainly not health care.
How long can this last? Until the Fed decides that it must take action and raise rates because the economy's really hot. Sure, it could do an emergency meeting. However, I think that's unlikely, as the 5% gross domestic product hasn't yet translated into more business formation and higher earnings. But this is the impact of lower gasoline speaking, and it isn't done going down.
So the rotation stays in earnest. And, at least for the next two weeks, it must be heeded.

At the time of publication, Action Alerts PLUS, which Cramer co-manages as a charitable trust, had no positions in the stocks mentioned.