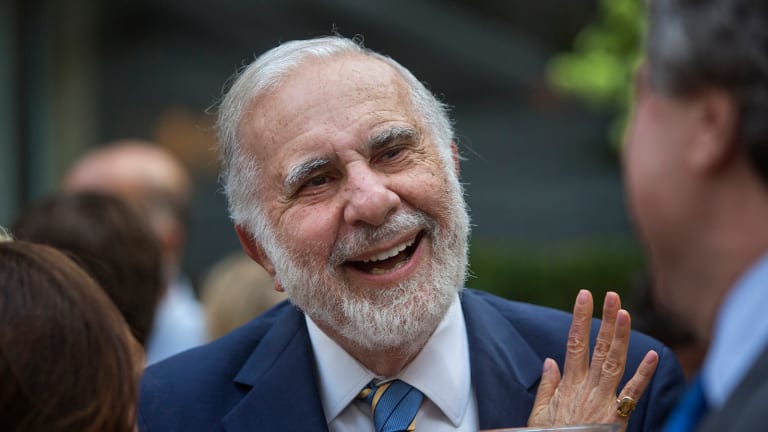 Icahn Sells $31 Million of Stock in Company That Tanked on Trump Tariff News
Icahn sells stake in company that uses lots of steel in the days before Trump's tariff announcement
Carl Icahn, the billionaire former "special adviser" to President Donald Trump, sold about $31 million in stock in a manufacturing company heavily dependent on steel in the days leading up to Trump's announcement that the U.S. would impose a 25% tariff on steel imports.
The sales, detailed in an SEC filing made on Feb. 22, involved almost 1 million shares of Manitowoc Co., (MTW) - Get Manitowoc Company, Inc. Report a Wisconsin-based maker of cranes and other lifting machinery. The filing shows that Icahn's stake in the company has fallen to 4.88% from 7.81% as of January. SEC rules don't require holders of less than 5% of a company to disclose further sales.
The sales show excellent timing by the well-known investor, whose fortune is estimated by Forbes at $16.6 billion. He started selling the shares on Feb. 12, a few days before Commerce Secretary Wilbur Ross released a report on Feb. 16 that called for a 24% steel tariff.
Manitowoc shares now trade at about $26.95, compared with the $32-$34 range Icahn sold them for. Separately, the general counsel that Icahn installed as one of Manitowoc's directors, Jesse Allen Lynn, stepped off the company's board on Feb. 23, the day after the 13D filing, according to BoardEx, a relationship capital management service that's a division of TheStreet, Inc.
Icahn's office didn't respond to a request for comment regarding the timing of the sale, which was earlier reported by ThinkProgress.
Icahn gave up his post as a "special adviser" to the president in August, just before an article in the New Yorker described how he used his White House position to shield his investments.