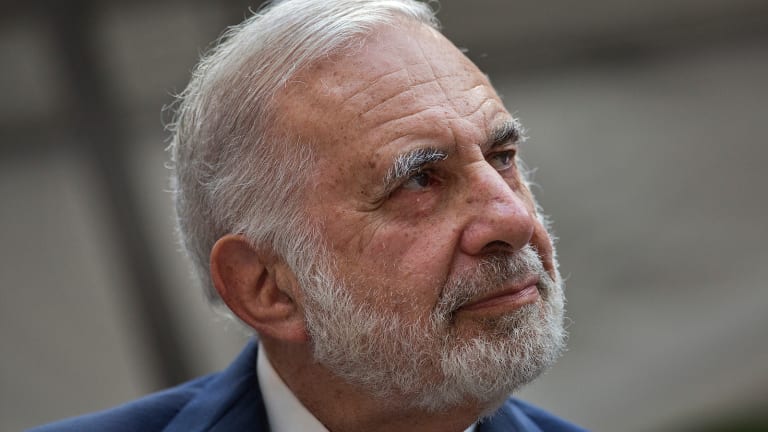 Icahn Hikes Herbalife Stake, Says Ackman Has 'No Right' to Comment
The raider-turned-activist accumulated 2.3 million shares in the nutritional supplements company, calls Ackman's comments 'amazing' and 'unsubstantiated.'
Billionaire activist Carl Icahn late Friday reported that he had acquired 2.3 million additional shares in Herbalife (HLF) - Get Herbalife Nutrition Ltd. Report , in a move that came with a statement disputing claims made earlier in the day by rival Bill Ackman that he was seeking to liquidate his stake in the nutritional supplements company
"It amazes me that a guy who hasn't any knowledge of my internal investment thinking believes he is in a position to go on television to tell the world what I am thinking," Icahn wrote in a statement. "Amazing! He has no right to do so, and even worse, I'm sure his unsubstantiated comments, especially about Herbalife, have cost investors a great deal of money over the past few years."
Icahn's comments and investment comes after Herbalife shares initially dropped by over 7% early Friday after Ackman, an embattled activist investor, said he believes Icahn was looking to sell some or all of his 18% stake in the nutritional supplements distributor.
The back-and-forth comments represent the latest in the Icahn-Ackman tussle over the future of Herbalife. Ackman has a short-selling campaign he launched in 2014 asserting that Herbalife is a "ponzi scheme" with a worthless stock that should trade at zero. He told CNBC Friday that he was approached in early August by investment bank Jefferies and that the institution was trying to put together a block trade with a group of investors that would allow Icahn to liquidate his 17 million Herbalife shares. Ackman has a $1 billion short position in Herbalife.
"I was contacted by Jefferies, and they were trying to put together a block trade to take Carl out, and I view that favorably that he's a seller," Ackman said. "This is a confidence game, and he is the leader in creating confidence in the company. If Carl sells it can accelerate the demise of the company."
Icahn late Friday responded by noting that "over the years" many investment bankers, including Jefferies, which specialize in block trades, frequently make bids for Icahn's large stakes. However, Icahn said he has never given Jefferies an order to sell any of his Herbalife shares.
In addition, Herbalife CEO Michael Johnson said in a statement that he was "particularly grateful" to Icahn for his "conviction" in the business and his significant increase in the company's shares.
Icahn and Herbalife did not return requests for comment. Ackman's comments come after the Federal Trade Commission in July required Herbalife to pay $200 million to compensate consumers to settle the agency's charges that it "deceived consumers into believing they could earn substantial money selling diet, nutritional supplement, and personal care products."
At the time, Icahn, who has five directors on the company's board including an assistant general counsel at the fund, said the settlement cleared the way for the nutritional supplements distributor to consider a range of strategic options, including a potential roll-up with competitors.
He said Herbalife will "continue to grow and continue to provide much needed employment for many more hard-working people" and that it should consider a range of strategic options in the wake of the settlement, including potential roll-ups with competitors as well as other "strategic transactions." Icahn didn't provide any further details about what specific strategic options he may want.
However, on Friday, Ackman suggested that Icahn "knows they are toast" and that "the stock is going down." Ackman said Icahn's investment has been profitable and he "doesn't" have to worry about the company when the have to change their business model." A liquidation by Icahn would eliminate confidence in the company. "With Carl there they may have a better chance of keeping top distributors," Ackman said. "With Carl exiting it's over more quickly."
Ackman said he was evaluating whether to spend $30 million to buy some of Icahn's shares as part of a consortium, with a plan to sell the stake a day later. "I would spend $30 million to get Carl out. I probably would spend more," Ackman said.