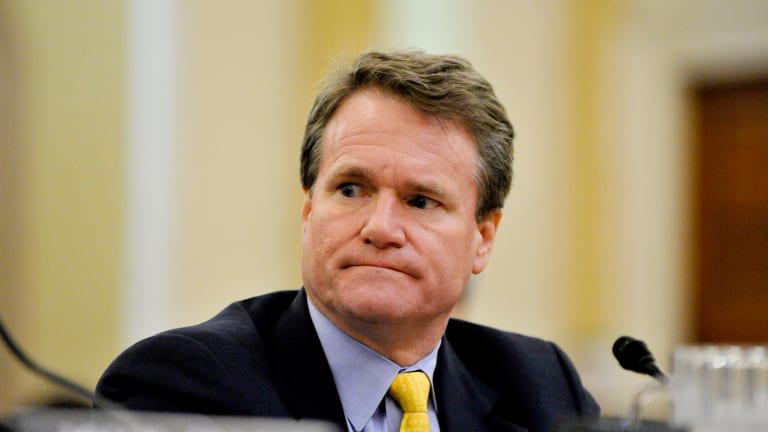 Icahn Gets a Lyft; Bank of America Gets Schooled; FXCM Still Burns: Finance Winners & Losers
Carl Icahn gives Lyft a lift, Bank of America CEO Moynihan sidesteps an eighth grader's question and FXCM licks its wounds.
NEW YORK (TheStreet) -- Activist investor Carl Icahn decided Uber, the ride-sharing service taking over urban highways, might benefit from some competition and the CEO of one of America's biggest banks made headlines after being taken to task by an eighth-grader.
Those developments are among Friday's highlights in banking and finance, occurring against the backdrop of a 0.4% drop in the S&P 500 Financial Index. The broader markets were also flat, which allowed the S&P 500 to hold onto its record high from Thursday. Meanwhile, the Dow closed up 20 points while the Nasdaq closed down 2 points in its third weekly decline in a row.
If a dismal week for the tech-heavy Nasdaq soured you on Silicon Valley, you may be relieved to hear about Carl Icahn taking a $100 million stake in Lyft, the San Francisco-based ride sharing company. The start-up is now valued at $2.5 billion.
It is tough to imagine Icahn, a man who is known for traveling by private jet, taking an interest in a ride-sharing company. What is even more surprising is that Icahn didn't share his investment via Twitter (TWTR) - Get Twitter, Inc. Report where he announced his position in Apple (AAPL) - Get Apple Inc. Report two years ago.
As for his interest in Lyft, Icahn told the New York Times:
"There's room for two in this area," Icahn said. "What I'm saying is there is a secular change going on with the way people are getting around, and with urbanization, it means more people living in urban areas.
Bank of America (BAC) - Get Bank of America Corp Report CEO Brian Moynihan can't seem to catch a break. This week, the Wall Street Journal reported on two contentious run-ins Moynihan had with shareholders.
The first occurred at Central Congregational Church in Providence, R.I., in February where Moynihan was slated to speak about the bank's commitment to social responsibility. Instead, he was met with questions from a church deacon about the bank's share price. 
More recently Moynihan faced one of the toughest and most discerning critics there is: a teenage girl who runs track and field. (Full disclosure: The author was once a teenager and a track and field runner.)
During last week's shareholder meeting, Natalie Clarke asked Moynihan about how the bank compensates rank and file employees -- particularly women. Moynihan focused his answer, however, on the pay of female executives.
In an interview with the Wall Street Journal, Clarke said that she plans to write Moynihan with a follow-up question.
"He answered a question, but it wasn't the question I asked," she told the Journal. "I'm not concerned about the compensation of the executives. I wanted to know about a teller or a project manager."
Lean in, Natalie Clarke.
Bank of America's stock closed down 17 cents today at $16.35.
It has been a tough year for FXCM (FXCM) . The company started the year on the brink of insolvency following the Swiss National Bank's decision to remove the franc's cap against the euro.
Due to wild swings in the market after that decision and the highly leveraged accounts of FXCM clients, the FXCM abruptly found itself owed $225 million by its clients.
FXCM was forced to accept a $300 million loan from Leucadia (LUK) , and its financial picture is still challenging. In reviewing Leucadia's financial's, Citigroup analyst William Katz saw that Leucadia values FXCM at 80 cents a share while he puts its value at 50 cents a share
The stock closed down 14 cents to $1.45.