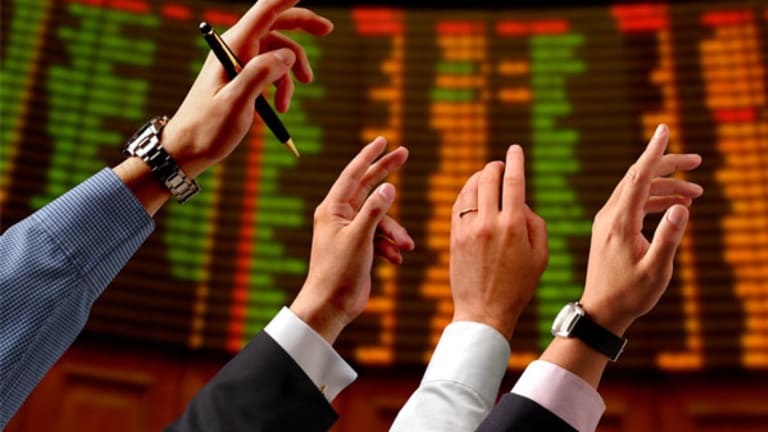 Icahn and Cook; Flash Freeze; QE: Best of Kass
In these highlights from his trading diary this week, Doug Kass writes about Carl Icahn, Nasdaq and quantitative easing.
NEW YORK (TheStreet) -- Doug Kass of Seabreeze Partners is known for his accurate stock market calls and keen insights into the economy, which he shares with RealMoney Pro readers in his daily trading diary.
Among the posts this past week were entries about Carl Icahn, the Nasdaq flash freeze and quantitative easing.
Please
for information about subscribing to
RealMoney Pro
.
Tweet From Carl Icahnl
Originally published on Thursday, Aug. 22 at 2:48 p.m. EDT.
He says he will meet with
Apple
(AAPL) - Get Apple Inc. Report
CEO Tim Cook on buyback.
See below:
From my perch, this tweet by Icahn minutes before a possible reopening of Apple's shares (and after a breakdown under $500) is borderline promotional -- manipulative and questionable from an ethical standpoint.
Read: Is Tim Cook Certifiably Inane?
But I guess Twitter, which I have left, is the new frontier (or Wild West) for all sorts of cowboys, wealthy and not-so-wealthy!
At the time of publication, Kass was short AAPL.
The Flash Freeze
Originally published on Thursday, Aug. 22 at 2:45 p.m. EDT.
Many are surprised that the levels of stock prices have been materially unaffected by the Nasdaq's flash freeze.
Upon reflection, why should this impact the short-term direction of stock prices?
As Josh Brown just mentioned, the majority of retail investors are in ETFs and not in individual Nasdaq issues.
Read: Stocks Pop Despite Nasdaq Shock
As I wrote, the flash freeze likely only impacts daytraders who need to be flat by day's end.
But in all likelihood, their sales (as they are predominantly long) will be met by purchases form counterparties.
It's a big deal for the Nasdaq and the media that is reporting it but not as market impactful as many expect/think, imho.
The Essence of the Bear Case for U.S. Stocks
Originally published on Wednesday, Aug. 21 at 11:44 a.m. EDT.
With the release of the Fed minutes only a few hours away, here are some of my deep thoughts.
It remains my view (and apparently that of the San Francisco Fed) that quantitative easing is losing its effectiveness and that, over time, QE has done less than expected by the Fed.
In essence (and with the benefit of hindsight), QE lifted asset prices, but the sensitivity of economic growth to the rise in stock prices was weaker than it forecast, as the decline in the velocity of money has offset the growth in the money supply.
There are many reasons for this, including the private sector's deleveraging, a loss of business confidence and rather than lending out the liqudity that was provided by the Fed, the banking industry has increased its excess reserves.
Read: The One Thing You Shouldn't Do When Investing for Retirement
After several years of quantitative easing and little growth to show for it, we are left with the question as to whether the U.S. is in a (light) liquidity trap that will lead to slowing and disappointing domestic economic growth and a challenge to corporate profits.
If we are (and I believe it to be the case), the outlook for equities is much more negative than many suggest. At the very least, this consideration/threat forms the basis for a lengthy period of market consolidation and underscores the likelihood that the U.S. stock market has topped for the year.
Doug Kass is the president of Seabreeze Partners Management Inc. Under no circumstances does this information represent a recommendation to buy, sell or hold any security.