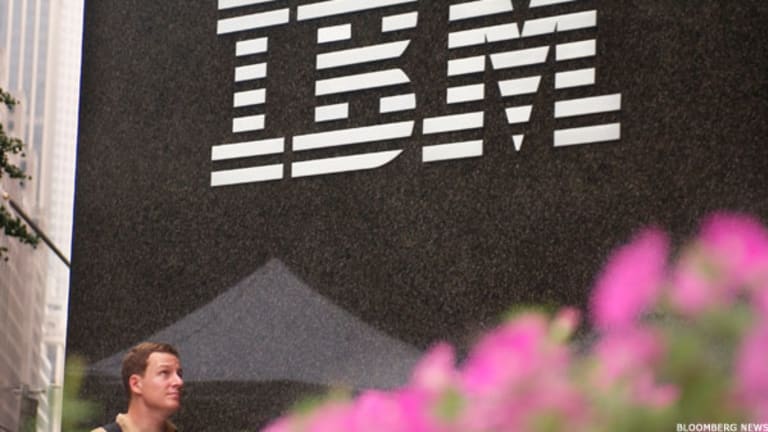 IBM Buyback Proves Warren Buffett's Math
As the 'Oracle of Omaha' foresaw, IBM's stock price has languished, shares are being repurchased and the value of Berkshire's shares is increasing.
NEW YORK (
) --
International Business Machines
(IBM)
shares are virtually unchanged from when Warren Buffett outlined in
Berkshire Hathaway's
(BRK.A)
why he wouldn't mind a flat share price over five years.
IBM's
that it will increase its quarterly dividend by 12% to 95 cents and authorize an additional $5 billion in share buybacks proves Buffett's opinion, even if the "Oracle of Omaha's" comments in the Feb. 25, 2012 shareholder letter raised some investor eyebrows.
Buffett's point to investors was share buybacks at a reasonable price can add significant value for long-term shareholders like Berkshire Hathaway, over time.
If IBM's shares were stagnant at around $200 a share, the company's authorization to repurchase up to $50 billion in shares would boost Berkshire's economic interest in "Big Blue" and give it an even more attractive claim on future earnings streams, Buffett said.
"I won't keep you in suspense. We should wish for IBM's stock price to languish throughout the five years" of the buyback, Buffett wrote in the 2011
.
As it turns out, Buffett was spot on in his expectations and analysis.
IBM shares closed Monday trading at just below $200 a share, roughly in-line with the $197.76 share price the company carried when Buffett published his 2011 annual letter on Feb. 25.
With an authorization to buy back about 25 million more shares as of Monday closing prices, IBM is now authorized to repurchase about $11.2 billion in shares, or approximately 5.6% of its overall share count.
Also see: Kass: My Pilgrimage to Warren Buffett's Omaha >>
"Since 2000, we have returned over $150 billion to shareholders in the form of dividends and share repurchases," Ginni Rometty, IBM chairman, president and chief executive officer, said in a Tuesday statement. "This enables the company to deliver value to our shareholders."
Given Buffett's comments on IBM, it's no surprise other large Berkshire investments such as
Coca-Cola
(KO)
,
Wells Fargo
(WFC)
and
American Express
(AXP)
have all announced big increases to share buybacks, in recent months.
"
Stock repurchases at Coca-Cola and American Express raised our percentage ownership. Our equity in Coca-Cola grew from 8.8% to 8.9% and our interest at American Express from 13.0% to 13.7%," Buffett wrote in his
.
Goldman Sachs
(GS)
, a new investment
poised for Berkshire's portfolio
, is among the biggest net buyer of shares in the entire banking sector.
Here's the why Buffett is banking on a flat share price for IBM in coming years.
As of Berkhsire's 2011 shareholder letter, IBM had roughly 1.16 billion shares, 63.9 million of which are owned by Buffett in a 5.5% shareholding, at the time.
Buffett expected the value of his investment to rise significantly as the company conducts its five-year, $50 billion share repurchase program.
Under the program, if IBM shares were to languish at prices around $200, which they have, IBM will buy back about 250 million shares, putting Buffett's stock ownership closer to 7%, as the company's share count shrinks to 910 million shares.
But if IBM shares were to rise to say $300 a share, Buffet's stake would only be 6.5% on a share buyback of just 167 million shares.
Of course, the benefit of owning shares -- regardless of buyback programs -- is contingent on a company's earnings prospects, and that's where Buffett's strategy kicks in.
If IBM were to earn $20 billion in the year its buyback expires, and its shares are still trading at $200, Buffett said Berkshire's share of the earnings will be $100 million more than if shares trade at $300.
"At some later point our shares would be worth perhaps $1.5 billion more than if the 'high-price' repurchase scenario had taken place," wrote Buffett of the impact to Berkshire's earnings.
"If you are going to be a net buyer of stocks in the future, either directly with your own money or indirectly (through your ownership of a company that is repurchasing shares), you are hurt when stocks rise. You benefit when stocks swoon," wrote Buffett in the 2011 letter.
So far, Buffett's analysis and his expectations have been remarkably accurate. Berkshire's economic interest in IBM has grown materially as the company repurchased shares through 2012.
Berkshire also added to its IBM investment in recent quarters.
Were IBM to exhaust its 2013 buyback, which now stands at $11.2 billion, the company would end the year with about 1,068,000 shares, down about 8% from when Buffett made his comments in February of 2012.
Meanwhile, IBM paid out 85 cents a quarter in dividends in 2012 and now expects to make a 95 cent quarterly payout this year. Berkshire received over $200 million in cash from IBM, just from dividend payments in 2012.
Buffett, however, isn't likely to attribute his prescience on IBM's share buyback and the company's flat share prices to any personal genius.
"In my early days I, too, rejoiced when the market rose. Then I read Chapter Eight of Ben Graham's
The Intelligent Investor
, the chapter dealing with how investors should view fluctuations in stock prices," wrote Buffett in the 2011 shareholder letter.
"Immediately the scales fell from my eyes, and low prices became my friend. Picking up that book was one of the luckiest moments in my life."
-- Written by Antoine Gara in New York