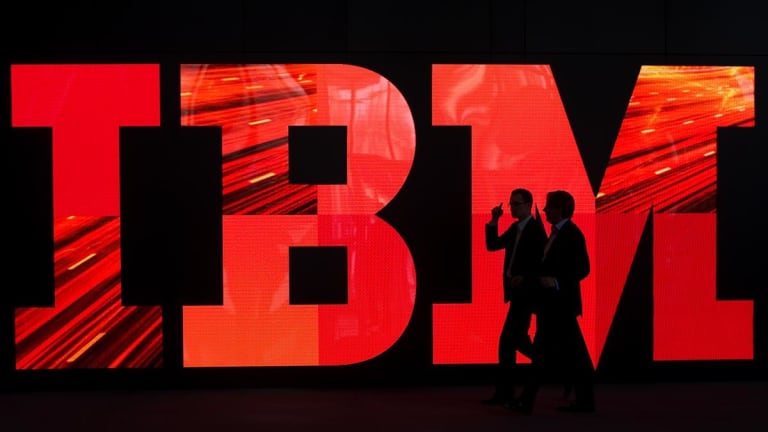 IBM Agrees $34 Billion Red Hat Takeover in Blockbuster Cloud Deal
International Business Machines said Sunday that it has agreed to buy software group Red Hat Inc in a blockbuster cloud computing deal worth $34 billion.
International Business Machines (IBM) - Get International Business Machines (IBM) Report said Sunday that it has agreed to buy software group Red Hat Inc. (RHT) - Get Red Hat, Inc. Report in a blockbuster $34 billion deal that could jump-start Big Blue's efforts to drive sales in the rapidly-expanding market for cloud computing. 
IBM will pay $190 each for all of the outstanding shares of Raleigh, North Carolina-based Red Hat, a 63% premium to its Friday closing price of $116.68 and will finance the $34 billion enterprise value deal with a mixture of cash and debt. Red Hat will operate as a distinct unit within IMB's hybrid cloud division, the company said, and will be run by current CEO Jim Whitehurst.
"The acquisition of Red Hat is a game-changer. It changes everything about the cloud market," said  IBM CEO Ginni Rometty. "IBM will become the world's #1 hybrid cloud provider, offering companies the only open cloud solution that will unlock the full value of the cloud for their businesses."
IBM shares closed at $124.79 each Friday, after falling 1.27% on the session to extend the stock's year-to-date decline to 18.66% and giving it a market capitalization of $113 billion. Red Hat's market cap, based on IBM's $190 per-share bid, is $33 billion. 
The deal is expected to be free cash flow and gross margin accretive within 12 months, IBM said, and will accelerate revenue growth and support a solid and growing dividend. The group, however, said it will suspend planned share buybacks in 2020 and 2021 as a result of the acquisition. IBM said it remains "committed to maintaining strong investment grade credit ratings" and will target a leverage profile consistent with "a mid to high single-A" grade.
Earlier this month, IBM posted weaker-than-expected third quarter revenues as cloud computer deliveries slowed and a stronger U.S. dollar weighed on international sales, complicating Rometty's uneven turnaround plans.
IBM said sales for the three months ending in September fell 2.1% from the same period last year to $18.8 billion, missing Street forecasts of $19.1 billion as cloud sales grew at around half the rate of the previous quarter.
Earnings were solid, at $3.42 per share, but slowing sales in IBM's systems division, where revenue slowed sharply from the previous quarter and cognitive software sales -- which include its Watson brand -- fell 6% to $4.15 billion. Technology Services & Cloud Platforms saw revenues fall 2% to $8.3 billion.
IBM's gross margin for the September quarter was 49.5%, essentially flat on a year-to-year basis and the best figure the group has posted in three years, according to CFO Jim Kavanaugh, and held to its full-year non-GAAP earnings guidance of $13.80 per share on free cash flow generation of around $12 billion.
Last, Linux operating system distributor posted weaker-than-expected earnings for its fiscal second quarter, which ended in August, and said sales for the three months ending in November would likely come in below forecasts withing a range of $848 million to $856 million.
However, CEO Whitehurst insisted in an interview with TheStreet, and in the company's earnings call, that some one-time events are to blame, and that his firm's competitive position hasn't changed.