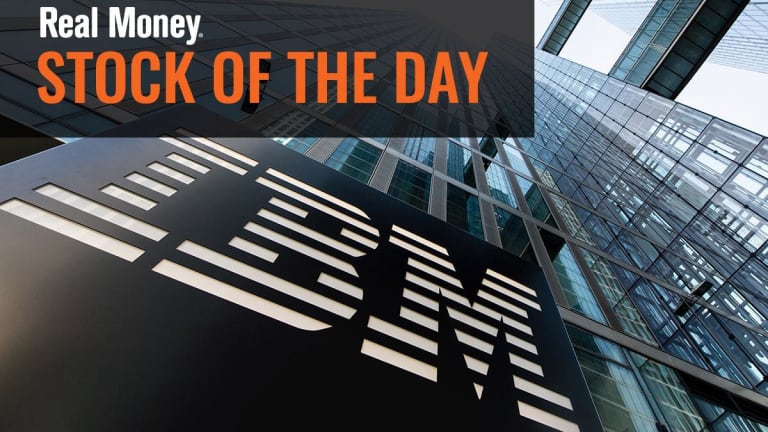 I Will Not Be Chasing IBM Stock Wednesday
My instinct tells me that a better price becomes available either later in the day, or later in the week for investors that might be truly interested.
The first thought that ran through my head when I saw IBM's (IBM) - Get Free Report stock move was disbelief. I had bet on Ginny Rometty a ways back. Like so many others, since then I had given up on Rometty. I had lost some money on that long, but at least I had taken my leave before the real pain had set in. Then there was the absurdly expensive (just my opinion) Red Hat (RHT) - Get Free Report deal that seemed to force the share price of IBM into the abyss. You know what they say... If you can't grow organically, then you have to go out and buy growth... even if it means overspending.
On Tuesday evening, IBM reported a double beat for the fourth quarter. Non-GAAP EPS beat by a nickel, while revenue of $21.76 billion actually printed about $30 million north of consensus. That number should also be noted as a -3.5% decline year over year for the quarter, just saying. What is now interesting about IBM is not that there's nothing to dislike in last night's numbers, it's that finally there is quantifiable proof that something significantly positive might be happening. The share price, now well off of it's late-December lows, does seem to support this.
Key Data
Some business lines contracted, some grew. I will not bore you wit the nitty gritty. What IBM has been focusing on is a space that the firm refers to as their "Strategic Initiatives." Components of that focus would be such business lines as cloud computing, mobile technology, data analytics, social media and cyber security.
For the full year 2018, IBM (the entire firm) reported revenue of $79.6 billion. That number represents pedestrian growth of 1%, but growth nonetheless -- something IBM had become unaccustomed to. As a whole, Strategic Initiatives delivered revenue of $39.8 billion, up 9% year over year. Broken out from the group, cloud computing delivered $19.2 billion (+12% y/y). By itself, cloud computing comprised 24.1% of the entire firm's revenue for 2018, while the Strategic Initiative group in aggregate delivered more than half.
The Red Hat acquisition, expected to close later this year, should enhance this effort, despite its expense. Does that vault IBM toward the next level, so that it might legitimately compete against the likes of Amazon (AMZN) - Get Free Report  and Microsoft (MSFT) - Get Free Report in the space? We shall see.
Fundamentally, margins did grow in the right places. There was significant margin contraction in the Systems grouping, but that is understood to be a business in decline and is no longer the focus. Cash levels are now lower (at $11.3 billion) than they were a quarter ago, or even a year ago, while total debt levels remained more or less stable.
It might be notable that a sizable portion of that debt over the course of the past year had been moved from the long-term column to the short-term column. Remember, IBM agreed to pay $34 billion (or roughly 3x what they have in hand) in cash for RHT, so getting the balance sheet into a manageable condition is paramount. Oh, IBM still does pay that handsome annual dividend of $6.28, or 5.13%. That is not too shabby at all.
My Trade Idea
Personally, I will not be chasing IBM this morning. In the zero-dark hours of Wednesday morning, it appears that the stock could open at, or above the 38.2% retracement level of the RHT-inspired autumn selloff at $130. My instinct tells me that a better price becomes available either later in the day, or later in the week for investors that might be truly interested.
The dividend that knocks more than $6 off of net basis per year would be, for me, the most attractive item here. I do believe that the RHT acquisition will hurt IBM in the short term post-deal. I don't believe that IBM will effectively compete against Amazon, Microsoft, or even Alphabet (GOOGL) - Get Free Report in the business cloud. I could be wrong. That's what makes a market. And that said, I would be open to an entry-level position at a minority level of overall exposure in order to maintain a broader strategy focused upon cloud computing. This is definite progress being made.
(Amazon, Microsoft and Alphabet are holdings in Jim Cramer's Action Alerts PLUS member club. Want to be alerted before Jim Cramer buys or sells AMZN, MSFT or GOOGL? Learn more now.)
(An earlier version of this column appeared at 7:46 a.m. ET on Real Money, our premium site for active traders. Click here to get great columns like this from Stephen "Sarge" Guilfoyle, Jim Cramer and other experts throughout the market day.)
At the time of publication, Stephen Guilfoyle was long AMZN and MSFT.