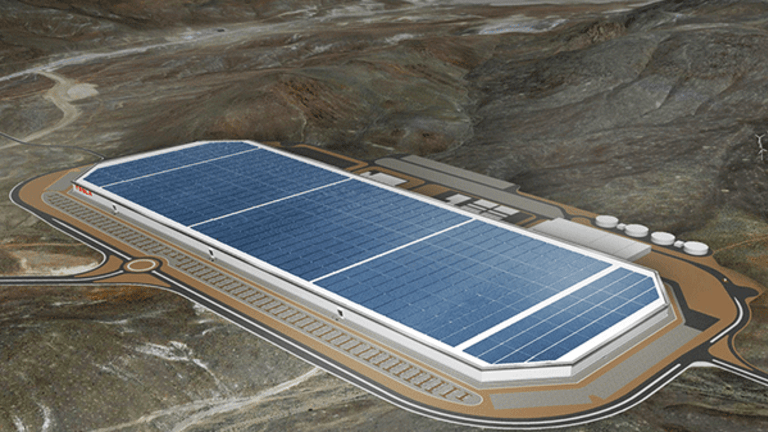 Tesla's Gigafactory Is Actually a Battleground, Jim Cramer Explains
Here is what you need to know.
Jim Cramer fills his blog on RealMoney every day with his up-to-the-minute reactions to what's happening in the market and his legendary ahead-of-the-crowd ideas. This week he blogged on:
How to be excited about Europe
How to talk about Tesla, Apple and bitcoin
Visit here for information on RealMoney, where you can see all the blogs, including Jim Cramer's--and reader comments--in real time.
Jim Cramer: Here Is Why I Am So Excited About the Turn in Europe

I hate anecdotal observations. I despise thumb-sucking. I can't stand the "it seems like it is getting better" crowd, and I am revolted by the "rising rates say things are strong" analysis.
I like the empirical.
I like when I can feel it and read about it and devour it at the same time.
I don't want to see the action in the bonds. I want to know what drives the rates themselves.
I want the original research, not the derivative.
Which is why I am so excited about the turn in Europe. It is empirical, and it is about the changes in the banking sector that are making things work after years of subpar-to-no-growth economics.
The health of an economy depends on its banks' ability to loan. If they can't loan, if they don't have the capital, or if they aren't allowed to loan, you have a stagnant economy. Guaranteed.
That's been the case with Europe. But that case is coming to an end, and how fitting is it that it ends with the stabilizing -- some would say seizing -- of the bank of Monte dei Paschi di Siena, the oldest bank in the world, by the Italian government replete with a $6 billion bailout to put the bank back on its feet.
I can't tell you how important this recapitalization is, because I believe it brings to an end the ignominious chapter in European history in which the regulators simply refused to do the right thing for the country, crunching the existing shareholders and bondholders, and instead allowed the banks to languish with the "hope" that good things will occur.
But when it comes to bad loans, I mean really bad loans that have almost no worth, no amount of patience will matter. That's something that at last dawned on Italian officials and they took action on this and two other ne'er-do-well banks at the same time, and I bet Italy is now on a growth path that it hasn't seen in ages.
These bailouts, coupled with the February €13 billion ($14.7 billion) rights offering for the only really gigantic bank in Italy, Unicredit (UNCFF) , closes the door on the lassitude -- albeit with lots of pain -- and opens it to commerce.
As someone who uses Monte dei Paschi, which is as professional as any bank I have ever dealt with, I think that people do not understand how important this bailout is to the future of this country.
Right now, Italy is basically a cash economy, both because of a fear of the loss of money deposited in insolvent banks and the inability of banks to lend, even to the most solvent of creditors.
I believe that's going to be in the past, which is why I think that Italy can now turn.
It will join Spain, where Banco Santander (SAN) is completing a brilliant 8.0 billion euros recapitalization to take over Banco Popular and cement itself as one of the world's largest and strongest lenders, and Switzerland's Credit Suisse (CS) , with a rights offering back in June for 4.0 billion euros that has helped that bank get back in the game.
All of these are on top of the successful 8.0 billion euros rights offering for Deutsche Bank (DB) back in March of this year.
This plethora of deals breaks the logjam that has plagued all of Europe, and it is why we should begin to expect some rather dramatic growth increases even as the numbers have been pretty darned good for Europe for about a year now.
So, here's my bottom line: these rights offerings and the concomitant writedowns are going to spur growth and keep the euro rising. It's why I hate European bonds and why I like the stock market and the euro, which can be captured best by buying the  (EZU) , the MSCI Eurozone ETF that we own for the charitable trust Action Alerts PLUS.
So, when you see European interest rates rise and the euro go up with them, don't say "I bet things are better, rates are going higher." Just remember that they will be rising because the banks are at last open for business, with lots of money to lend, and have cleared their balance sheets of the bad loans that should have been written down and off years ago.
Originally published July 6 at 5:42 a.m. EST
Watch more Tesla news on TheStreet:
Jim Cramer: Talking Tesla, Apple and Bitcoin
It's amazing what strangers talk to you about when you are away. No, I am not talking about what people discuss in Italy. Most of the discussion revolved around wines! I guess that's what happens when you stay in the Chianti district of Tuscany. What else is there to discuss of fascinating merit besides the wondrous sky? You couldn't beat the deal on fabulous reds at the end of the driveway in our villa: a monastery that makes fabulous cabernets and rose for €7!
No, I am talking about what interests people about the financial world. First is Apple (AAPL) . I didn't see any Samsung phones when I was in Italy -- and when I tell people what I do -- they don't watch enough CNBC in Italy -- they just wanted to know how Apple was doing.
If I could have learned one phrase in Italian besides "Ciao," it would have been "Own it, don't trade it," even as I know the chart looks bad and people are increasingly skeptical about the iPhone 8. I like skepticism.
What gets the juices going, though? What do tourists want to talk about? Two things: Tesla  (TSLA) and bitcoin. These -- not the soaring equity markets, not the incredible run in the Dow, not the worldwide gains in all equity markets -- are what fascinates people.
They both came up several times, and that's not unusual. It generally starts with a tap on the shoulder and then, "How about that (Tesla) Gigafactory," or "When are you going to talk more about bitcoin."
First, the Gigafactory is part of the vast battleground that is Tesla. I eschew battlegrounds with everything I have. Who wants to be caught in the crossfire between research firms like we had today -- when Goldman Sachs, the actual Tesla banker, reiterates a sell and talks about this $300 stock going to $180 because of a glut of inventory? Meanwhile, a very solid Baird analyst says the deliveries are good enough and we should focus on the Model 3 introduction at the end of this month.
But then Bernstein analysts question the lack of disclosure over key issues involving poor production of batteries. And KeyBanc says there's enough excitement about the Model 3 to drive the stock higher.
To me, the hopes of a Gigafactory windfall, like my interlocutor suggested, seem a little chimerical versus the barrage of concerns. And I couple this with a belief that the stock may be less of a creature of the fundamentals than pretty much any other in the book.
Cryptocurrency? What can I say? Opining on bitcoin or ethereum or any other well-thought-out, but not readily predictable, asset is well beyond my ken. I do know that these currencies are mined, so to speak -- and to do the mining, you need either Advanced Micro Devices (AMD) or Nvidia (NVDA) chips, with the latter being preferred by most miners. It's a true stretch, because there are so many other factors at work, but when my bitcoin interrogator urged me to hazard a judgment, I just suggested that I know stocks and that Nvidia is the best way to play the phenomenon.
I am always glad when people are passionate about anything finance. I just also know enough to know when I don't know. That may sound a little like a punt, with all of its negative connotations. However, I have found the best analogy to what I do to be the sports world. I am not going to tell you who is going to win the U.S. Open if I cover the NFL. You get enough wrong with the NFL, who needs to venture to where you know you have limited abilities?
At the time of publication, Action Alerts PLUS, which Cramer co-manages as a charitable trust, was long AAPL.
Originally published July 5 at 12:55 p.m. EST
Apple is a holding in Jim Cramer'sAction Alerts PLUS Charitable Trust Portfolio.Want to be alerted before Cramer buys or sells AAPL? Learn more now.
Visit here for the latest business headlines.
Don't miss these videos from TheStreet's new series #AlphaRising:
Meet The Women Redefining Business in TheStreet's New Series, Alpha Rising
Meet Ford's 23-Year-Old Prodigy Who Holds 15 Patents