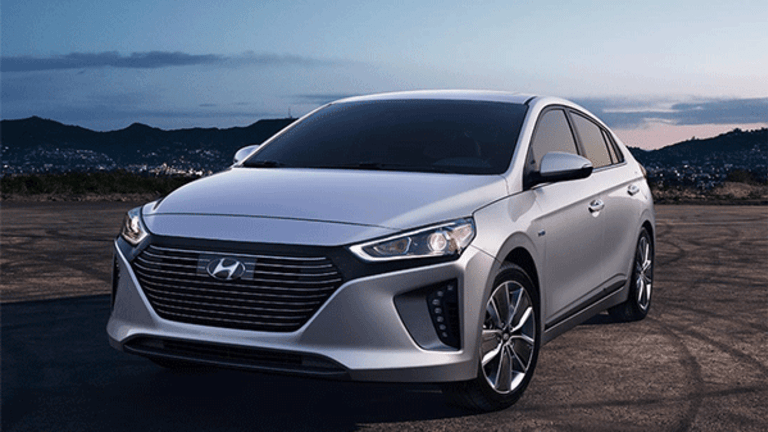 Hyundai's Ioniq and Other 'Green' Models Face Increasingly Skeptical Buyers
Ioniq's hybrid beats Toyota's Prius narrowly in fuel efficiency. Nevertheless, low gasoline prices have compressed demand for hybrids and electrics, as consumers flock to bigger trucks and SUVs.
In 2005, Hyundai (HYMLF) launched an all-out push to match and surpass the performance of the very best "green" cars, especially Toyota's (TM) - Get Free Report Prius gas-electric hybrid.
In those days, the direction of ever more strict mileage and emission regulations seemed clear -- gasoline was expensive and consumers were snapping up the Prius.. The next generation of cars would need advanced engineering and technology to become super energy efficient and affordable.
Eleven years later, Hyundai's development campaign has culminated in the Hyundai Ioniq, a cleverly engineered high-mileage model that is arriving shortly at U.S. dealers in three versions: gas-electric hybrid, battery electric and, later this year, as a plug-in hybrid.
Ioniq Hybrid, aimed squarely at Prius, boasts an EPA-estimated 58 miles per gallon city-highway combined rating, which Hyundai claims is the highest of any non-plug-in vehicle sold in the U.S. market. Prius claims 58 mpg city, 53 mpg on the highway, which means its combined rating is slightly less than Ioniq's. The least expensive Ioniq Hybrid starts at $22,200.
Hyundai claims that Ioniq Electric, a competitor to General Motors' (GM) - Get Free Report recently introduced Chevrolet Bolt EV and Nissan's (NSANY) Leaf, is the most efficient battery-powered car, in terms of kilowatts needed per distance traveled. Ioniq Electric has a range of 124 miles, compared to Bolt's 238 miles; the least expensive version starts at $29,500, before federal and state incentives.
Unfortunately for Prius -- and for Hyundai -- green or so-called alternative energy cars are struggling in the marketplace. Relatively low gasoline prices have helped to spark a return to pickups, SUVs and crossovers. Prius sales fell 26% last year to about 137,000 last year, a sliver of the overall new-vehicle market, which reached nearly 17.5 million vehicles.
In a presentation to journalists, Mike O'Brien, vice president of Hyundai's U.S. product development, noted that the market share of green vehicle models sold in the U.S. peaked at 3.8% in 2013 and has fallen steadily to 2.9% in 2016.
As for the Ioniq Electric's shorter range, compared with Bolt, O'Brien said "you can add more battery but that adds cost and weight. What we've done is create a vehicle that will be useful for many consumers and more accessible because of its price. It's also more efficient."
A big wild card for green cars -- on top of gasoline prices -- will be the actions of the Trump administration as they relate to fuel efficiency. If timetables are stretched out or standards are relaxed, Hyundai and other automakers may find their brilliantly engineered new models facing a very small audience of buyers.
Doron Levin is the host of "In the Driver Seat," broadcast on SiriusXM Insight 121, Saturday at noon, encore Sunday at 9 a.m.
This article is commentary by an independent contributor. At the time of publication, the author held no positions in the stocks mentioned.