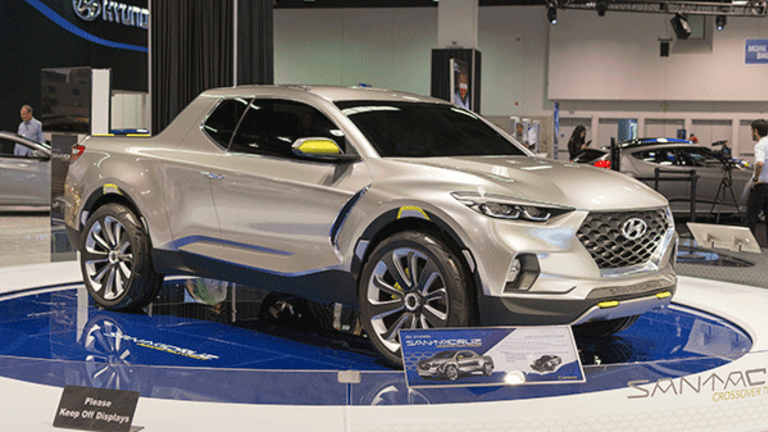 Hyundai Gives Green Light to Small Lifestyle Pickup for U.S. Market
The lighter Santa Cruz pickup was a hit at 2015 Detroit Auto Show.
Hyundai (HYMLF) , eager to capitalize on the growing trend of U.S. consumers buying trucks and similar models, has given the green light to a small pickup which could be sold within two to three years.
The new pickup from the South Korean automaker would be based on its current Santa Fe crossover and thus wouldn't be a direct competitor to larger pickups like the Ford's F Series or small body-on-frame models like Toyota's Tacoma midsize.
Rumors about the project's viability have been circulating since the automaker showed a small pickup concept at the 2015 Detroit Auto Show. Hyundai said response by those who saw the concept was positive.
"We have made the decision," Dave Zuchowski, president and CEO of Hyundai Motor America, told Motor Trend magazine last week. "We have not made the announcement." An official announcement could come as soon as the Los Angeles Auto Show in November or the North American International Auto Show, held in Detroit, in early January. When the vehicle will debut wasn't clear.
Hyundai classifies the vehicle, so far being called Santa Cruz, as a "lifestyle" pickup, akin to Honda's Ridgeline or Subaru's Baja, meaning that it has a pickup bed but isn't sturdy enough to carry heavy loads like larger trucks. Ford recently announced its intention of returning to the midsize market with a new body-on-frame Ranger, while Fiat Chrysler Automobiles is planning a midsize Jeep Wrangler pickup.
"The Santa Cruz crossover truck concept meets the unspoken needs of a growing Millennial lifestyle we call 'Urban Adventurers,'" Mark Dipko, director of corporate planning at Hyundai Motor America, told Autoweek at the time of the concept's debut in 2015.
Hyundai, with its affiliate Kia Motors (KIMTF) , is the world's fifth-largest automotive group. The South Korean company last week debuted the Genesis G90, a large luxury sedan that will be the flagship of its new luxury brand in the U.S. and South Korea.
About 62% of U.S. vehicle sales are pickups, SUVs and crossovers, a percentage driven by consumer desire for size and utility, as well as low gasoline prices and recent new models that are as fuel efficient as sedans. Hyundai's sales make up only 25% of these categories, a proportion the automaker is trying to raise to 45%, partly by increasing truck production at its assembly plant in Montgomery, Ala.
Hyundai hasn't decided where the vehicle will be built, though its Alabama plant is a possibility. Pricing would begin in the mid-$20,000s.
Doron Levin is the host of "In the Driver Seat," broadcast on SiriusXM Insight 121, Saturday at noon, encore Sunday at 9 a.m.
This article is commentary by an independent contributor. At the time of publication, the author held no positions in the stocks mentioned.