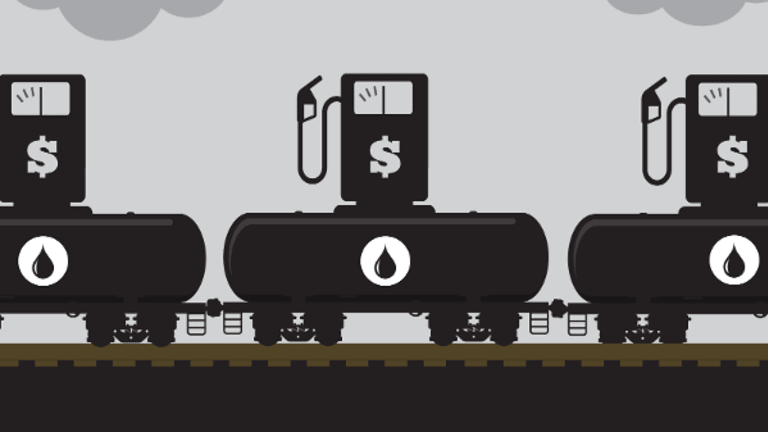 Hurricane Irma Set to Shut Down Major Florida Ports
Companies like Buckeye Partners, Chevron and Exxon could feel more pain this week if Florida ports that supply much of the state's gasoline and energy needs are shut in ahead of the Category 5 storm.
Just as the U.S. oil refining industry works to recover from a massive, Hurricane Harvey-fueled shutdown, another potentially devastating storm is barreling toward the United States, and this one may temporarily shut in more U.S. fuel supplies. 
Hurricane Irma, now a Category 5 storm in the Atlantic Ocean off the coast of Puerto Rico, is on track to rip through the Bahamas, where the largest petroleum products storage terminal in the Western Hemisphere resides. 
Buckeye Partners LP's (BPL) - Get Buckeye Partners, L.P. Report  Buckeye Bahamas Hub in Freeport, Grand Bahama Island, stores crude oil, diesel fuel, gasoline and other petroleum products with a whopping 26 million barrels of storage capacity. 
Houston-based BPL also operates domestic petroleum storage terminals near Miami, Tampa, and Jacksonville, Fla., all of which stand to be affected by Irma, based on the National Weather Service's early projections of the storm's possible path. All-told, Buckeye operates four Florida terminals with combined storage capacity of nearly 2 million barrels or petroleum products, according to its website.
"In preparation for Hurricane Irma, Buckeye Partners initiated full plant shutdown procedures at the company's Puerto Rico operations on Tuesday per established hurricane preparedness plans and has suspended all marine terminal operations," a company spokesman wrote in an email to TheStreet. "Buckeye's marine terminal facilities on the island of Grand Bahama, The Bahamas and throughout Florida are also implementing hurricane preparedness plans. We will continue to closely track and monitor the storm and take appropriate action as needed aimed at protecting the safety of our employees and contractors, the local communities where we're privileged to work and the environment. Operations will resume as soon as weather conditions are safe to do so."
The National Hurricane Center currently predicts Irma will move through the Caribbean northwest toward Florida, likely making landfall in the state sometime late Sunday, Sept. 10, or early Monday, Sept. 11. The eye of Hurricane Irma passed over French-controlled St. Martin and is headed for the northernmost Virgin Islands, according to the NHC's most recent report.
Other U.S. energy companies that stand to take at least minor hits if current storm projections prove true include Chevron Corp. (CVX) - Get Chevron Corporation Report , Exxon Mobil Corp. (XOM) - Get Exxon Mobil Corporation Report , Marathon Petroleum Corp. (MPC) - Get Marathon Petroleum Corporation Report and Targa Resources Corp.  (TRGP) - Get Targa Resources Corp. Report . 
All of these companies operate terminals or pipelines in Port Everglades in Fort Lauderdale, Fla. According to the Port Everglades website, one fifth of Florida's energy requirements come from petroleum that is stored and distributed by companies located at Port Everglades.
More than 12.5 million gallons of petroleum products are delivered on tank ship and barges to Port Everglades per day, according to the website. Port Everglades provides petroleum, including jet fuel, to 12 counties in Florida.
Buckeye Partners, Chevron, Exxon, Marathon, and Targa are among 12 companies with facilities in Port Everglades, which is among the largest petroleum storage hubs in Florida. Other major Florida storage hubs include Tampa and Jacksonville, both of which may be impacted by the storm.
For Buckeye Partners, a hit from Irma would add to its recent headaches. The company's shares have fallen more than 8% in the past month since it whiffed on second quarter earnings estimates a month ago.
And following Harvey, the terminal operator said there was minor flooding at its facility in Corpus Christi, Texas.
The firm operates the Buckeye Texas Processing facility, which includes a 50,000-barrel-per-day condensate splitter and a system to handle liquefied petroleum gas at Corpus Christi, Texas. Buckeye said it did not believe there was any major damage to the facility and the company is said to have since restarted the terminal. 
Shutting in the Buckeye Bahamas Hub, along with some Florida ports, could extend recent surges in domestic gasoline prices, particularly in Florida, to which Buckeye Partners is a major petroleum products supplier.
Nationally, gasoline prices had reached new two-year highs Tuesday at $2.65 a gallon, though gasoline futures fell 2.8% to $1.6991 per gallon, signaling that the fuel supply market is rebounding. 
--This story has been updated with a comment from Buckeye Partners.