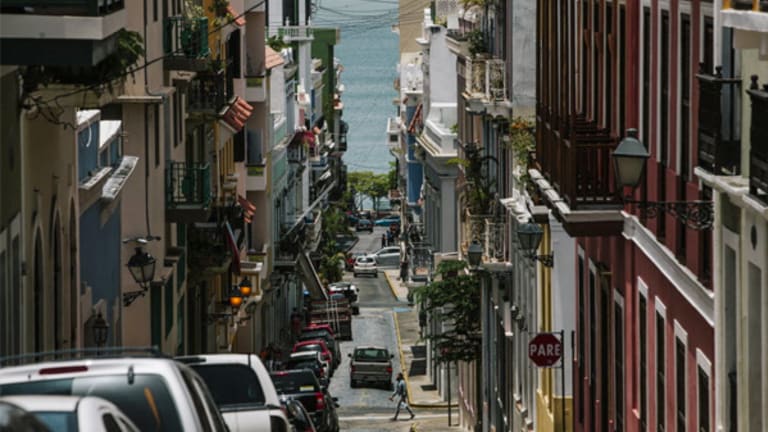 Hurricane Irma on a Path for Bankrupt Puerto Rico
Puerto Rico, already enduring a financial crisis, has asked for a state of emergency in the commonwealth as it prepares for Hurricane Irma impact.
Puerto Rico's governor has asked President Donald Trump to declare a state of emergency in the commonwealth as it prepares for Hurricane Irma, heightening the strain on an island already faced with a financial crisis.
Irma, now judged to be a Category 5 hurricane with sustained winds above 157 mph, is the most powerful hurricane to ever be tracked in the Atlantic basin outside of the Caribbean Sea and the Gulf of Mexico, according to the National Hurricane Center.
The state of emergency will give Puerto Rico access to federal emergency funds, if necessary, to aid in recovery efforts, a potentially important tool for the island that's also trying to reconcile its more than $70 billion debt load in bankruptcy court.
Additionally, the U.S. Federal Emergency Management Administration has sent more than 500 officials to Puerto Rico in anticipation of the storm, expected to hit Wednesday, and FEMA Acting Region Administrator John Rabin is also there, according to a statement from Gov. Ricardo Rossello.
Last May, Puerto Rico officially began the in-court process of restructuring its debt load under a special law that allowed the commonwealth to essentially file for bankruptcy. In the months that followed, Puerto Rico's Oversight Board (appointed in conjunction with the bankruptcy process) approved a budget that left many on both sides of the debate unhappy.
However, the budget does fund all essential services, which includes emergency response services in a disaster. Puerto Rico's own emergency response agency is called the Puerto Rico State Agency for Emergency and Disaster Management, or AEMEAD, and it's also setting up to respond to the hurricane.
It's not clear what financial effect -- if any -- the storm will have on Puerto Rico's overall financial picture. Gov. Rossello said that Puerto Rico has a $15 million emergency fund.
In August 2011, Hurricane Irene, a Category 1 storm, made landfall in Puerto Rico knocking out power and electricity for much of the island. A state of emergency was declared then as well. FEMA estimates preliminary that more than 4,000 residences were destroyed in that hurricane. The agency approved $33.5 million in federal assistance to more than 27,500 individual applicants and provided $54.9 million in public assistance grants.
As Irma approaches, the governor said that there will be 456 shelters available with the capacity to accommodate 63,229 people, 14 pumping stations will work to prevent flooding and an Emergency Operations Center will be activated on Wednesday at noon.
North Korea Gives Wall Street Rude Awakening After Labor Day Break
Additionally, AEMEAD will present to Gov. Rossello an estimate of the funds that will be required to evacuate, rescue and respond to affected residents. The estimate will also include recovery funds for any badly harmed regions, according to an executive order issued Monday by the governor.
The executive order also authorized reasonable expenses by the National Guard, which the governor also activated.
Neither the governor's office nor FEMA responded to request for further information about any constraints Puerto Rico's finances might pose on the preparation or recovery efforts.
Irma was upgraded to a Category 5 hurricane on Tuesday. Effects from the storm are expected to begin in Puerto Rico on Wednesday by 11 a.m. local time with six to eight inches hitting most of the island and as much as 12 inches in some areas.
More of What's Trending on TheStreet: