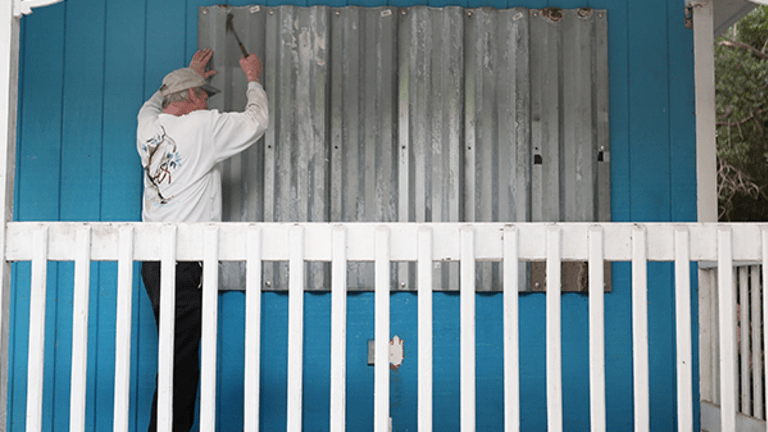 The National Hurricane Center issued an updated on powerful Hurricane Irma at 11 A.M. EDT on Thursday, Sept. 7, issuing some of Florida's first official weather watches before the storm hits.
Both a storm surge watch and a hurricane watch were issued for the Florida peninsula from Jupiter Inlet on the Atlantic coast southward and around the tip of Florida to Bonita Beach on the Gulf side of the state near Fort Myers. The watch includes the Florida Keys, Lake Okeechobee and the Florida Bay.
A storm surge watch "means there is a possibility of life-threatening inundation, from rising water moving inland from the coastline," according to the NHC.
A hurricane watch means hurricane conditions are possible in the area, but it's one level below a hurricane warning. A warning means hurricane conditions are expected in the affected area.
Hurricane Irma currently has maximum sustained wind speeds of 175 miles per hour, well above the 157 miles per hour threshold that made Irma a Category 5 storm. Irma is moving west-northwest at 16 miles per hour and is expected to continue on that pattern for the next few days.
"Some fluctuations in intensity are likely during the next day or two, but Irma is forecast to remain a powerful Category 4 or 5 hurricane during the next couple of days," said the NHC. Hurricane-force winds currently extend up to 60 miles from the center of the hurricane, with tropical storm-force winds extending outward up to 185 miles.
The NHC said "extremely dangerous" Hurricane Irma is heading for the Turks and Caicos now. Recent forecasts show Irma making landfall in Florida around 8:00 A.M. ET on Sunday, Sept. 10.
Stick with TheStreet for updated Irma coverage:
Hurricane Irma: How Floridians Are Using Tech, Apps to Prepare for the Big Storm