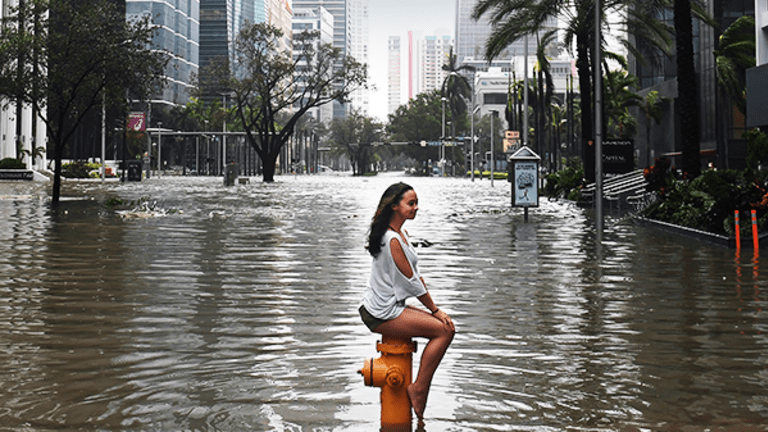 Hurricane Irma Could Total $40 Billion in Insurance Claims: Why That's Good News
Hurricane Irma is still rolling and leaving billions of dollars in home and business damage. It'll be up to the insurance industry to pay most of the tab.
Hurricane Irma has wreaked havoc on Florida is barreling into Georgia and Alabama.
But it didn't leaving the Sunshine State without leaving a huge financial bill behind - one that insurance companies will largely cover in the form of home and business claims.
According to AIR Worldwide, a Boston-based catastrophe modeling firm, damage from Irma in insurance losses was originally tabbed at $50 billion in the continental U.S., plus another $15 billion in damage to large swaths of the Caribbean, including Puerto Rico, Cuba, St. Martin and Barbuda. On Monday, September 11, AIR Worldwide reduced that amount to between $20 billion and $40 billion, given Irma's detour around heavily-populated Miami.
In a company statement, AIR Worldwide noted that it modeled insured loss estimates for the U.S. to include "wind and storm surge damage to onshore residential, commercial, and industrial properties and their contents, automobiles, and time element coverage (additional living expenses for residential properties and business interruption for commercial properties)." AIR also said its loss estimates "do not include losses paid out by the National Flood Insurance Program, losses to uninsured properties, losses to inland marine, marine cargo and hull and pleasure boats, and losses to infrastructure."
Disaster experts agree insurers did catch a break when Irma steered northwest, away from the Miami metropolitan area.
More Storm Coverage on TheStreet:
Hurricane Irma Disaster Sends Looters Descending on a Florida Foot Locker: Watch
Hurricane Irma Spurs Price Gouging Accusations at Happiest Place on Earth Disney
"The impact of Hurricane Irma on insurers will not be as large as was initially projected," says Ty Leverty, Gerald Stephens CPCU distinguished chair in risk management and insurance at the University of Wisconsin-Madison. "The hurricane moved away from Miami and toward Tampa Bay and West Florida."
That shift helped the insurance industry, Leverty says. "The value of real estate in West Florida is less than in Miami," he notes. "In addition, the property mix in West Florida is more residential than commercial relative to Miami. Private insurers do not cover flooding in residential property, because that is picked up by the federal government through the National Flood Insurance Program."
Leverty also notes the state-sponsored primary homeowner's insurer, Citizen's Property Insurance, has sufficient capital to pay their share of Irma losses. "This would have been drastically different five-to-six years ago, but Citizen's undertook a de-population initiative to reduce its exposure to large catastrophes," he adds. "This depopulation initiative along with national insurers like State Farm and Allstate reducing their exposure to Florida means that the impact of Irma will fall hardest on the Florida property specialists -- e.g. insurers that write only property insurance in Florida -- that picked up Citizen's policyholders."
The notable publicly traded Florida property-specialists include Heritage Insurance Group (HRTG) , Federated National Insurance Company (FNHC) , Universal Insurance Group (UVE) , HCI Group (HCI) , and United Insurance Holdings Group (UIHC) .
The stock price movements for these insurers is informative, Leverty points out.
Universal Insurance Group's stock fell 32.1% from August 11 to September 8 in response to Irma, but rebounded 28.7% on Monday, September 11, he notes. "There was a similar response from the others, as HRTG fell 23.1%, then increased 29.5% on Monday," he says. "It's trading close to the price it was one-month ago."
Reinsurers will also be exposed to Irma losses. "The reinsurers with the largest exposure to Florida catastrophe losses are: Florida Hurricane Catastrophe Fund (with 20% of the exposure), Everest Re (RE) (10%), Lloyds of London (7%), Allianz Group (7%); and Chubb (CB) with less than 5%," Leverty notes.
Similar to the primary insurers discussed above, the stock prices of the publicly traded reinsurers in the list above fell in anticipation of Irma, but have since rebounded. "Some are even trading at values above what they were trading a month ago," he adds.
Overall, the insurance sector seems able to financially withstand the twin TKOs from Hurricanes Irma and Harvey.
"The property and casualty insurance sector in the U.S. is strong and has never been healthier than it is now in Florida," said Fred E. Karlinsky, co-chair of Greenberg Traurig's insurance regulatory and transactions practice. "The combination of changes in building codes, the early response to the danger of Hurricane Irma led by Governor Rick Scott, and the mitigation efforts taken by many prior to the storm will likely lead to much lower property damage figures than originally estimated."
However, given the one-two punch that Hurricanes Harvey and Irma delivered- it's the first year where two category four hurricanes made landfall in the U.S. like this - there may be some reassessing of insurance pricing in large part based on the way the reinsurance market reacts, adds Karlinsky.
"Having said that, we are in a period of unprecedented reinsurance capacity," he adds.
More of What's Trending on TheStreet:
Hooters Has a Big $1 Million Problem in One of Its Key Overseas Markets