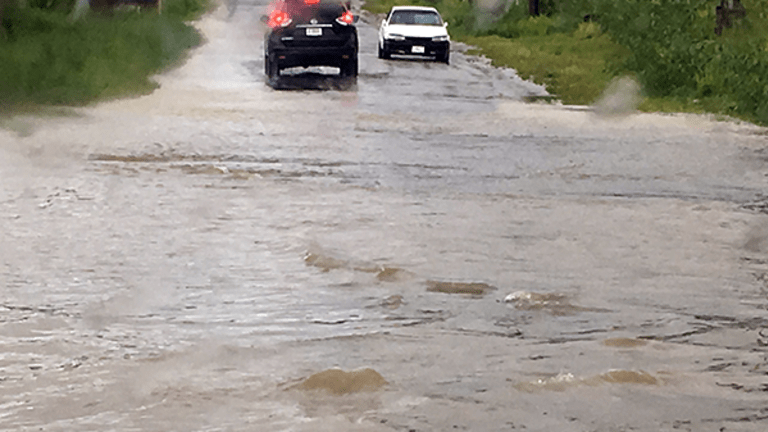 Hurricane Irma Has Killed Several People in the Caribbean
The death toll is rising due to Hurricane Irma and nearly 100 people have been reported injured.
Hurricane Irma has killed a number of people in the Caribbean, including several in France's territories and three in Puerto Rico. 
French Prime Minister Edouard Philippe told AFP that four people had been confirmed dead on the country's Caribbean territory of St. Martin. French Interior Minister Gerard Collomb previously told a French radio station that eight deaths were reported in both French territories of St. Martin and St. Barts.
Philippe said around 50 people were injured on the two islands, with 21 hospitalized. About 60% of the homes on St. Martin were damaged beyond the point of habitability. 
No official figures have been released yet.
Deaths have also been reported on the islands of Anguilla and Barbuda, where a 2-year-old died trying to escape the storm with family, the Weather Channel reported.
Puerto Rico Governor Ricardo Rosello said three people were killed on the island. Those who died were a 79-year-old woman after falling during an attempt to seek shelter, a younger woman of electrocution in her home and a man in a traffic accident.
Rosello said the island territory has ridden out "significant damage," as he advised the island's people to take cover in one of 460 shelters.
About 1 million Puerto Rican residents are without power and nearly 50,000 don't have water. Puerto Rico's public power company said electricity could be shut off for as many as six months due to staff reductions and infrastructure problems.
Hurricane Irma's maximum sustained wind speeds have slowed by 10 miles per hour Thursday morning to 175 miles per hour, but the storm's gusts are still well above the Category 5 threshold of 157 miles per hour.
As of the latest public advisory from the National Hurricane Center at 11:00 A.M. ET, Irma was headed west northwest at 16 miles per hour toward the Turks and Caicos. The storm is expected to hit the Bahamas by Friday, Sept. 8, and Florida on Sunday, Sept. 10.
Stay Updated with TheStreet's Latest Hurricane Coverage: