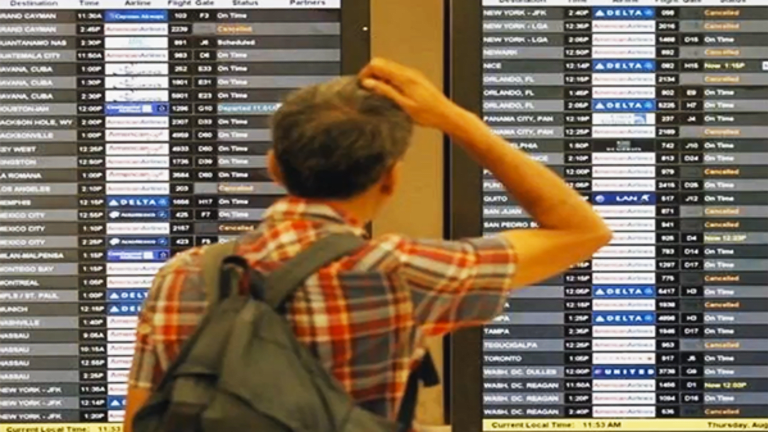 Hurricane Irma Downgraded but Impact on Atlanta, Charlotte, Miami Hubs Lingers
American says it will cancel 300 Charlotte flights on Monday, while Delta says it will cancel 130 Atlanta flights. Miami International Airport will be closed all day.
Hurricane Irma has been downgraded to a tropical storm, but it continues to impact all three of the Southeast's major hub airports in Atlanta, Charlotte and Miami.
Delta Air Lines Inc. (DAL) - Get Delta Air Lines, Inc. Report said it will cancel about 800 flights on Monday, Sept. 11, including about 130 regional flights from Atlanta, as Hurricane Irma heads into Georgia.
Meanwhile, Miami International Airport will remain closed Monday. Director Emilio Gonzalez tweeted Sunday, Sept. 10, that the airport "sustained significant water damage throughout." Wind gusts of 94 MPH occurred at the airport Sunday, the National Weather Service reported.
American Airlines Group Inc., (AAL) - Get American Airlines Group, Inc. Report which operates Charlotte and Miami hubs, said nearly all its Florida operations will remain shut down on Monday, except for Destin/Fort Walton Beach in the Florida panhandle.
At Charlotte, American has cancelled about 300 departures, including both mainline flights to Florida destinations and regional flights to Florida and elsewhere. "The vast majority of regional flying out of Charlotte has been canceled due to the storm," said spokesman Ross Feinstein.
"Winds will impact our regional operation today at Charlotte," Feinstein said.
Delta said it hopes to restart operations at several Florida airports, including Fort Lauderdale and West Palm Beach on Monday, assuming airport officials concur.
American said it will fly employees and supplies into Miami on Monday. The carrier currently has no aircraft in Florida. It has flights scheduled to arrive Tuesday morning, "but resumption of service will be based on airport conditions," Feinstein said.
Normally American operates 677 daily departures from Charlotte and 341 daily departures from Miami.
Before flights can resume at Miami International, assessments must be conducted by officials from the Federal Aviation Administration, the Transportation Security Administration and Customs and Border Protection.
In Atlanta, Delta normally operates about 1,000 daily departures.
However, Irma "is expected to bring to the Atlanta hub strong crosswinds that exceed operating limits on select mainline and regional aircraft," Delta said.
While Atlanta's five runways are aligned to facilitate prevailing east-west winds, Irma is bringing north-south winds, Delta said in a prepared statement.
"Aircraft are best suited to take off and land into the wind for better performance," Delta said. "When the wind direction is perpendicular to the runway, it's called a crosswind and can make landing challenging and potentially unsafe."
Crosswinds exceeding 40 mph may exceed permitted limits. In addition, wind shear, lightning and other threatening weather conditions may prompt additional cancellations.
This article is commentary by an independent contributor. At the time of publication, the author held no positions in the stocks mentioned.