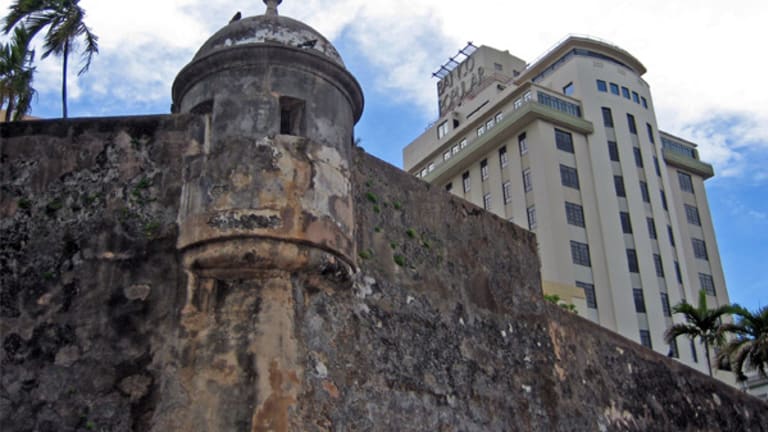 Hurricane Irma Could Knock Out Puerto Rico's Power for Six Months
Puerto Rico's electric utility is in bankruptcy and its infrastructure lags behind the rest of the U.S.
Parts of Puerto Rico could be without power for half a year as a result of the effects of Hurricane Irma, the head of the island's electric authority said.
The country's electric utility, called Puerto Rico Electric Power Authority, or PREPA, is in bankruptcy and its infrastructure lags dramatically behind most of the U.S.
Ricardo Ramos, executive director of Puerto Rico's Electric Energy Authority, or AEE, told radio station Notiuno 630 AM that some of the island could be without electricity for four to six months, while other parts could be back online much more quickly. Ramos told another station, Isla Radio 1320, that as of 2 p.m. ET more than 400,000 customers have already lost power and the municipalities of Vieques and Culebra are completely without electricity.
The report came as Puerto Rico, already faced with a financial crisis, braces for Hurricane Irma. The storm crossed over the British Virgin Islands and the U.S. Virgin Islands earlier Wednesday and was expected to hit Puerto Rico Wednesday afternoon and evening. Heavy winds and rainfall have already begun there.
According to the governor of Puerto Rico's 2017 Fiscal Plan, the country's electric infrastructure is dramatically behind that of most of the U.S. The country's World Economic Forum score for electricity is 5.1 on a scale of one to seven. The average for the U.S. is 6.4. The electric infrastructure score is the worst of all of the country's scores, although roads, ports and air transportation in the U.S. territory all lag behind the U.S. as a whole.
In July, PREPA was added to Puerto Rico's Title III bankruptcy case for the purpose of transforming "its operations into a modern utility that can provide safe and reliable electric service at sustainable rates to the citizens of Puerto Rico."
As of Wednesday morning President Donald Trump had obliged Gov. Ricardo Rossello's request to declare a state of emergency in Puerto Rico. This declaration will give the commonwealth access to federal disaster relief funds. The country itself has just $15 million in its emergency fund.
However, there was some question about the funding for the U.S. Federal Emergency Management Agency (FEMA), amid the response in Texas to Hurricane Harvey, according to a report from Bloomberg. 
But the House of Representatives on Wednesday voted in favor of the $7.85 billion in Hurricane Harvey relief funds requested by the Trump administration, the bulk of which would replenish FEMA's depleted coffers. And President Trump told reporters on Air Force One that he would accept the three-month debt ceiling extension proposed by Democrats, according to Politico. 
Governor Rossello said that there will be 456 shelters available with the capacity to accommodate 63,229 people, 14 pumping stations will work to prevent flooding and an Emergency Operations Center was activated on Wednesday at noon. Residents in the Northern and Eastern parts of Puerto Rico were asked to evacuate beginning Wednesday morning and commercial flights were suspended as of Wednesday at 10 a.m.
More of What's Trending on TheStreet:
Working Mothers Shouldn't Feel a Twinge of Guilt
Stick with TheStreet for updated storm coverage as Hurricane Irma moves the market:
Hurricane Irma: What Kind of Insurance Should You Have?
Hurricane Irma Will Make Orange Juice Unaffordable and Destroy Your Grocery Bill
Hurricane Irma: How Floridians Are Using Tech, Apps to Prepare for the Big Storm
Editors' pick: Originally published Sept. 6.