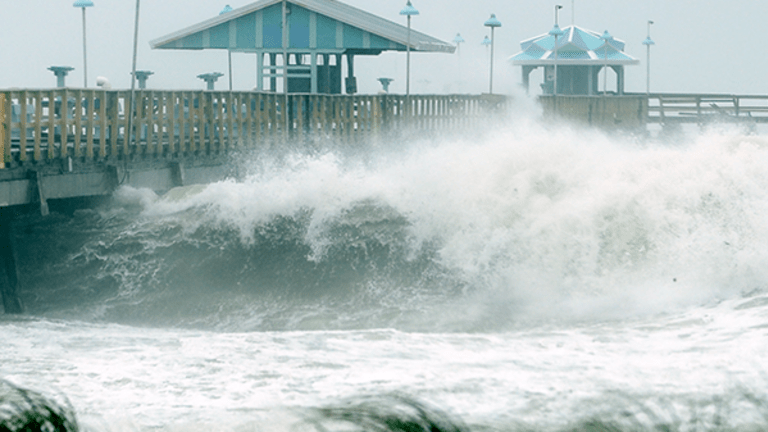 Hurricane Irma Slowing to Tropical Storm; Florida Cost Estimates Sharply Reduced
Hurricane Irma's economic impact is likely to fall well short of the worst estimates as the storm slowly loses speed on its path towards Georgia.
Hurricane Irma has slowed to a category 1 event and is expected to weaken to a Tropical Storm as it travels northward along the Florida peninsula and into Georgia, the National Hurricane Center said Monday, as damage estimates from the weekend's battering look significantly smaller than first anticipated.
Irma's windspeeds have slowed to around 75 miles per hour, the NHC estimated in its latest update, although it cautioned that hurricane gusts and storm surges could still cause life-threatening conditions along its path up the western Florida coast. 
Irma is moving toward the north-northwest near 18 mph (30 km/h) and this motion is expected to continue through Tuesday," the NHC said in its 05:00am Eastern update. "On the forecast track, the center of Irma will move near the northwestern coast of the Florida Peninsula this morning, cross the eastern Florida Panhandle into southern Georgia this afternoon, and move through southwestern Georgia and eastern Alabama tonight and Tuesday."
The slowing will come as a relief to the 6.5 million Florida residents who had been asked to evacuate various areas around the state and the estimated 4.4 million people still without electricity after Irma uprooted trees, downed power lines and flooded critical grid installations around the state.
That said, Florida Governor Rick Scott continued to urge caution, asking residents to stay inside until the eye of the storm had passed completely.
Damage from the storm, however, looks to have gratefully fallen short of the worst estimates, both in human and economic terms, despite the devastation it brought to various island in the Caribbean prior to its landfall in the Florida Keys early Sunday morning.
And although large portions of Miami's financial district were flooded during the worst of Irma's rage, the city's police department has said must of the waters had subsided even as they asked people to keep roads clearing during the recovery effort.
Irma's weaker landfall winds, however, and the state's ability to prepare for the storm, have likely lowered the cost of its economic impact by as much as $150 billion, according to some revised estimates, taking the total down to around $50 billion, or approximately one third of the costs associated with Hurricane Katrina in 2005.