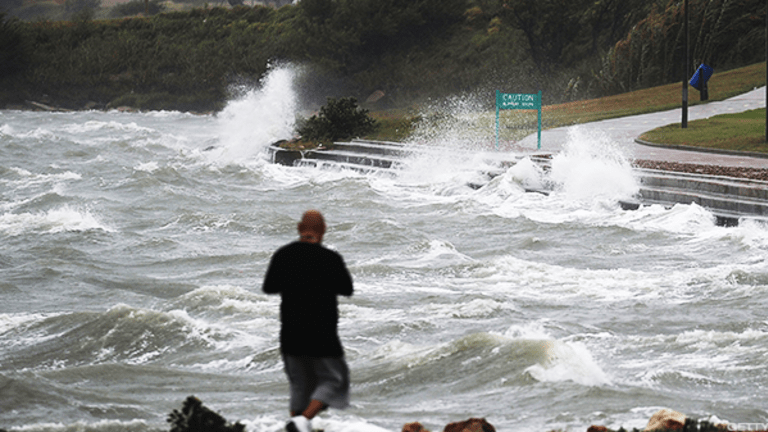 Hurricane Harvey Shreds Texas: Here's Everything We Know
A live blog on the worst storm to hit the United States in 12 years.
Hurricane Harvey has slammed into Texas. Here's the latest news:
Tracking Hurricane Harvey: Day Three
More than 1,000 people were reportedly rescued from Houston and surrounding areas overnight due to flooding. 
A least two people have now died from the storm, according to various reports. 
Tracking Hurricane Harvey: Day Two
Updated: 4:00 p.m. EDT.
One person has died in Rockport, Texas, the Austin American-Statesman reported Saturday afternoon, citing a briefing by Aransas County Judge C.H. "Burt" Mills, Jr.
The National Guard is in Rockport aiding with the recovery efforts. 
As emphasized in a statement by the White House Press Secretary, "the full impacts of this storm will occur over the next few days with heavy rains and flooding."
Federal agencies echoed the press secretary's warning.
President Trump will visit Texas next week. He has already signed a disaster declaration. 
More than 211,000 people are now without electricity. 
Harvey's powerful eye reached land around 11:00 p.m. ET on Friday, packing winds of 130 mph. By 6:00 a.m. on Saturday, Harvey was downgraded to a Category 1 storm with 90 mph winds, according to the National Hurricane Center. 
These Instagram poss show just how bad things got. 
Tracking Hurricane Harvey: Day One
More than 42,000 were without electrical power in Nueces County Friday night as Hurricane Harvey continued its path through Texas. 
Harvey's maximum sustained wind speed gusting at up to 160 mph, according to National Weather Service Corpus Christi briefing.
The National Weather Service reports that the outer eyewall of Hurricane Harvey has made landfall.
Harvey upgraded to Category 4.
Harvey's wind speed has reached 125 miles per hour as of 5 p.m. CDT. Power outages increase to 27,000-plus in Nueces County, Texas.
Power outages reported in Nueces County, Texas.
"Texas is about to have a very significant disaster," said Brock Long, director of the Federal Emergency Management Agency, according to CNN.com.
The city of Houston has provided an update on the storm:
Harvey is now roughly 60 miles from the coast of Corpus Christi, Texas. 
The current path of Harvey provided by the National Weather Service Forecast Office Corpus Christi, Texas.

Harvey was upgraded to a Category 3. It will mark he third Category 3 storm to make landfall in the U.S. since hurricane Wilma hit Florida in October 2005.
A better look at the intense winds Harvey will roar through with, via the Los Angeles Times.
Texas Governor Greg Abbott continues to monitor the storm.
President Trump has advised residents in the threatened areas to heed the advice of local officials.  
More of What's Trending on TheStreet:
The 30 Nastiest Storms in Recent U.S. History Have Caused Mind-Blowing Damage