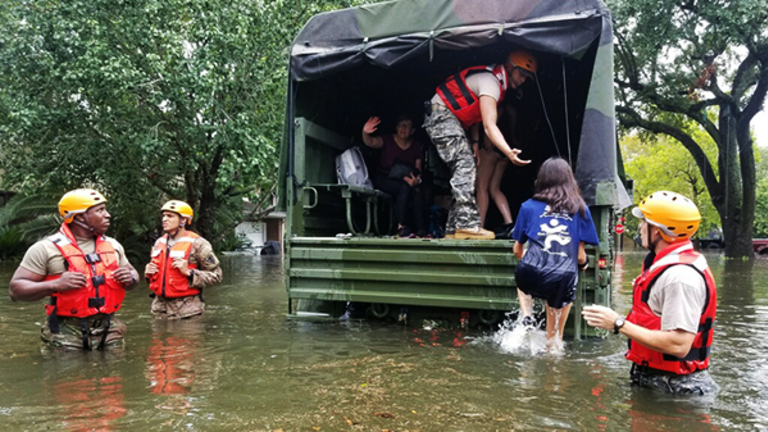 Buffett's Berkshire, Rivals Brace for Billions in Hurricane Harvey Claims
The National Weather Service has called the storm "unprecedented."
Allstate Corp. (ALL) - Get Allstate Corporation (The) Report , Progressive Corp. (PGR) - Get Progressive Corporation (The) Report and other property-insurance stocks slid as the remnants of Hurricane Harvey pounded Houston and the Texas coast with rain, spurring predictions that the storm could rank among the costliest disasters in U.S. history.
While the hurricane-force winds and storm surge have already inflicted an estimated $1.2 billion to $2.3 billion of damage, the bulk of losses to the insurance industry are likely to come from flooding and are still unquantified, catastrophe-modeling firm AIR Worldwide said Monday in a statement. Most regular homeowner policies lack flood-insurance coverage, though auto, commercial-property and business-interruption policies typically include it.
"Flooding from Harvey's torrential rains has had the greatest impact," Eric Uhlhorn, principal scientist at Boston-based AIR, said in the statement.
More than half of the 2.3 million residential and commercial properties in the Houston area not covered by mandatory flood-insurance requirements are at high or moderate risk of flooding, forecaster CoreLogic said in a statement.
Parts of the Houston area as of 9 a.m. local time had received more than two feet of rain in the storm's wake, already exceeding the amount from Hurricane Allison in 2001, according to the National Weather Service. Another foot to two feet are expected through Friday, the National Hurricane Center predicted.
Allstate fell 1.5% to $90.64, while Progressive slid 2.1% to $47.38. Travelers Corp. (TRV) - Get The Travelers Companies Inc. Report lost 2.5% to $123.33, even as the broader Standard & Poor's 500 Index of big U.S. stocks was little changed.
Warren Buffett's Berkshire Hathaway Inc. (BRK.A) - Get Berkshire Hathaway Inc. Report , another big property insurer via its Geico unit, declined 0.7% to $267,960.
"Geico has assigned catastrophe teams to handle what may impact those areas and further inland," the company said in a statement on Friday, Aug. 25. Berkshire Hathaway's railway unit, BNSF, said in an advisory to customers on Sunday that the storm was causing significant disruptions to its operations in southeastern Texas.
Harvey's destruction marks a big test for the U.S. insurance industry, which hasn't seen a major hurricane hit Texas since Ike in 2008, according to analysts at the Wall Street firm Morgan Stanley. Ike made landfall as a Category 2 storm, while Harvey was upgraded to a Category 4 storm just before it came ashore. 
Hurricane Allison caused an estimated $11.9 billion in damage, with about $5 billion of that covered by insurance, according to consulting firm Aon Plc. The costliest hurricane on record was Hurricane Katrina, which wrought about $50 billion in total damages in 2016 dollars, according to the Insurance Information Institute. 
Ike caused $12.5 billion in damage, of which $9.8 billion was in Texas, analysts with the London-based bank Barclays wrote in a report Monday. 
"At this early stage, we would expect Harvey's insured damage to be less than Ike's," the Barclays analysts wrote, adding that they don't expect any impact on insurance rates following the storm.
Big reinsurers that backstop U.S. property and casualty insurers with supplemental policies also tumbled in Monday trading. 
Axis Capital Holdings Ltd. (AXS) - Get Axis Capital Holdings Limited Report dropped 2.9% to $60.89, and Everest Re Group Ltd. (RE) - Get Everest Re Group Ltd. Report slumped 2.9% to $252.75. Berkshire Hathaway also provides such policies through its General Re and Berkshire Hathaway Reinsurance units.
"How significant the insured losses become will determine how big of a reinsurance loss this will be," wrote analysts at the San Francisco-based bank Wells Fargo & Co.  
Some of the damage is likely to be absorbed by the federally-sponsored National Flood Insurance Program and the Texas Windstorm Insurance Association, according to the Wells Fargo report dated Aug. 27.  
Allstate, based in Northbrook, Illinois, suffered $1.4 billion of losses in the third quarter of 2008, when Ike and Hurricane Gustav hit, according to Wells Fargo. Travelers saw $677 million of losses. 
Storm analysts and Wall Street firms have published a broad range of estimates for the potential damage from Harvey.
Stock-analysis firm CFRA cited a CoreLogic damage estimate of almost $40 billion, though insured losses could total just $25 billion since many standard homeowner policies exclude flood damage.
Ironically, according to CFRA, insurers' stock prices may ultimately rebound as losses from the storm wring out excess capital from the industry, allowing for pricing increases.   
"A shock to the industry, like that from a large-scale hurricane, could provide property-casualty shares with a catalyst," CFRA analyst Cathy Seifert wrote. 
Keefe, Bruyette & Woods, a brokerage firm that specializes in financial companies, said that insurance claims will likely be centered on personal and commercial auto policies, as well as commercial property. 
"Wind damage still implies material personal property losses, but they'll probably represent a smaller percentage of the total insured losses than a typical hurricane," KBW analysts wrote in an Aug. 27 report.  
Wells Fargo cited "initial insured loss estimates" in the range of $1 billion to $6 billion, while cautioning that those were made prior to the storm's landfall. Harvey came ashore near Rockport, Texas, a town about 30 miles south of Corpus Christi with a population of roughly 9,000, the bank noted. 
Because Harvey initially hit a less populated area, "the industry dodged what could have been an extremely high level of losses," the Wells Fargo analysts wrote. 
In Rockport, damage was severe, according to the statement from AIR Worldwide. "Masonry walls collapsed, wood frame houses were shattered, roofs and metal siding were peeled off, mobile homes were overturned and trees were uprooted," the firm said.   
The overall cost of the storm could rise to $30 billion, Bloomberg News reported, citing storm modeler Enki Research. 
Allstate is the second-largest homeowner's insurer in the state, with a 13% market share, according to Barclays. The Northbrook, Illinois-based insurer has "substantial reinsurance protection in place" for claims beyond the $500 million it would cover itself, the Barclays analysts wrote. 
Harvey was "beyond anything experienced," the National Weather Service said in a tweet Sunday. The Houston area was expecting two to five more inches of rain Monday, with up to 30,000 people requiring shelter and some 450,000 eligible for federal flood-victim insurance, according to the Houston Chronicle. 
Through the end of the week, Harvey may generate an additional 15 to 25 inches of rainfall along the upper Texas coast and southwestern Louisiana, according to an advisory from the National Hurricane Center, and isolated storm totals in areas including Houston and Galveston may reach 50 inches.
Estimates from wind damage are likely to be in the low-single-digit billions of dollars, the Morgan Stanley analysts wrote.
The hardest-hit commercial-property insurers may include Hartford Financial Services Group (HIG) - Get Hartford Financial Services Group Inc. (The) Report and Travelers, while Allstate, Berkshire Hathaway and Progressive are likely to face the most losses from auto policies, according to Morgan Stanley. 
Updated from 10:31 a.m. on Monday, Aug. 28, 2017.
More of What's Trending on TheStreet: