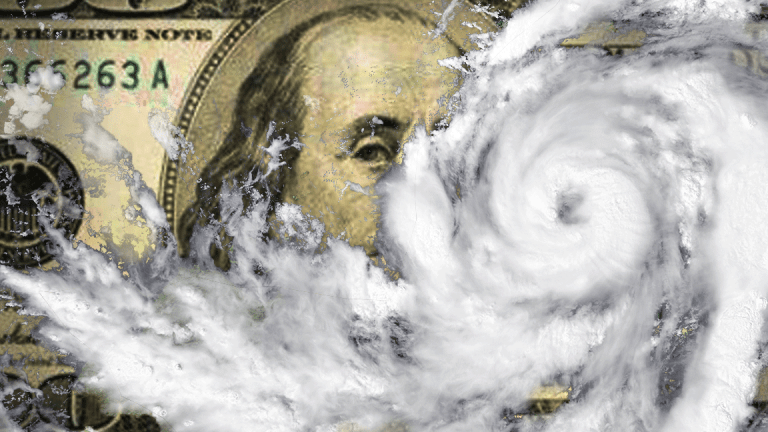 Hurricane Florence Has Investors Running to Housing Supplier Stocks Monday
Hurricane Florence has been upgraded to a category 4 storm.
Hurricane Florence has turned into a Category 4 storm that could be life-threatening, forcing a county in North Carolina to issue a mandatory evacuation. 
The silver lining in the storm: Home supply stocks are climbing Monday. 
Owens Corning (OC) - Get Free Report , which produces insulation, roofing and fiberglass composites, was up 4.6% to $61.13 Monday, its highest level in four weeks. MasTec Inc. (MTZ) - Get Free Report , which is an infrastructure engineering and construction company, is up $1.25 to $41.90. Mechanical and electrical construction company EMCOR Group (EME) - Get Free Report is up 0.5% and Granite Contstuction Inc. (GVA) - Get Free Report is up more than 3%. 
Home improvement stores are also gaining Monday with Home Depot Inc. (HD) - Get Free Report  up 1.9%, Lowe's Co. (LOW) - Get Free Report rising 2.24% and Walmart (WMT) - Get Free Report  gaining 0.84%. 
The National Hurricane Center is predicting that the storm will make landfall around North and South Carolina as a Category 3 or 4 hurricane on Thursday or Friday. 
The Weather Channel says that Florence "is likely to lash the East Coast later this week with life-threatening storm surge, destructive winds and massive inland rainfall flooding in one of the strongest strikes on this part of the East Coast on record."
Winds in the storm have been clocked as high as 130 mph Monday after registering at just 75 mph 24 hours ago. 
Investors are hunkering down and taking refuge in companies that could potentially benefit from the storm's potentially destructive effects. 
To be a profitable investor and build long-term wealth, you need the right information and techniques. Join TheStreet Oct. 13, 2018 for a special investing event for sophisticated and active traders. Register for "Invest Like the Pros: Jim Cramer's Boot Camp for Investors" here.