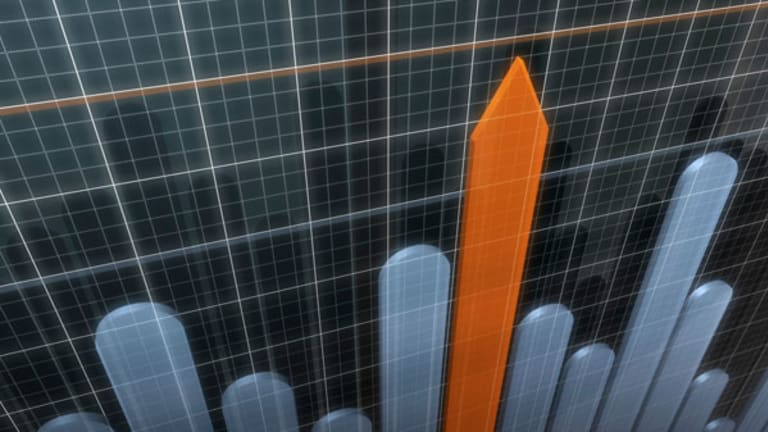 Hunting in Ignored Corners of the Market
It pays to buy stocks that fly under Wall Street's radar.
NEW YORK (
) -- During those times when I'm wandering around, kicking over rocks on Wall Street, one of my occasional stock screens is what I call "undiscovered growth stocks."
When you talk to the average growth-stock investor these days, they are usually all talking about the same names. They own such stocks as
Salesforce.com
(CRM) - Get Free Report
,
Netflix
(NFLX) - Get Free Report
and gun stocks. I've never figured out how anyone can believe they've gained an advantage by being in a stock that's covered by every firm on the Street and traded by everyone and their brother. In addition, the herd mentality and high levels of institutional ownership makes these stocks subject to gut-wrenching declines when something happens that the consensus doesn't expect.
Over the years, we have uncovered some very good stocks -- but we've looked for growing names that are off the Street's radar screen. This is a simple screen that looks for companies whose sales and earnings have risen more than 15% in the past year, and which are expected to keep growing at a reasonable rate. We then screen that list to find those under-owned by the large institutions with limited analyst coverage.
This article originally appeared on March 21, 2013, on RealMoney. To read more content like this + see inside Jim Cramer's $3 million portfolio for FREE, Click Here NOW.
The uncovered stocks often aren't cheap enough for me to dive into them, as I am very disciplined in my buying habits. However, they do often fit my son's more aggressive criteria, and some of my growth-oriented associates have done very well with these picks. I personally keep these on a watch list -- and, from time to time, I've had the opportunity to buy them on my terms. Of course, as when I'm running any screen, through this process I also seek out information and trends that may be useful in making general investment decisions and choices regarding my current portfolio.
One stock on the list this week is a repeat from an earlier run of this stock screen:
Craft Brew Alliance
(BREW) - Get Free Report
remains undiscovered by most of Wall Street in spite of excellent operating performance. The company has grown sales by more than 30% over the past five years, while compounded earnings have risen at a better than 50% annually, on average. The company is expected to grow earnings by 44% over the next year and around 20% annually going forward. In spite of this excellent performance, the large institutions own just 16% of the shares, and only a handful of analysts cover the stock -- though the latest report from Citi Investment Research upgraded it to "buy."
Craft Brew owns a strong portfolio of well-known craft beers, including Red Hook, Kona Brewing and Widmer Brothers. Although I am not much of a beer guy, I have a well-trained team of scouts who are only too happy to do some field research, and I am told that all three brands are well-received by craft-beer aficionados. This is well-positioned company that should do very well as it expands its product line to the Midwest and western parts of the U.S. Given the consolidation among brewers in the past few years, I would not fall out of my chair in shock if Craft Brew sold itself to a larger competitor, at a large premium, at some point in the future.
Meanwhile, in the "all information is useful" classification, take note that some Latin America companies are executing well and growing at a rapid clip -- but are being ignored by U.S. investors. Latin America is an unloved region at the moment, and the sentiment isn't entirely unjustified. Brazil is struggling with its economy and Argentina can generously be called a mess, while Venezuela is on the verge of becoming a full-blown disaster. But this reluctance to venture south of the border may be causing investors to miss some potential gems among growth stocks in the region.
One is
Brazil Foods
(BRFS) - Get Free Report
, which raises, slaughters and processes large volumes of pork, beef and chicken, and ships them to the global and domestic marketplace. Over the past five years, sales and earnings have climbed at very high rates. The company should be able to grow at a fast pace for many years to come, moreover, given the continued creation of a global middle class and swelling demand for high-quality food.
Mexican Construction Company
Empressa ICA
(ICA)
has seen its shares move higher this year amid impressive 37% earnings growth over the past five years. Such rates are expected to remain strong amid broader Mexican growth, as well, which should call for increased infrastructure and building over the next decade. In spite of all this, institutions own just 6% of the shares. I wouldn't chase the stock, as it's up solidly in the past year.
Still, these two names at least give you some idea of the missed opportunities in the Latin American markets right now. Whether you are a growth investor or a value guy like me, I have found that it pays to look where Wall Street isn't.
At the time of publication, Melvin had no positions in the stocks mentioned.
Tim Melvin is a writer from Stevensville, Maryland, who spent 20 years a stockbroker, the last 15 as a Vice President of Investments with a regional firm in the Mid Atlantic area. Under no circumstances does the information in this column represent a recommendation to buy or sell stocks. Melvin appreciates your feedback;
to send him an email.