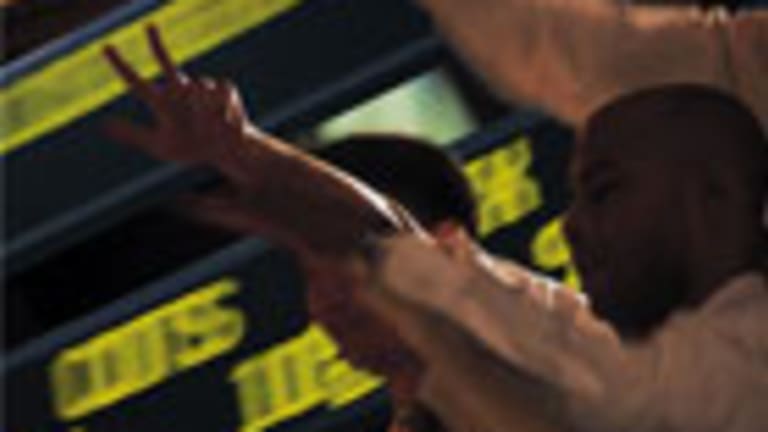 Hubris of Market Bulls; Second-Quarter Big Picture: Best of Kass
In highlights from his trading diary of the past week, Doug Kass writes about the red flag of hubris and about second-quarter results.
In highlights from his trading diary of the past week, Doug Kass writes about the red flag of hubris and about second-quarter results.
NEW YORK (TheStreet) -- Doug Kass of Seabreeze Partners is known for his accurate stock market calls and keen insights into the economy, which he shares with RealMoney Pro readers in his daily trading diary.
Last week, Kass wrote about what market hubris tells us, and less than meets the eye in the quarterly earnings increases.
Please click here for information about subscribing to RealMoney Pro.
The Hubris of Bull Markets
Originally published on Monday, Aug. 25, at 12:33 p.m. EDT

Hubris: excessive pride or self-confidence. Synonyms: arrogance, conceit, haughtiness, hauteur, pride, self-importance, egotism, pomposity, superciliousness, superiority.
Informal bigheadedness, cockiness
"The hubris among economists was shaken."
Antonyms: humility
(In Greek tragedy) excessive pride toward or defiance of the gods, leading to nemesis.
I have long reasoned and written that the crowd usually outsmarts the remnants (except at inflection points). Today, the crowd possesses strong animal spirits, and investors/traders have taken the S&P to all-time highs.
There is nary a bear remaining.
Shorts are routinely criticized and even laughed at.
And maybe the bears should be scolded and criticized, but in listening further to the parade of self-confident talking heads who are so complacent of view (and not heeding any possible adverse outcomes), my antenna is up -- way up -- now.
I have been clearly (and incorrectly) leaning to the short side in 2014 as stocks have outshot my price expectations.
Many times in my four decades of investment experience, I have seen the sort of hubris that is demonstrated these days, but rarely to such a degree.
It is a clear and unqualified red flag, especially when markets are faced with the reality of a number of headwinds (including unsustainable profit margins), a world plagued with serious geopolitical risks and threats, domestic and economic growth that remains subpar (despite aggressive central banker policy five years into the economic cycle), inflated valuations (against normalized earnings power), and other issues.
While I have not added to my index shorts, I have lifted my net short exposure by taking some of my gains in several longs, including Citigroup (C) - Get Report and Bon-Ton Stores (BONT) .
At the time of publication, the author was long C and BONT, although positions may change at any time.
Second-Quarter Big Picture
Originally published on Friday, Aug. 29, at 7:54 a.m. EDT
Most of the second-quarter earnings reports are now in, and it appears that S&P earnings rose by about 9.4% (year over year). This gain is about 300 basis points above consensus expectations and was achieved with about +4% top line expansion. Energy, health care and technology were the only sectors achieving better than 4% sales growth in the quarter.
In terms of quality, there was less than meets the eye, with buybacks, lower interest expenses and lower effective tax rates contributing to more than 2% of the 9.4% growth. Productivity gains contributed to a surprising margin expansion of about 3% of the 9.4% earnings per share gain.
In second-quarter 2014, 69% of the companies beat expectations on the bottom line and a bit more than 50% beat on the top line, about in line with history.
Full-year S&P earnings look as if they will fall between $118 and $119 a share (+7% year over year), higher than I expected at year-end 2013. (The current top-down consensus is $117 a share, and bottom-up consensus now stands at $119.40 a share.)
Sales look likely to grow at about 4.5% for the full year.
Looking into next year, consensus sees about $125 a share in earnings achieved by some margin expansion and near-5% revenue growth.
Though 2014 results seem destined to beat my expectations, a lot of the gains were through financial engineering (which seemingly should be accorded a lower price earnings multiple vis-a-vis organic growth). 
Doug Kass is the president of Seabreeze Partners Management Inc. Under no circumstances does this information represent a recommendation to buy, sell or hold any security.