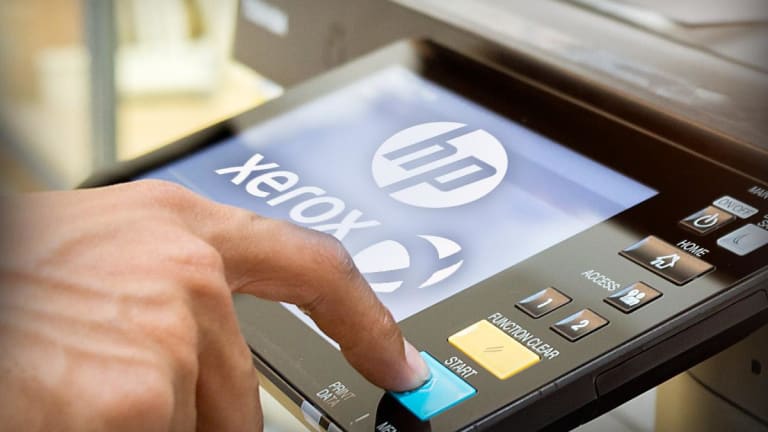 HP's Board Rejects Xerox Bid
HP said Sunday afternoon that its board unanimously rejects the 'unsolicited Xerox proposal' to buy the company, and that the offer is not in the best interest of shareholders.
HP Inc. (HPQ) - Get Report said Sunday that its board "unanimously rejected" Xerox's (XRX) - Get Report unsolicited bid earlier this month to buy the company.
The company said its board "reviewed and considered" Xerox's unsolicited bid from Nov. 5 at a meeting with its financial and legal advisers and has "unanimously concluded that it significantly undervalues HP and is not in the best interests of HP shareholders."
"In reaching this determination, the Board also considered the highly conditional and uncertain nature of the proposal, including the potential impact of outsized debt levels on the combined company's stock," said the board in a letter to Xerox.
HP implied that it would become an acquirer, as opposed to a target of companies looking to buy, when saying that it would use its "strong balance sheet for increased repurchases of our significantly undervalued stock and for value-creating M&A."
But it left the door open to a potential collaboration with Xerox, saying in the letter that it recognizes "the potential benefits of consolidation." It said it's open to "exploring whether there is value to be created for HP shareholders through a potential combination with Xerox."
HP also questioned Xerox's revenue decline from $10.2 billion to $9.2 billion since June 2018, saying it raises questions about the future of the business.
Real Money's Jim Cramer had questioned the proposal when it was first announced earlier this month, saying that, "The company wants to offer cash and stock for HP. There's only one problem: Xerox is an $8 billion company and HP is a $30 billion enterprise. Laughable? Yes, in the current configuration, Xerox is not going to be able to buy HP."
Cramer added, "However, if HP wanted to buy Xerox, now that's a different story, and one that people are obviously thinking about given that not only has HP's stock moved up, so has the stock of Xerox."
Xerox had said it was ready to offer HP shareholders $22 per share -- $17 in cash and .137 Xerox shares for each HP share -- for a total sale value of about $33.5 billion. The payment would have been a 20% premium over the Nov. 5 closing price of $18.40 for HP shares.
Xerox did not immediately respond to a request for comments.
This story has been updated.