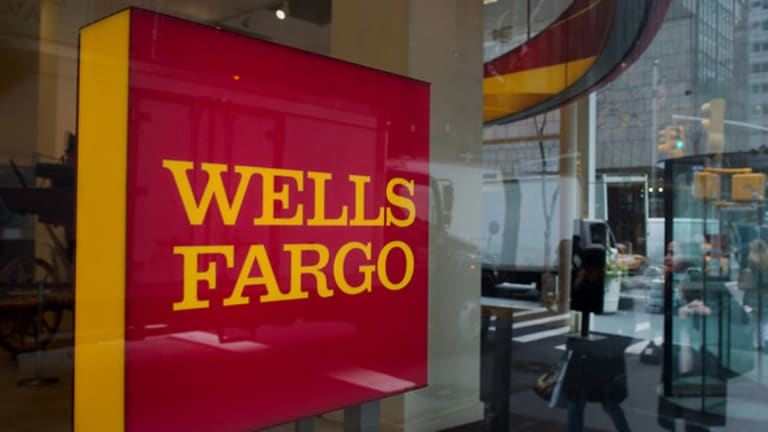 How Wells Fargo Aims to Satisfy 'Need for Speed' From Millennial Borrowers
Meeting digital demand for services such as loans is important for big banks like Wells Fargo and JPMorgan, since it's a priority for millennials, the largest generation in U.S. history.
Meeting digital demand for services such as loans is important for big banks like Wells Fargo and JPMorgan, since it's a priority for millennials, the largest generation in U.S. history.
This article, originally published at 10:03 a.m. on Saturday, July 2, 2016, has been updated with commentary from Bain & Co. and market data.
When Tom Cruise's character in Top Gun talked about feeling the need for speed, satisfying it was just part of his job: flying Navy fighter jets.
Small business owners frequently encounter a similar need on their own jobs, when typically tighter operating margins force them to seek credit lines to take advantage of growth opportunities. Historically, they haven't found it nearly as easy to satisfy as Cruise's swashbuckling Lt. Pete Mitchell, even though they account for nearly half the U.S. economy outside farms.
That began to change, however, with the advent of fintech firms like Lending Club (LC) - Get Report and OnDeck (ONDK) - Get Report , which leverage the Internet and data-analysis algorithms to approve loans in days rather than the weeks that such applications once required. Their model has proved sufficiently popular and lucrative that some of the country's biggest lenders are now adapting it for themselves.
JPMorgan Chase (JPM) - Get Report , for instance, recently teamed with OnDeck to provide small-business loans using that firm's application, scoring and approval platform to speed up the process, while Wells Fargo (WFC) - Get Reportintroduced online small-business loans in May that can be processed in less than a day -- almost instantaneously in some cases.
Known as FastFlex, the San Francisco-based bank's product offers customers with a business checking account a one-year loan of up to $100,000. Wells Fargo is considering expanding the availability of the loan next year, Lisa Stevens, the company's head of small business, said in an interview.
"We're always looking to see what things will make the most sense for our small business owners," she said. One of a slate of products geared toward such companies, FastFlex is designed for businesses with under $5 million a year in revenue who have "quick short-term needs to do some type of expansion or cash management," Stevens said.
EXCLUSIVE LOOK INSIDE: Wells Fargo is a holding in Jim Cramer'sAction Alerts PLUS Charitable Trust Portfolio. Want to be alerted before he buys or sells the stock?Learn more now
Adapting to meet digital demand for services such as loans is important for big banks, since it's a priority for millennials, the generation born between 1980 and 2000 whose population of 92 million makes it the biggest in U.S. history, surpassing even Baby Boomers.
Significantly for lenders, millennial entrepreneurs are less wary of borrowing money to expand than their older counterparts, Wells Fargo found in a recent survey, and are more likely to view credit as a necessary occupational hazard. Some 67% of millennials are willing to take some financial risks to grow their businesses, compared with just 54% of older owners.
The survey, conducted in late March and early April, included more than 1,000 participants, about half of whom were millennials.
"Typically to grow a business, any business owner is going to need to have some capital available," Doug Case, Wells Fargo's small business segment manager, said in an interview. 
The survey's findings indicate "millennials will be looking to financial institutions to make capital accessible and help millennial business owners bridge from where they are today, which might be more of a startup or early-growth business, to a business that has a good credit profile."
The FastFlex loan is one effort to meet that demand, he said, by providing a digital service with a rapid turnaround, two of the qualities that millennials have said they value most highly in financial services products. "We wanted to design our own product that would compete well in the marketplace-lending environment," Case said. 
Offering such a service online also helps meet increasing demand from bank customers for ease of use, which is often code for digital access.
"Customers are expecting things to be quick and easy because they're seeing it in everything else," said Gerard du Toit, one of the authors of a recent Bain & Co. report on bank loyalty that surveyed more than 14,000 customers. "You can buy anything from home in your pajamas, and do it with one click."
For many financial services, "that just doesn't exist yet," du Toit, a Boston-based partner, said in a telephone interview. "It's still a hassle to do things, and there's still a lot of paperwork."
Satisfying consumer demand is easier for relatively young fintech companies, he said, since they're building computer systems from the ground up, as opposed to more established banks with sprawling operations, where technology is costlier and more time-consuming to upgrade.
The advantage held by the largest of the traditional firms, from JPMorgan to Citigroup (C) - Get Report and Bank of America (BAC) - Get Report, is that they have the money to improve their systems and the breadth for such an upgrade to make economic sense. Many have already started funneling customers from traditional branches, where teller transactions cost as much as $3 each, to digital devices, where they cost just a few cents. 
Indeed, such services are a selling point for banks, whose stocks have been pummeled this year by market volatility related to lower oil prices, slowing growth in China and Great Britain's decision to leave the European Union. The KBW Bank Index has dropped 15% since the end of last year, while the broader S&P 500 has gained 2%.
Studies indicate most customers prefer using their smartphones and tablets to pay bills, transfer cash and deposit checks. While those transactions are routine, unlike applying for a car loan or mortgage, which may still require a branch visit, they matter more to customers because of their volume.
"The routine activities outnumber those less frequent activities by almost 10 to one," du Toit said.