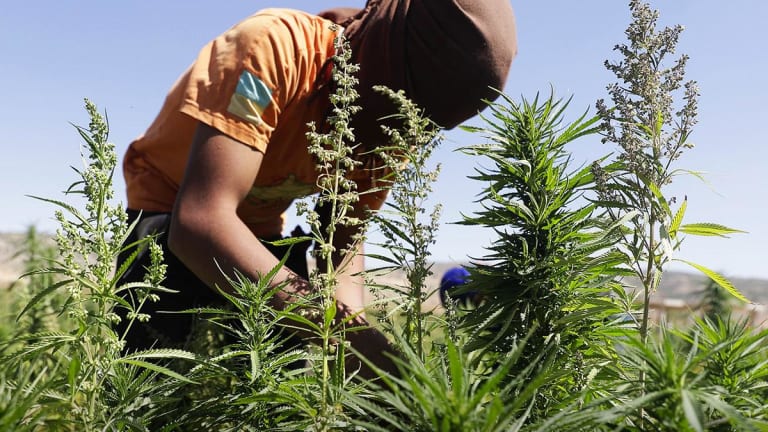 How Violent Will the Tilray Stock Crash Be?
There is little reason to think Tilray's stock won't soon be decimated. Meanwhile, Amazon will probably make a ton of money from stores without cashiers.
In lighter news, the stock that has lit up business news networks for the last 24 hours -- cannabis seller Tilray (TLRY) - Get Tilray, Inc. Report -- is up another 8% in premarket trading.
Mark this down: What's happening with Tilray will end badly for anyone hoping to retire before 2019 by putting some chips on the stock.
Shares of Tilray (TLRY) - Get Tilray, Inc. Report opened up about 20% on Wednesday following a bullish interview by CEO Brendan Kennedy on TheStreet's Jim Cramer's "Mad Money" show. The stock quickly traded up 40% before noon. By around late afternoon Tilray was up 90% before being halted. The stock opened back up and gave up a good chunk of the gains only to be halted with about 30 minutes left in the session. The stock reopened, briefly traded in the red, and then gained roughly 40%. It finished up 38% on the session.
Using very basic analytical tools, and aggressive assumptions because why the heck not it's almost Friday, Tilray should be a $10 stock today (100 price-to-earnings multiple on 10 cents a share in 2019 profit) instead of the current print of $50. Keep in mind Tilray is seen by Wall Street notching a loss of 10 cents a share in 2019, where I just pondered 10 cents a share in profit. Really bullish on the cannabis industry? Maybe Tilray is a $15 stock rather than $10.
The bottom line: By the time Tilray reports its third-quarter earnings in November investors buying at these inflated levels could be in tears and in need of a few puffs on the ole' joint. 
Data Dump
Still bullish on those 50 shares of Amazon (AMZN) - Get Amazon.com, Inc. Report you own? You should be, for numerous reasons. The newest reason is the prospect of Amazon building out a 3,000-plus grocery store network with no cashiers asking for days off and higher wages. Amazon is reportedly focused on opening 3,000 of its AmazonGo stores by 2021.
If Amazon pulls this off, it's likely to decimate the traditional convenience store channel while boosting the tech giant's bottom line over time.
"Using Casey's General Stores (CASY) - Get Casey's General Stores, Inc. Report as a comparison, we estimate that 3,000 Go stores could translate into at least $3-$6 billion and $1-$2.5 billion of annual revenue and gross profit contribution, respectively," said Baird analyst Colin Sebastian. "That said, our initial checks also suggest prices at the Chicago Go location are 10%-25% lower than competing convenience stores, and the significant technology costs associated with each location (reportedly ~$1 million) could represent a drag on profitability/free cash flow as the pace of store build-out ramps."
Count yours truly as one ready to give up 7-11 for AmazonGo.
Around TheStreet 
Real Money's @KevinCurran has an insightful interview with Canopy Growth (CGC) - Get Canopy Growth Corporation Report CEO Bruce Linton out this morning. Linton will also be a featured speaker at TheStreet's Oct. 13 teach-in hosted by our Jim Cramer. Register here because it would be foolish not to.
Several fascinating new stats on Facebook's (FB) - Get Facebook, Inc. Class A Report Instagram from RBC Capital Markets analyst Mark Mahaney after his time at this week's Code Commerce gathering: (1) 90 million accounts on Instagram tap on a "Shopping" post to learn more about products; (2) Over 200 million daily users view a business profile each day. Hard to believe Facebook's stock is down 8% this month with an asset such as Instagram morphing into a digital mall.