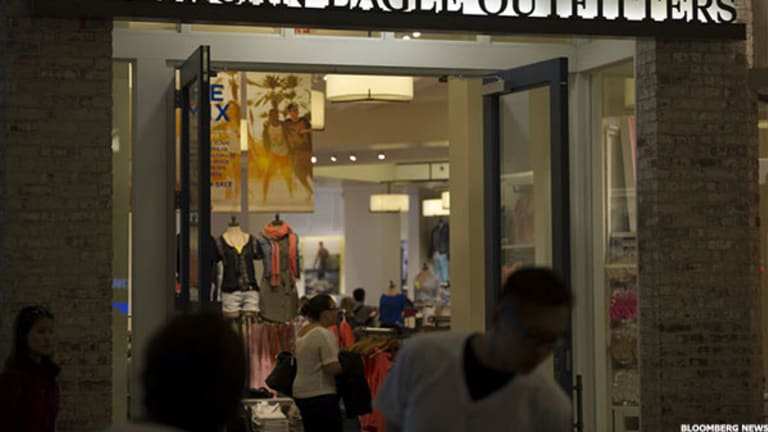 How Urban Outfitters and American Eagle Keep Teens Hooked
Both companies defied the general weakness in the retail sector, which some analysts attributed simply to a stronger product mix than their peers.
Teen-focused retailers Urban Outfitters (URBN) and American EagleOutfitters (AEO) both reported strong results late Wednesday in a rare bit of good news for the retail sector this quarter. Several analysts attributed the companies' strong performances to a simple factor: teenagers like their clothes. 

American Eagle earned 22 cents per share for the quarter ending April 30, ahead of analysts' estimates of 18 cents and the previously forecast guidance range of 17 cents to 19 cents. Revenue rose 7.1% to $749.4 million, beating the analysts' forecast of $731.4 million. Same-store sales growth of 6% also exceeded the consensus estimate of 4.7%.
Urban Outfitters' results included record sales of $763 million, up about 3.2% year-over-year and topping the expected $758.8 million. Same-store sales increased 1%, while analysts had expected a 0.5% decline.
Neely Tamminga and Kayla Wesser of Piper Jaffray reiterated their Overweight rating on American Eagle and raised its price target to $21 from $20. They expect the company to continue to perform well, particularly in denim.
"Denim is working and likely to drive traffic, sales and margins in the back half," they wrote, adding that strength in the category coincides with "the back-to-school selling season." According to a Piper Jaffray survey, "denim saw an uptick to 14.1% of mindshare among upper-income females (+500 bps y/y)" with American Eagle "the primary driver of this denim uptick (+390 bps y/y) and ranked No. 2 overall as a preferred clothing brand."
Shares of American Eagle jumped 16.95% to $15.66 in midday trading, while Urban Outfitters shares were up 10.6% to $27.19
Tamminga and Wesser were less enthusiastic about Urban Outfitters, reiterating their Neutral rating and lowering their price target to $32 from $35 due to "broader market compression in retail stocks' valuations along with indications at URBN that FQ2 trends have softened."
BMO Capital Markets analyst John Morris was more cautious, reiterating his Market Perform rating for both stocks and Urban Outfitters' $28 price target. He also singled out merchandise as the primary driver of growth there.
"Based on our industry contacts, the Urban division merchant team is excellent and over time should be able to increase the quality of the brand's content," he wrote. "However, we would like to see more progress across all brands before we become more constructive on the shares."
American Eagle's $14 price target also stayed the same, but guidance estimates went up to 20 cents from 19 cents for the next quarter and $1.39 from $1.34 for the year. Like the Piper Jaffray analysts, Morris commended American Eagle's denim niche.
Jefferies analyst Randal Konik commended American Eagle for its product mix, which he said drove sales. "We are thoroughly impressed with AEO's solid performance, which contrasts the current challenging retail [environment] and severe mall traffic declines," he wrote. "This brand has been doing an excellent job identifying relevant fashion trends and executing with strong product assortments." Konik reiterated his Buy rating and $24 price target.
Konik also noted the stronger product mix at Urban Outfitters, including "an influx of new fashion trends." Reiterating his Buy rating and $38 price target, he asserted that Urban Outfitters has "under-appreciated long-term margin expansion opportunity" as well as "cost leverage opportunity as the top-line improves."
Roxanne Meyer of MKM Partners reiterated her Neutral rating and $31 price target on Urban Outfitters, singled out product mix as well. "URBN has a different spin on the apparel business vs. department stores, with CEO Dick Hayne seeing newness in the market, enough to drive positive apparel comps," she wrote. "We are highly encouraged and supportive of the strategy to increase proprietary product (both private label and exclusive third-party branded merchandise) which saw a 500 bp uptick vs. LY and is targeted at ~80% of apparel by year-end. We see this as key to better differentiating URBN vs. others."
According to RBC Capital Markets analyst Brian Tunick, who maintained an Outperform rating on American Eagle and an $18 price target, its products will likely make it a "share gainer at the mall." This quarter, he wrote, the company "hit the trifecta" of accelerating same-store sales, improving margins, and "guidance for healthy EPS growth."
Sounding a more bearish note, Jim Cramer, TheStreet's founder and manager of the Action Alerts PLUS portfolio, agrees with Urban Outfitters CEO Hayne that there are too many brick-and-mortar retail stores throughout the country. He pointed to strong performance at Dick's Sporting Goods (DKS) following the bankruptcy filing of Sports Authority. Similarly, teen retailers Aéropostaleundefined and PacSunundefined have recently filed for bankruptcy, which both underscores the difficulty in the category and might be leading shoppers to Urban Outfitters and American Apparel.
"A lot of companies went under in the category where American Eagle is," he noted.
Struggling retailers, take heart: if you build a good enough product mix, the teenagers will come, despite lagging mall attendance and weak consumer apparel spending across the country.
Shares of American Eagle jumped 16.4% to $15.59 in midday trading, while Urban Outfitters shares were up 10.4% to $27.14.