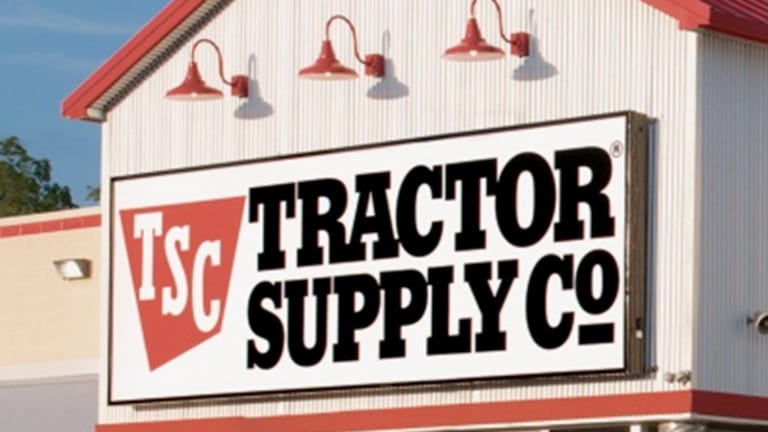 Why Tractor Supply Is Outperforming Retail Rivals
The third quarter was unkind to many retailers, but Tractor Supply Co., which caters to ranchers, farmers and home improvers, didn't feel the pinch.
The third quarter was not kind to many retailers, due in part to abnormally warm weather across much of the country, and in part to consumers feeling cautious about their finances.  But retailers such as Tractor Supply Co. (TSCO) - Get Tractor Supply Company Report and Home Depot (HD) - Get Home Depot, Inc. (HD) Report that sell goods to folks involved in construction and agriculture, or looking to improve the appearance of their homes, managed to buck the broader trend of lackluster sales. 
"We are a needs-based business, so the customers that buy at Tractor Supply need the things that we sell -- so we are not a discretionary store, per se," explained Tractor Supply Co. President and CEO Gregory Sandfort.  The chain's more than 1,400 stores in 49 states tend to cater to owners of ranches and farms, who are often in need of new equipment and parts to repair expensive machinery. It also sees a good mix of tradespeople and small-business owners walk through stores that average 15,000 square feet in size, especially those tied to the oil services industry.
Tractor Supply Co.'s third quarter same-store sales rose 2.9%, driven primarily by solid demand for trailers, fencing and pet supplies.  Earnings per share increased 16.4% to $0.65, surpassing Wall Street's forecasts by a penny. Tractor Supply Co. lifted its full year same-store sales and earnings outlooks.  Same-store sales are expected to rise by 4% to 4.5%, up from a prior outlook of 3.5% to 4.5%.  Earnings per share are expected to fall in a range of $3.02 to $3.08 versus $3.00 to $3.08 previously. Shares have gained about 9.2% this year, in sharp contrast to the 1.8% decline for the Dow Jones Industrial Average. 
When all is said and done, Tractor Supply Co. will have opened about 114 stores in 2015, with growth in new markets being anticipated moving forward.  "The West region is still an opportunity," said Sandfort, adding the company will soon be entering Long Island, New York for the first time, which is dominated by home improvement centers Home Depot and Lowe's (LOW) - Get Lowe's Companies, Inc. (LOW) Report .
As for the intense competition for labor in the retail industry, which has caused the likes of Walmart (WMT) - Get Walmart Inc. Report and Target (TGT) - Get Target Corporation Report to hike wages this year to attract and retain talent, Tractor Supply & Co. has been able to overcome the issue due to several factors. When asked if the company, which traditionally hires people with experience in ranching and welding, was feeling the effects of a labor shortage Sandfort said "Not at all."  He pointed out that all store managers and their team members are eligible for a monthly bonus if sales plans are met.  "We also have a very strong health benefits plan, and have a plan for team members that if they want to buy stock in the company, they could buy it at a 15% discount," said Sandfort.