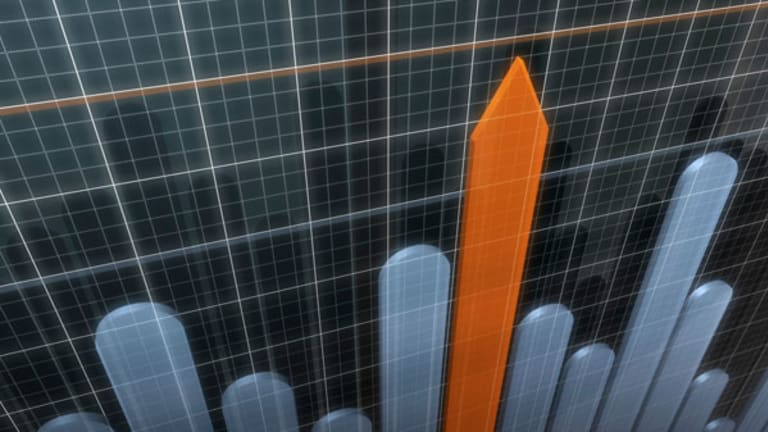 How to Use Stock Options to Bank on Rising Interest Rates
Here's an options trade on a popular exchange-traded fund that should bear fruit when the Fed raises interest rates.
NEW YORK (TheStreet) -- Slowly but, well, ah, anyway. Slowly, the economy might be (could be) improving. It tends to do just that after a cold first quarter of the year hampers economic activity. The end of the West Coast port shutdown should also help. And it doesn't hurt that for a while now Fed policy has seemed determined not to screw things up.
Yesterday, Goldman Sachs gave its buy rating blessing to none other than Citigroup (C) - Get Free Report, which you have to read as being at least a start in the right direction for the financial sector. Toss in tepid bullishness on the big banks and the fact that sooner (or later?) interest rates will rise.
The cynic in me thinks that when the central bank does raise rates, the vast majority of investors will interpret that move as the end of the world as we know it in the 21st Century. I mean, why not? After all, Yahoo!'s front page yesterday morning had four headlined articles saying the stock market is in an uber-bubble! That has to be some kind of record.
Now for any contrarian, such a piling-on of these "Look at me, I am an expert" articles has to be a "get ready for an uber-squeeze" tip-off.
And what better way to catalyze that market set-up than to use an increase in interest rates as the excuse to get all the shorts caught once again on the wrong side of a very bunched-up trade.
The stock market never looks back for long. Thus, when the market moves up or down on expected news that then becomes a reality, those moves tend to last only one or two days.
The moves that tend to have "legs" are those based on anticipated changes (for better or worse) that are jockeyed around and guesstimated to occur six months in the future. Now, place a six-month time stamp on June and up pops December. And the Fed meets in December. Hmmm.
The Financial Select Sector SPDR (XLF) - Get Free Report exhange-traded fund is an excellent way to play the big banks because its holdings include Wells Fargo (WFC) - Get Free Report, Berkshire Hathaway (BRK.B) - Get Free Report, JPMorgan Chase (JPM) - Get Free Report, Bank of America (BAC) - Get Free Report, Citigroup and Goldman Sachs (GS) - Get Free Report. This ETF trades at a trailing price-to-earnings ratio of a not so bubbly 14, yielding 1.7% in dividends.
Technically, I read XLF as having a one-year stochastic and Relative Strength Index that, like many other stocks now, is noncommittal but has upside potential. Neutral comes to mind. When rates begin to rise, the major banks begin to be noticed by fund managers as major banks have a history of making higher profits during periods of higher interest rates. Thus, this trade is geared to a potential rise in rates by January 2016.
This trade is a long call shooter trade and thus is chock full of one-way price risk. This is a very high-risk trade for various reasons well stated a long time ago by Robert Burns (that "best-laid schemes" guy).
Trade: buy to open XLF Jan 25 call for $0.89.
The suggested target to close for a gain is a bid of $1.29 (+$0.40) and the suggested target to stop out the trade is a bid of $0.49 (-$0.40). 
As always, this is a guideline, and you should always stick to your trading plan and what's best for your risk/reward tolerance.
OptionsProfits can be followed on Twitter at twitter.com/OptionsProfits
Skip Raschke writes regularly for Options Profits. You can get his trades first and interact with him there with a free trial.