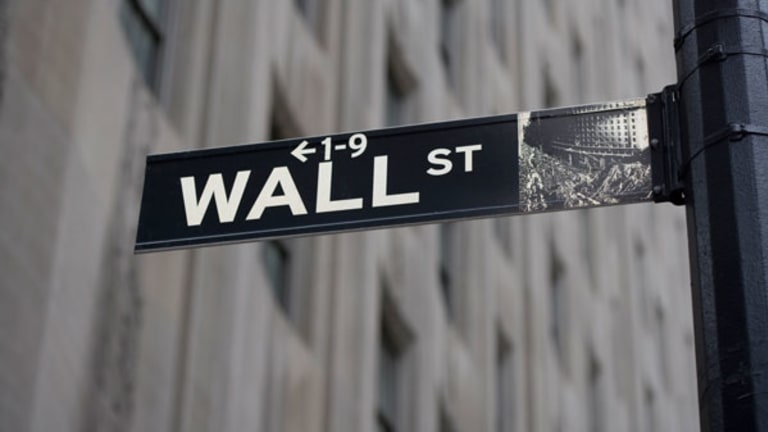 How to Trade This Week's Earnings
Here are three stocks to trade this week on earnings news.
MINNEAPOLIS (Stockpickr) -- It really is an unprecedented time for traders. To get an edge in the market, I have suggested using known events such as earnings releases to set a strategy in advance of what will inevitably be a big move in the stock.
If you are playing along at home, I need to set a few ground rules. First and foremost is to protect capital in case you are on the wrong side of a trade. If your projection of the event is wrong, it is unlikely for you to quickly recover.
If you are long and the stock trades lower after earnings, sell immediately and cut your losses. If you are short and the stock goes up, buy to cover.
What to do when you are on the right side of a trade is a bit trickier. Typically, steam from an event evaporates by the end of a trading session. That would suggest locking in your gains. You can do that by setting a top range target with a sell limit order, or you can simply keep a close eye on each tick and sell or buy to cover as appropriate.
>>Also:
7 Stocks to Buy for a Santa Claus Rally
Another option would be to let your winners win. That means keeping the trade active beyond the initial trading day. If you do that, you risk having your gains taken away before the market opens the next day.
As such, my recommendation would be to close all trades on the days made. The goal is here is to capture fast profits, not long-term gains.
did very well considering the macro challenges for the market. Capitulation in Ireland with respect to its debt combined with
hostilities between North and South Korea
conspired against investors.
>>Also:
Stocks were significantly lower on the day when earnings were released for all three of my picks:
Hewlett-Packard
(HPQ)
,
Jack in the Box
(JACK)
and
Brocade
(BRCD)
. As a result, the impact on the upside was muted with downside results magnified.
Hewlett-Packard impressed the market with an earnings beat and upbeat guidance for the future. It was one of a few stocks that managed to trade higher on a difficult day. The gains would have been much higher on an up or market neutral day, but that is how it goes sometimes.
>>Also:
Top 10 S&P 500 Buybacks of 2010
Brocade disappointed the market with weak guidance that resulted in shares falling. The company did manage to beat the estimate by a penny posting an adjusted 13 cents per share profit, but its outlook of flat to shrinking revenue was a buzz kill. The stock lost more than 10% of its value, a huge win for those that traded against the stock.
Next up was Jack in the Box, and the results were disastrous. The company missed on the bottom line by a wide margin and shares dropped more than 10% for the day. Traders could have mitigated losses here by selling quickly after the news broke.
>>Also:
5 Restaurant Stocks at All-Time highs
Here are three stocks to trade this week on earnings news.
Smith & Wesson
undefined
Gun maker Smith & Wesson should be enjoying one of its best years ever. With the election of Democrats in 2008 combined with Armageddon potential around the world, one would think gun sales would be on fire.
They are not. What happened?
A weak economy and an administration reluctant to take on the polarizing issue of gun control have hurt gun sales. The interest in bearing arms is simply not there. That has resulted in missed sales goals for Smith & Wesson.
>>Also:
Top-Rated Leisure Goods Stocks
How will the company perform when it releases earnings this week? If we get more bad news, the results will not be pretty. Shares of Smith & Wesson have performed horribly in 2010. The stock is down in a year when most shares are up modestly this year.
For the period ending Oct. 31, analysts expect Smith & Wesson to break even. Over the last year, the company has actually met or beat expectations for the bottom line. The real number to watch is sales.
The trouble for traders of this stock is that recent weakness has pushed the valuation down. Shares trade for 9 times trailing earnings and 10 times forward earnings. In other words, poor performance is already priced into the stock.
>>Also:
College Football Stocks to Consider
One factor to consider is the recent election. There is no longer the risk of losing the right to bear arms from a political perspective. Look for the company to comment on such in the current report.
I would bet against Smith & Wesson for the current quarter. Any sort of warning about future sales will send shares tumbling once again. I would sell this stock in advance of the announcement. If no such warning materializes exit the trade immediately.
Trina Solar
(TSL)
Stocks in the solar industry were hit hard by an industry downgrade from Credit Suisse two weeks ago. Trina Solar lost more than a dollar per share on the day of the downgrade, but shares have since recovered that lost value.
The issue for Credit Suisse appears to be a glut in supply. If so, prices and margins are likely to fall. Never mind that oil prices are quietly rising to a point whereby demand for solar will grow as a result.
>>Also:
For Trina, the downgrade may provide an opportunity to buy. Shares trade for 10 times trailing earnings and 7 times forward earnings. The stock is cheap given the earnings growth of the company.
Analysts expect Trina to make 87 cents for the just completed quarter. That number has been on the rise over the last 90 days. For the past year the company has beaten estimates by a wide margin. Will this quarter be the same?
I think so. I expect a big earnings number and positive guidance for the future. Look for the company to make a big deal about rising oil prices. Solar becomes more attractive the higher the price in oil.
>>Also:
10 Cheapest Energy Stocks as Oil Spikes
I expect shares to jump by at least 5% after the report.
Aeropostale
undefined
The retail sector has been red hot in 2010 as the consumer awakens from a long slumber. Stocks in the group are mostly higher across the board. That said, some companies are doing better than others.
One name that is teetering a bit is Aeropostale. The stock is only up modestly this year, mostly due to earnings results that are simply meeting expectations. With pricing pressure on its products, growth needs to make up for the difference.
>>Also:
Stocks to Buy on the Buyback Frenzy
Has Aeropostale exhausted its growth opportunity?
We will find out more with this week's earnings results. Analysts expect the company to make 66 cents in the period ending Oct. 31. That number has held steady over the last 90 days.
From a valuation standpoint, shares of ARO are cheap. The stock trades for 11 times trailing earnings and 10 times forward earnings. The downside risk of an earnings miss is pretty low. That said, any earnings miss is likely to be punished.
>>Also:
Cramer's Christmas-Isn't-Canceled Retail Stocks
In my opinion, Aeropostale has been losing the hip battle with competitors such as
Zumiez
(ZUMZ)
and
Hot Topic
(HOTT)
. As such, I expect the company to miss estimates or show weak guidance for the future.
That will send shares lower. I would trade accordingly.
RELATED LINKS:
>>Rocket Stocks: Ford, Stryker, Starwood
>>Dividend Stocks: Campbell Soup, Nike
>>Stocks to Benefit From Conflict in Korea
Follow Stockpickr on
and become a fan on
Facebook.
At the time of publication, author had no positions in stocks mentioned. Jamie Dlugosch is a founder and contributor to
MainStreet Investor
and
MainStreet Accredited Investor
. Formerly, he was president and CEO of Al Frank Asset Management. He has contributed editorially to
The Rational Investor
,
The Prudent Speculator
,
Penny Stock Winners
and
InvestorPlace Media
.