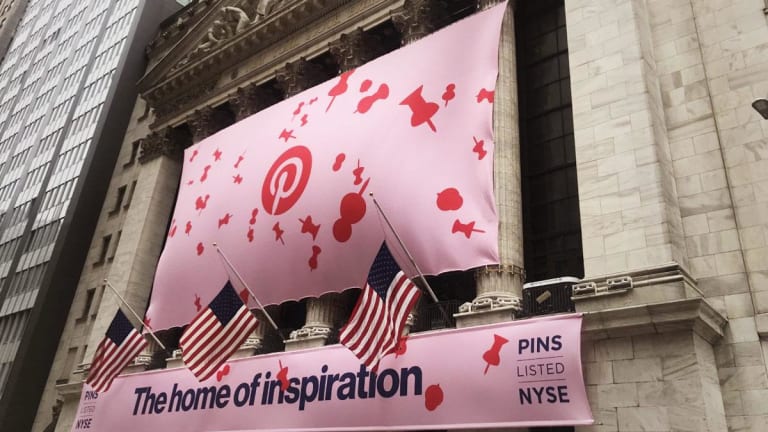 How to Trade Pinterest's Post-Earnings Surge
Pinterest stock is erupting on Friday after beating on second-quarter earnings estimates. Here's how to trade it as it approaches new highs.
Pinterest (PINS) management did what it couldn't do last quarter: Provided a better-than-expected outlook for the year to send buyers into a frenzy for its stock. 
After reporting second-quarter results, though, Pinterest stock was surging on Friday, closing up nearly $5.30 to around $33.57. Making the move even more impressive is the fact that the Nasdaq is down almost 2%, while the S&P 500 is down more than 1.2%.

The report was good enough to put Pinterest stock within sniffing distance of its 52-week high at $35.29, although the session came up short by 8 cents. 
The company reported a loss per share of 6 cents, 3 cents ahead of analysts' expectations. Revenue bested consensus views, too, ringing in at $261.25 million vs. estimates of $237.23 million, and grew 62.1% year-over-year.
It isn't just the headline numbers investors are focused on, though. Last quarter, management's outlook wasn't enough to wow the Street and its stock price took a hit. This time, its outlook increased from a range between $1.06 billion and $1.08 billion, to between $1.1 billion and $1.12 billion. Analysts' expectations were for just $1.08 billion.
Coupled with stronger-than-expected user growth, and you have a recipe for a rallying stock price. Now how do the charts look?
Facebook is a holding in Jim Cramer's Action Alerts PLUS member club. Want to be alerted before Jim Cramer buys or sells FB? Learn more now.
Trading Pinterest Stock
The results aren't enough to give a lift to many of its peers, with Facebook (FB) and Twitter (TWTR) both down more than 1% on the day. However, Snap (SNAP) is in positive territory in midday trading.
The rally in Pinterest stock comes at a really interesting time, given the recent infusion of volatility back into the market. Should U.S. equities embark on a prolonged decline, it will likely be hard for Pinterest to maintain its gains as selling pressure in the overall market accelerates.
That said, it could also serve as a "beacon of safety" for bulls, much the way Roku massively outperformed the market in May (rallying 42% vs. a 5.9% decline for the S&P 500).
We'll need to see a few more days pan out to find out which role Pinterest stock will play. Until then, though, it pays to know the levels.
Currently, the stock is sitting above its closing price highs at $34.22. If PINS stock can close above this level and more importantly, stay above it, it will increase the odds of continued outperformance down the road. It also increases the odds of Pinterest making new 52-week highs over $35.29.
Should Pinterest stock lack the momentum needed to close over $34.22 or if it does but cannot maintain those levels, see that it can stay above its post-earnings low of $32.28.
Below puts $31 on the table, as well as prior range resistance at $29 and the 38.2% retracement at $29.07. Given the quarter Pinterest just reported, I would not expect the stock back near this level any time soon. But with the increasing volatility in the market, it may be possible in the coming weeks.
For now, see how PINS stock handles $34.22 and post-IPO day range.
Summer Break Sale: Subscribe to Real Money and Save 76%
Join Real Money, our premium site for active investors, and enjoy exclusive access to real-time market analysis from Jim Cramer and more than 20 columnists hand-picked by him.
This article is commentary by an independent contributor. At the time of publication, the author had no positions in the stocks mentioned.