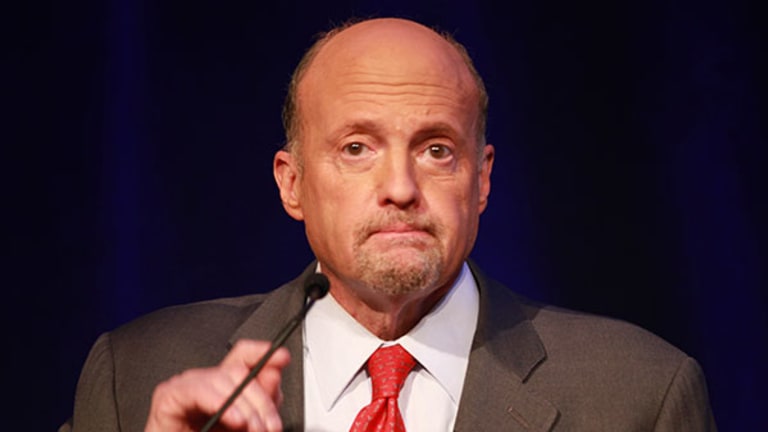 How to Trade Peak Spending; Imitation Is a Form of Stupidity: Jim Cramer's Best Blogs
Catch up on Jim Cramer's thinking over the last week about how imperfect stock markets are and doing your own research.
NEW YORK (TheStreet) -- Jim Cramer fills his blog on RealMoney every day with his up-to-the-minute reactions to what's happening in the market and his legendary ahead-of-the-crowd ideas. This week he blogged on:
How imperfect stock markets are, and
Doing your own research.
Click here for information on RealMoney, where you can see all the blogs, including Jim Cramer's -- and reader comments -- in real time.
How to Trade Peak Spending
Posted at 7:13 a.m. EDT on Friday, Feb. 20, 2015
As the numbskulls ducked out of Nordstrom (JWN)  in after-hours trading you got a visual, virtual and visceral example of how imperfect stock markets are and what a waste of time and energy so much of what's called thinking and analysis can really be.
Let me set the stage. Nordstrom made a commitment several years ago to be competitive online, offline and wherever else they had to be in order to be able to defeat the likes of Macy's (M) , Saks  (SKS) , Neiman, Ross Stores (ROST) , TJX (TJX)  and Amazon (AMZN) .
Tall order. These are all, in their own way, excellent competitors. When I spoke with Blake Nordstrom, the president of the company almost a year ago, he said that to defeat all of these opponents the company would have to commit several billion dollars in infrastructure. It wasn't enough to offer omni-channel. He also said the company had to offer an omni-channel experience to rival the best customer service company in the world, Amazon.
When investors hear "investment," what they think about is a decline in earnings per share. Investment's a dirty word. The idea, though, is that one day, investment will peak and we will see earnings flow through. That's been the hope for ages, for example, for Amazon, and the principal reason why it has run this year is the possibility of peak investment within the near future as opposed to "within our lifetimes," which had become the bears' mantra.
So last night the smartest people -- and the most capitalized cohort focused on the name -- wanted to hear about peak spending, given that Nordstrom had traced out a $4.3 billion budget -- 5% of current sales -- with tech, the principal deadweight loss comprising 35% of the plan, the rest store expansion including the ridiculously expensive coming store in Manhattan and a staged build-out in Canada.
So, initially Nordstrom issues a release that says same store sales are in line to better, but that earnings are light. Now, the selling begins: the stock goes down a quick three points. At the time I was sitting with my stage manager, Kyle Remaly, and I said $74 bid 50,000, pretending to be like the old days. That's down about three from where it was at the close, and falling hard.
The next thing I know the stock's offered at $74. I say $73.75 for 50. He asks what the heck am I doing. I said that the people who are selling have not a clue of what's driving the stock, and I want to pick some up down three and a quarter dollars because what matters is capex and that, unless they say they are going to spend even more than they thought and it would last longer, you are going to get a nice bounce when the call begins.
The stock then settles at $74 when the company starts talking. It starts to go through the numbers and they are fine, but then in the forward guidance the CFO says that 2015 will be the peak year of company spend. In maybe three minutes the stock's unchanged; when he then hints that spending can decline for other than the Manhattan build-out, the stock goes up a buck from where it went out, and is trading north of $78. It stays there until some analyst asks if peak spending means "accelerated earnings growth," and immediately the CFO tells him not to conflate peak spend with accelerated earnings growth and the stock sheds a dollar.
It then stabilizes when the company says that business got better throughout the quarter, particularly the off-priced Rack, and how the holiday season wasn't promotional. Then the call ended and so did the trading.
What's instructive here? I don't encourage after-hours trading, but the morons who shoot first are often such dopes they you get a chance to make money. With Nordstrom, knowing the key metric was all it took. I wish there were more to it. But there isn't, because with a peak spend you have a terrific earnings growth story, and without it? You have a $75 stock. Let's see if, when the real investors come in, they understand the difference.
At the time of publication, Action Alerts PLUS, which Cramer co-manages as a charitable trust, had no positions in the stocks mentioned.
Imitation Is a Form of Stupidity
Posted at 2:56 p.m. EDT on Wednesday, Feb. 18, 2015
Do as you say, not as they do.
That's really the lesson for today's trading, where I am seeing people act like lemmings because a certain well-known investor, namely Warren Buffett, made big moves in the stock market a couple of months ago and we just learned of them today.
I have long been a believer in doing your own work and getting your own comfort level with individual stocks. If you can't do that, if you don't have the time or the inclination to do research and make up your own mind, I think it is imperative that you don't follow someone, anyone, blindly -- me, a money manager you saw on television, a CEO who talks a good game but may not have a sustainable trajectory or, for that matter, Warren Buffett of Berkshire Hathaway (BRK.A)  fame.
If you can't do that homework and you still want to have exposure to the stock market, then go buy an index fund. I love index funds. They allow you to eliminate what's known as single stock risk, meaning the one stock you buy could be caught up in scandal, or miss the quarter over and over again or simply not be part of the general upswing you are looking for.
There are plenty of indices. I am partial to owning the S&P 500 index fund or a fund that offers a total stock market return, meaning all stocks. I also like any fund that emphasizes dividends because I like income.
You don't need a guru to help you in an index fund and you should invest, not trade them, if you buy them.
Lots of people, however, don't subscribe to my view. They want to piggyback off the great ones. They want to buy what a great investor buys. They think they can hitch their portfolio to a star and get all the advantages of that star's work without having to do any work themselves.
Today we saw the folly of such thinking. We saw it when the buys and sells of Berkshire Hathaway were released by the SEC.
We saw it play out by giant gobs of money being thrown at what Buffett's buying and huge piles of money coming out of what he's selling. It's the height of Tom Foolery; imitation is a most sincere form of stupidity.  
Back in November 2013 we learned that Berkshire Hathaway had purchased 40 million shares of Exxon Mobil  (XOM)  for $3.4 billion.
First, we didn't know about this stake until well after it was bought. That's because filings are not submitted in real time. They don't have to be. Second, Berkshire Hathaway doesn't have to file like most other companies. For Exxon, Buffett was able to amend a second-quarter filing where he revealed he had bought about 30 million shares in the three months ended June 30.
So, Buffett accumulated a position in Exxon over the course of the year ending in September and we learned of it Nov. 14, long after his Berkshire Hathaway bought the shares. The stock almost instantly shot up from $93 to $95, a really big move for this staid big-capitalization stock.
Keep in mind, Buffett didn't tell us why he bought Exxon. He didn't say, "I like the oils and this is a terrific oil company." He didn't say he liked the balance sheet and the dividend. He didn't tell us if this was the moment to own oil. He said nothing. He owes you nothing. You can't find out and he ain't telling you why.
Last night, we learned that Buffett sold his entire stake sometime in the fourth quarter. The stock immediately dropped more than two bucks. He didn't tell us why he dumped it. He didn't come on television and say what a mistake it was or how he felt he had enough oil because Berkshire owns Burlington Northern, which I consider the Bakken railroad, for all it ships from North Dakota. Again, Buffett owes you nothing.
Somehow, though, now that he no longer owns Exxon, people decide it's not worth owning. I have a feeling that Buffett, who lets you own shares in Berkshire Hathaway itself, must be puzzled if not laughing his head off about how Exxon went up and went down on old reports of moves made ages ago.
I'll make this easy: Exxon is the major oil company that's least levered to the price of oil. That honor goes to Occidental Petroleum (OXY) . But if you like oil, you should own it. If you don't, you should sell it. You shouldn't mimic Buffett, as his purchase and sale hardly qualify him as an expert in the stock or the group.
We learned last night that Buffett increased his stake in IBM (IBM)  by 9.2% and now owns 76.97 million shares, a huge holding. IBM's been a terrible performer of late and many thought Buffett would be dumping the stock because of its inability to make its own targets.
Again, IBM, in a down tape, has jumped a buck on this news.
So what do we make of this move? Well, I think it is safe to say Buffett believes in the new CEO, Virginia Rometty, even as she has so far failed to deliver the growth we expect from a tech company. It has ample cash flow and we know from public statements that Buffett likes how the company keeps buying back stock with that cash flow.
But should you like that? Should you like the stock of a company that's challenged on so many fronts? One that Buffett could have sold some 30 points ago at a nice profit and has now round-tripped the investment?

Now here's what you may not even know if you blindly followed Buffett and bought IBM today. Next Thursday, IBM has an analyst meeting. At that meeting, we are going to hear if IBM has gotten any closer to accelerating revenue growth. We are going to hear if it can meet its targets. We will hear about its cloud strategy and data analytics business. But we are also going to hear about the roughly three-quarters of its business that has subpar growth vs. the rest of the industry.
I hope for the sake of those who bought off Buffett's coattails that it goes well for you. However, hope is a really crummy investment strategy. If you did buy it, please figure out what you want to hear and see from this meeting. Form an opinion. Your own opinion. Believe me, the odds do not favor you getting Buffett's opinion, and you will be clueless as the meeting occurs.
Then there's John Deere (DE) . Buffett owned 7.57 million shares in Deere going into the fourth quarter and he added almost 10 million shares in the fourth quarter, giving him 17.1 million shares of the farm equipment company.
Today, the stock jumps a deuce as people pile in now that he's endorsed the company with that additional share buy.
I say, hold on a second. Do you know that Deere reports Friday? Do you know what you are looking for from the company? Do you know that competitor AGCO (AGCO)  was just on Mad Money making it very clear that things are not so hot in ag-land? Do you know that sales for ag equipment have been growing weaker not stronger?
No, all you know is that Buffett bought it at a much lower level than where it is now. Maybe you get a better chance to buy more if the stock goes down when it reports. That's the best I can say about it other than the company has historically thrown cold water on its prospects on its own conference call and hammered its stock to a better point of entry.
This piggyback idea's been around for ages. I was kind of hoping that with the round trip in Exxon people would see maybe it's just not worth it to rely on Mr. Buffett or anyone else for that matter when making your investment decisions. You need to rely on yourself if you have any real hope of making good money. Or, at least, do me a favor, and just go buy Berkshire Hathaway.
You may not know why he makes his moves either way but at least with my method he's actually managing your capital alongside his and he has the added advantage of having done the work and can make up for the shortfalls, if any, of an Exxon or an IBM, or any other underperformer in his portfolio.
At the time of publication, Action Alerts PLUS, which Cramer co-manages as a charitable trust, had no positions in the stocks mentioned.