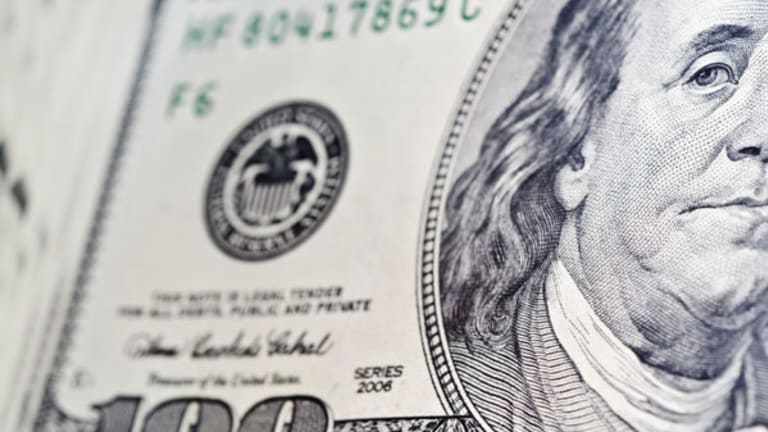 How to Trade Fad Stocks
Fad stocks can cut both ways: You can make money quickly and lose money quickly. You just have to be on the right side of the trade.
MILLBURN, N.J. (Stockpickr) -- I am beginning to see some potential fad stocks emerging in the marketplace. Fad stocks can cut both ways: You can make money quickly and lose money quickly. You just have to be on the right side of the trade.
There are several warning signs that should tip off investors when a stock is on the track to fad status. Not every fad stock exhibits all of the signs, and just because a stock does exhibit one does not necessarily mean you should avoid it.
You might also see entire industries or sectors become fall into the fad category, such as Internet stocks in the 1990s or housing stocks in the 2000s.
To identify a stock as a fad, I use five criteria. As a general rule, if two or more of the following warning signs apply, it's probably safe to say the stock's a fad.
1. Narrow Business Models
: These companies tend to have very limited product offerings. In some instances, they may only offer one product or model. Also, they may have a limited or constrained customer base.
Don't be fooled by flavor or color differentiation. The inability to diversify into multiple product lines will limit these companies' long-term survival.
Heelys
( HLYS) and
Taser
undefined
are essentially one-product companies.
2. Momentum Volumes
: A fad stock tends to trade in large volumes relative to its stock float. This will continue well beyond its IPO launch date. Often the stock will be flagged by momentum publications such as
Investor's Business Daily
.
>>>Stocks Rising on Unusual Volume
Furthermore, while short-sellers may correctly detect the fad status of a stock, often it happens too early to the game. As a result, early-stage fad stocks might be subject to massive short squeezes.
>>>Automotive Short Squeezes for 2010
3. Product Replication
: These companies tend to have products that can easily be replicated by the competition. For example, privately held
Arizona Iced Tea
and
Unilever's
(UN) - Get Free Report
Lipton's Brisk were able to launch competing products, capture market share and crowd out
Dr Pepper's
undefined
Snapple.
Furthermore, cheap knockoffs can often be easily produced overseas, flood the domestic market and force these fad companies to cut prices, thus compressing product margins.
4. Financial Deterioration
: Initially, these fad stocks are flush with cash from the proceeds of an IPO or early-stage sales. However, very quickly -- usually after a year -- sales and margins will decline. This will result in cash burn, or net erosion in the balance of cash and cash equivalents. Don't be fooled by a fad company's "strong" cash position, because that will eventually evaporate.
If you want to see an example of faddish cash burn, take a look at
Martha Stewart Living Omnimedia
(MSO)
. Martha Stewart was once a media darling, and the company was cash-rich. The company has struggled for many years since Ms. Stewart's indictment having lost money and burned cash along the away.
>>>9 Companies Sitting on Piles of Cash
5. Transitory Technology
: Many fad stocks deliver whiz-bang technologies that are far superior to the existing technology, but these technologies are soon replaced by even better ones.
America Online
(AOL)
, recently spun off from
Time Warner
(TWX)
, was once one of the high-flying fad stocks of the dot-com era. It was the best and cheapest way to access the internet for consumers. Then along came the fiber-optic cable service providers, which made AOL obsolete.
Many fad stocks also have cult-like followings, thus making it difficult to pick exact tops. A great example of a cult stock is
Sirius XM Radio
(SIRI) - Get Free Report
, which is owned with religious fervor by its shareholders.
>>>Top 10 Buy-Rated Stocks Under $5
Here are some stocks that are in the fad phase to be on the lookout for.
Green Mountain Coffee Roasters
(GMCR)
: Green Mountain is in many ways the second coming of
Starbucks
(SBUX) - Get Free Report
. Do you recall when Starbucks become the cult restaurant and stock of the 2000s? It is quite possible that Green Mountain could be headed in that direction. Green Mountain sells specialty coffee under its own name and other labels. The company is widely known for its K-Cup portion packs and Keurig brewing systems for home and office use.
To the company's credit, it grew earnings by 46% in fiscal-year 2007, 67% in 2008 and 140% in 2009. For 2010, GMCR is likely to grow earnings, on a GAAP basis, by about 30%, to 60 cents. Non-GAAP EPS for fiscal-year 2011 is expected to grow by 64% to 71%, from 70 cents to a range of $1.15 to $1.20. GAAP earnings will be about 9 cents less than non-GAAP results in 2011 which implies about 80% expected growth.
The stock is selling at nearly 60 times trailing earnings and 32 times forward earnings. At some point, GMCR will miss a quarter or growth will slow down. When that happens, watch out below. Until then, this stock is caffeinated for future price gains.
>>>9 Low-End Consumer Stocks for High-End Profits
Ulta Salon Cosmetics & Fragrances
(ULTA) - Get Free Report
: Ulta Salon fell from grace after its IPO, but since the "devils bottom" in the
in March 2009, it has become a momentum darling. I think we may have a fad stock here.
Cosmetic customers can be as
fickle as teen/tween consumers
with their purchasing habits. They are also highly sensitive to the economy.
Estee Lauder
(EL) - Get Free Report
is a well-established cosmetics company that waxes and wanes with customer attitudes. A close competitor to Ulta Salon is
Sally Beauty Holdings
(SBH) - Get Free Report
, which has also become a momentum darling.
Ulta Salon grew earnings by 65% in fiscal-year 2008 and 53% in 2009. For its current year, 2010, Ulta Salon should grow earnings by about 50%. Right now Ulta Salon and Sally Beauty Holdings are in a favorable industry in an economy that is turning around. That too shall end, but until then, these stocks could be a "pretty" investment.
>>>Top-Rated Specialty Retail Stocks
Once you've identified a fad stock, here's the trading strategy I'd use:
If the company is still growing, then I would be inclined to be a buyer.
Set stop levels about 15% to 20% below your buy price.
As the stock ascends, raise your stop levels.
By the time the stock has reached its fad crescendo level, you will have made good money, and your profit will be protected by your stop.
If the stock continues to trade lower than your stop level, then consider putting on short positions. Of course, it may be difficult to borrow that stock at that juncture, so you may want to substitute deep-in-the-money puts.
At some point, the fad stock will no longer be a fad darling, and its stock price will wash out.
To see these stocks in action, check out my
portfolio on Stockpickr.
-- Written by Scott Rothbort in Millburn, N.J.
RELATED LINKS:
>>4 Stocks in Charlie Munger's Portfolio
>>Don't Get Too Excited About This Market
>>4 Contrarian Natural Gas Stocks
Follow Stockpickr on
and become a fan on
Facebook.
At the time of publication, Rothbort was long ULTA, although positions can change at any time.
Scott Rothbort has over 25 years of experience in the financial services industry. He is the Founder and President of
, a registered investment advisor specializing in customized separate account management for high net worth individuals. In addition, he is the founder of
, an educational social networking site; and, publisher of
The LakeView Restaurant & Food Chain Report
. Rothbort is also a Term Professor of Finance at Seton Hall University's Stillman School of Business, where he teaches courses in finance and economics. He is the Chief Market Strategist for The Stillman School of Business and the co-supervisor of the Center for Securities Trading and Analysis.
Mr. Rothbort is a regular contributor to
TheStreet.com's RealMoney Silver
website and has frequently appeared as a professional guest on
Bloomberg Radio
,
Bloomberg Television
,
Fox Business Network
,
CNBC Television
,
TheStreet.com TV
and local television. As an expert in the field of derivatives and exchange-traded funds (ETFs), he frequently speaks at industry conferences. He is an ETF advisory board member for the Information Management Network, a global organizer of institutional finance and investment conferences. In addition, he is widely quoted in interviews in the printed press and on the internet.
Mr. Rothbort founded LakeView Asset Management in 2002. Prior to that, since 1991, he worked at Merrill Lynch, where he held a wide variety of senior-level management positions, including Business Director for the Global Equity Derivative Department, Global Director for Equity Swaps Trading and Risk Management, and Director for secured funding and collateral management for the Global Capital Markets Group and Corporate Treasury. Prior to working at Merrill Lynch, within the financial services industry, he worked for County Nat West Securities and Morgan Stanley, where he had international assignments in Tokyo, Hong Kong and London. He began his career working at Price Waterhouse from 1982 to 1984.
Mr. Rothbort received an M.B.A., majoring in Finance and International Business from the Stern School of Business, New York University, in 1992, and a B.Sc. in Economics, majoring in Accounting, from the Wharton School of Business, University of Pennsylvania, in 1982. He is also a graduate of the prestigious Stuyvesant High School in New York City. Mr. Rothbort is married to Layni Horowitz Rothbort, a real estate attorney, and together they have five children.