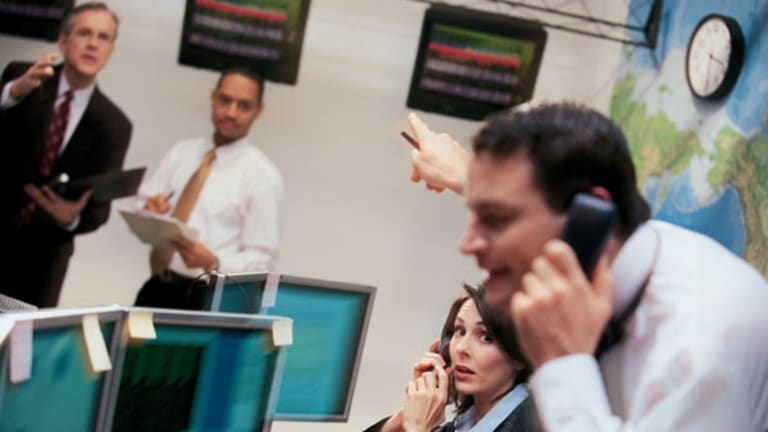 How to Trade Clearfield: Stocks Rising on Unusual Volume
Clearfield was rising on unusual volume on Thursday. Here's how to trade it today.
Clearfield was rising on unusual volume on Thursday. Here's how to trade it today.
DELAFIELD, Wis. (Stockpickr) -- Professional traders running mutual funds and hedge funds don't just look at a stock's price moves; they also track big changes in volume activity. Often when above-average volume moves into an equity, it precedes a large spike in volatility.
Major moves in volume can signal unusual activity, such as insider buying or selling -- or buying or selling by "superinvestors."
Unusual volume can also be a major signal that hedge funds and momentum traders are piling into a stock ahead of a catalyst. These types of traders like to get in well before a large spike, so it's always a smart move to monitor unusual volume. That said, remember to combine trend and price action with unusual volume. Put them all together to help you decipher the next big trend for any stock.
Clearfield (CLFD) - Get Report manufactures, markets and sells standard and custom passive connectivity products to the fiber-to-the-premises, large enterprises and original equipment manufacturers markets in the U.S. This stock closed up 9.7% to $25.89 in Thursday's trading session.
Thursday's Volume: 356,000
Three-Month Average Volume: 133,998
Volume % Change: 185%
From a technical perspective, CLFD soared sharply higher here and broke out into new 52-week-high territory above some near-term overhead resistance levels at $24.71 to $25.41 with strong upside volume. This stock has been uptrending strong for the last six months, with shares moving higher from its low of $11.10 to its intraday high of $26.59. During that move, shares of CLFD have been consistently making higher lows and higher highs, which is bullish technical price action. Market players should now look for a possible continuation move higher in the short-term if CLFD manages to take out Thursday's high of $26.59 with high volume.
Traders should now look for long-biased trades in CLFD as long as it's trending above Thursday's low of $23.61 or above more key support at $23 and then once it sustains a move or close above $26.59 with volume that hits near or above 133,998 shares. If we get that move soon, then CLFD will set up to enter new 52-week-high territory, which is bullish technical price action. Some possible upside targets off that move are $30 to $33.
To see more stocks rising on unusual volume, check out the Stocks Rising on Unusual Volume portfolio on Stockpickr.
-- Written by Roberto Pedone in Delafield, Wis.
RELATED LINKS:
>>5 Stocks Under $10 Ready to Explode
>>5 Big Stocks to Trade for Gains in February
>>5 Stocks Insiders Love Right Now
Follow Stockpickr on Twitter and become a fan on Facebook.
At the time of publication, author had no positions in stocks mentioned. Roberto Pedone, based out of Delafield, Wis., is an independent trader who focuses on technical analysis for small- and large-cap stocks, options, futures, commodities and currencies. Roberto studied international business at the Milwaukee School of Engineering, and he spent a year overseas studying business in Lubeck, Germany. His work has appeared on financial outlets including CNBC.com and Forbes.com. You can follow Pedone on Twitter at www.twitter.com/zerosum24 or @zerosum24.