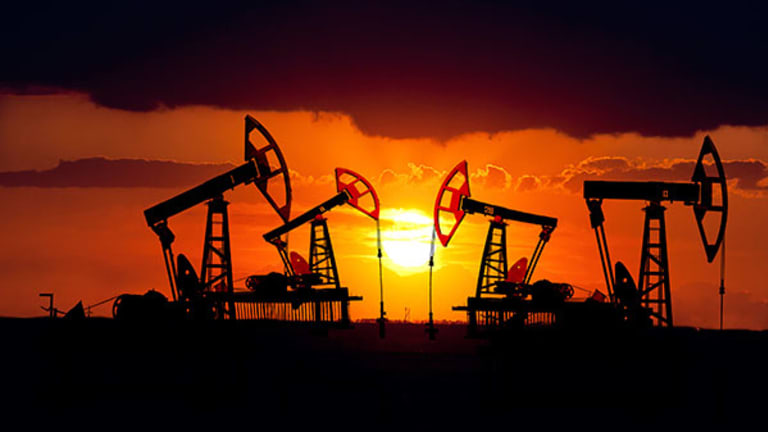 How to Spot Signs of a Crude Oil Bottom
Technical indicators show that crude oil prices will soon be oversold, and data show that market participants could be signaling a bottom.
This Real Money article was originally published on Thursday, Aug. 13, 2015, at 11 a.m. EDT
NEW YORK (Real Money) -- In early July, crude oil futures were hovering in the high $50's and low $60's, but despite the positive momentum, the market felt heavy. Signs that large speculators had already gotten aggressively long crude oil futures suggested the market was susceptible to liquidation. Our analysis proposing this possibility was featured on the July 7 episode of CNBC's "Mad Money" with Jim Cramer. 
On the show, we pointed out the high probability of a retest of the low $40's low and possibly even a trip into the $30 range. Now that we are approaching the noted levels, we thought it would be a good idea to re-evaluate the energy market and provide an update.
WTI Weekly Chart
Source: Barchart.com
The weekly crude oil futures chart depicts a precipitous decline with seemingly no end in sight. Nevertheless, with market sentiment in the dumps and decade lows on tap, it seems the bears could be running out of catalysts sooner rather than later. After all, the market has had ample time to price in the supply glut, weakness in China, and the imminent Fed interest rate hike; sometimes, when the fundamental landscape is overly bearish is exactly when a capitulation bottom is formed. 
We see trend-line support looming in crude oil near the $38 range. This acts as a potential reversal zone, but we cannot rule out an emotional route to the $35 mark. However, in the big picture, any price near or below $40 will likely prove to be a great opportunity for the bulls with a long time horizon. 
Technical oscillators such as Relative Strength Index and Slow Stochastics appear to corroborate the idea that prices will soon be oversold and due for a rebound. Both indicators are approaching levels not seen since the March crude oil lows.
If you are unfamiliar with the Commitments of Traders Report issued by the Commodity Futures Trading Commission, it is a useful tool that provides insight into the positions of market participants. In the simplest form, the CFTC categorizes traders into three groups: hedgers, large speculators, and small speculators. The report then identifies whether each group is long or short the market, and to what degree.
In early July, we were unable to side with the bull camp due to substantial long positions that had been accumulated by speculators. However, since then, we've seen large speculators, considered to be the market participants with deep pockets, liquidate roughly 30% of their bullish position. In our opinion, this suggests the most capitalized market participants now have plenty of buying power to put to work should they see fit.
In addition, we've noticed that crude oil futures have been far more likely to rally at times in which the large speculator group is holding 200,000, or fewer, net long contracts. According to data released by the most recent COT Report, the large speculator group is holding just over 200,000 net long contracts. Accordingly, some near-term liquidation as suggested by the chart would coincide with the typical pattern seen on the COT Report prior to a significant low.
In conclusion, picking a bottom in any market is challenging, and relatively dangerous. Thus, those willing to do so must carefully gauge their risk tolerance prior to establishing a position. In addition, it is never a good idea to go "all in" when trying to play a market turn. Most traders are better off scaling in and out of positions (if account size allows). Nevertheless, there is plenty of evidence mounting to suggest that a substantial low in crude oil could be looming.
Let's not forget the infamous quote by Paul Tudor Jones: "I believe the very best money is made at the market turns. Everyone says you get killed trying to pick tops and bottoms and you make all your money by playing the trend in the middle. Well, for twelve years I have been missing the meat in the middle, but I have made a lot of money at tops and bottoms."