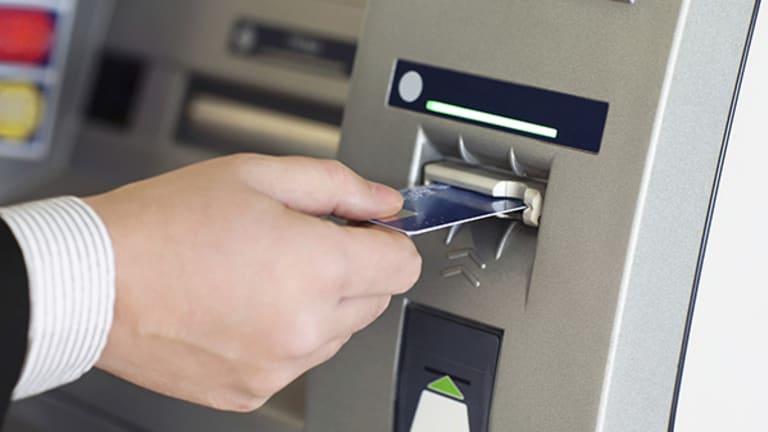 Publish date:
An ATM Worth Switching Banks For? JPMorgan Thinks So
Yes, BofA and JPMorgan are trimming local branches, but they're upgrading the ones they keep: Think ATMs with video chat that dispense $1, $5 and $10 bills.
Yes, BofA and JPMorgan are trimming local branches, but they're upgrading the ones they keep: Think ATMs with video chat that dispense $1, $5 and $10 bills.
UPDATE: This article, originally published on Friday, Sept. 4, 2015, has been updated with nationwide statistics.
NEW YORK (TheStreet) -- The velvet rope at your local bank used to mean only that you could expect to spend a long time waiting in line, probably without even a lollipop for your pains. The next time you see one, you may think you're in a cocktail lounge.
With communal seating areas, high-top tables, and wifi access, JPMorgan Chase (JPM) - Get JPMorgan Chase & Co. (JPM) Report and Bank of America (BAC) - Get Bank of America Corp Report are among the leaders in banking companies trying to provide a welcoming environment for clients who go to branches for home mortgages, car loans and customized financial advice, all of which are higher-value transactions than the old-school visits to tellers to deposit or cash a paycheck. 
So, say goodbye to tables stocked with a mixed-up stack of withdrawal and deposit slips and dried-out pens. Customers who want the basics can use ATMs that have video-chat capability and dispense cash in a variety of denominations, including $1, $5 and $10 bills as well as the ubiquitous $20. It's a significant advance for consumer banks, since ATMs remain among their most visible and widely used services.
A study released by the Federal Reservelast year showed Americans made 5.8 billion cash withdrawals from the machines in a single year, with a value of about $587 billion. About 97% of the transactions were from checking and savings accounts. Customers deposited about $2.7 trillion during the same period, the study indicated.
"Most bank branches haven't changed in 40 years," said Raja Bose, VP of Branch Transformation for Diebold (DBD) - Get Diebold Nixdorf Incorporated Report , an Ohio-based company that manufactures ATMs. "Now it's about going there and having a meaningful conversation."
It is important that banks strike the right balance in their service offerings. While tech-based solutions such as mobile deposits and advanced ATMs provide attractive benefits, banks have found that customers still want brick-and-mortar sites, though they don't have to operate as many of them.
"Customers are choosing to bank with us the way they want," said Dan Deegan, head of national sales for JPMorgan Chase.

Since the financial crisis of 2008-09, clients increasingly are seeking financial advice that traditional branches employing mostly tellers weren't equipped to provide.
Adding more advanced ATMs meant that those customers could save the time they used to spend going to tellers for change for the $50s and $20s that ATMs usually dispensed, and use the extra minutes to ask more meaningful questions of specialists assigned to the branch in response to changing demands.
"There's clearly a significant investment when we add this technology to the branches." Deegan said. "We want to make sure we provide the balance of having additional machines and still having the people in place to make sure customers have a choice."
One of Chase's most recently updated branches sits in New York City's financial district. Upon entering, customers are greeted with a row of futuristic ATMs that allow them to perform a variety of functions on its large screens: paying bills, simultaneously depositing cash and checks, and making withdrawals in whatever denominations they want. (You can get as little as $3 if you like.)
There is still a windowed teller line, but the tellers are finding themselves spending more time on the other side of the glass, helping customers use the new machines or navigate an array of other services.
Bank of America (BAC) - Get Bank of America Corp Report has found that some of its branches are able to operate without tellers altogether. One Bank of America location in Manhattan's financial district has a row of updated ATMs that provide live video assistance, if needed, as well as a few glass-walled offices for banking specialists.
Source: Bank of America
It is a model that works in some areas but not in others, a fact to which Bank of America is keenly sensitive as it sets up local offices. Their variations are evident throughout Manhattan; the borough's dense population makes for vastly varied neighborhoods that serve as a testing ground for branch configurations that can be used throughout the U.S.
Bank of America's flagship location in midtown Manhattan, for example, is spacious enough to accommodate a large volume of users -- tourists coming from Times Square as well as white-collar professionals in the surrounding office towers. On the off chance that a question can't be answered by one of the specialists on site, customers can video-conference with a specialist at another branch.
Another Bank of America branch just a few blocks to the north has a decidedly different feel. The location is new and adjacent to the Diamond District, populated largely by old-world exchanges where small merchants operate booths and hawk their wares on the street. What it lacks in size it makers up for in utility: The branch is one of the few in Manhattan able to exchange foreign currency.
The sleek new office represent much more than surface upgrades: They reflect fundamental shifts in how the industry and its customers do business.
"The retail banking industry has taken some pretty big financial hits over the last decade," Bose said. The recession of 2008-09 and the regulatory pressures that followed greatly affected how banks are able to earn revenue. At the same time, consumers changed and warmed up to technology-heavy entrants into the financial systems such as Paypal (PYPL) - Get PayPal Holdings Inc Report andVenmo.
"Because the function of the bank branch for millennials -- and others -- has changed, the format has to change," Bose said. Millennials, born between 1980 and 2000, are the largest generation in U.S. history, with a population that Goldman Sachs (GS) - Get Goldman Sachs Group, Inc. (GS) Report pegs at 92 million. That makes their preferences critical to consumer businesses.
"As customers engage in a digital manner with us, our attrition with those customers has gone down 15% as opposed to customers who are not digitally engaged," Deegan said, noting the success of Chase's digital platforms. Along the same lines, he noticed that digital engagement led many customers to choose a single primary bank because keeping apps from three or more banks on a smartphone was proving impractical.
The rise of digital banking has, predictably, corresponded with a decline in local offices, which cost more to operate. The number of branches at the four largest U.S. banks -- JPMorgan Chase, Bank of America , Wells Fargo (WFC) - Get Wells Fargo & Company Report and Citigroup (C) - Get Citigroup Inc. Report -- has dropped almost 4% to 19,747 in the past two years. Mobile businesses at the companies expanded 32% in the same period.
The banks recognize that it's important to keep customers engaged as their services become more computerized, Bose notes. Western Europe was at least five to eight years ahead of the U.S. in offering advanced ATM services, by Bose's measure. But the banks didn't balance their tech offerings with more meaningful client interaction, and they have struggled to get customers back into their offices.
Moving to a more digital model has other potential downsides as well: The role of teller is becoming obsolete. While headcount is expected to be reduced for that position, the interim period allows tellers to gain the skills they would need to eventually become private bankers or obtain roles in operations.
"Many of the senior managers at this firm started out as tellers," Deegan said.
Evidence of that shift is already apparent at Bank of America and Chase, where tellers are encouraged to interact more with clients in a role that has been called "relationship manager" and "universal banker." It is a role Bose refers to as "assisted self-service," with employees adopting a service mindset more commonly associated with Nordstrom (JWN) - Get Nordstrom, Inc. (JWN) Report than banking.
"If there is an opportunity for a bank to use their physical location as a means of educating, training, supporting, helping their customers with their financial well-being and doing it in such a fashion that it's not boring, I think that's the future of the bank branch," Bose said.