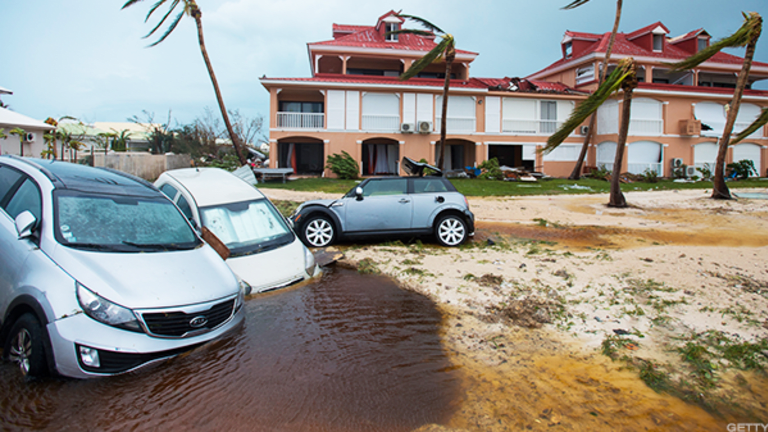 How to Protect Your Car During a Hurricane
Hurricane Irma is expected to make landfall in the U.S. this weekend.
Hurricane season is back with a vengeance, so TheStreet has some tips for you to protect your vehicle during a hurricane. 
Tip 1. Keep your car covered and tape the windows. 
Salt water damage can wreak havoc on the interior of your vehicle, so just covering the vehicle is not enough. You have to take steps to keep the water from seeping in through the windows. Use masking tape in a criss cross pattern to offer the best protection. The best bet would be to put the vehicle in a garage. 
Tip 2. Remove exterior fixtures that are not permanent. 
If you like the extra antennas, magnetic signs, and other trinkets that you placed on your car you might want to remove them before the storm hits. Because chances are they won't be on your car after the storm hits. 
Tip 3. Fill your car's tank.
Whether you plan on evacuating the area or not, having gas in the tank for when the storm passes is paramount. Some counties in Florida were reporting that as many as 50% of gas stations were without gas. Once the storms pass, lack of electricity and the damage from the storm could make getting gas even more of a hassle. Fill up before the storm hits. 
Tip 4. Park safely.
Park your car on high ground, against buildings that can act as a buffer and away from areas that could experience falling debris. Loose structures such as light poles, stop lights and street signs are susceptible to being blown away by high winds, so avoid areas with these pitfalls. 
Tip 5. Take pictures.
Take pictures of your car's interior and exterior in case your vehicle does suffer damage and you have to make an insurance claim. 
Tip 6. Deflate your tires.
Deflating your tires reduces the risk that the car will be whisked away by rising waters. Inflated tires are buoyant and make your care more susceptible to being carried away. Just make sure you have a pump to reinflate your tires once the storm passes. 
Tip 7. Store important vehicle information.
Your car's registration and insurance information may be even more important once the storm passes, so storing them in a manner that will insulate them from damage is important. Consumer Reports recommends that you store them in a zip top plastic bag. 
More of What's Trending on TheStreet: